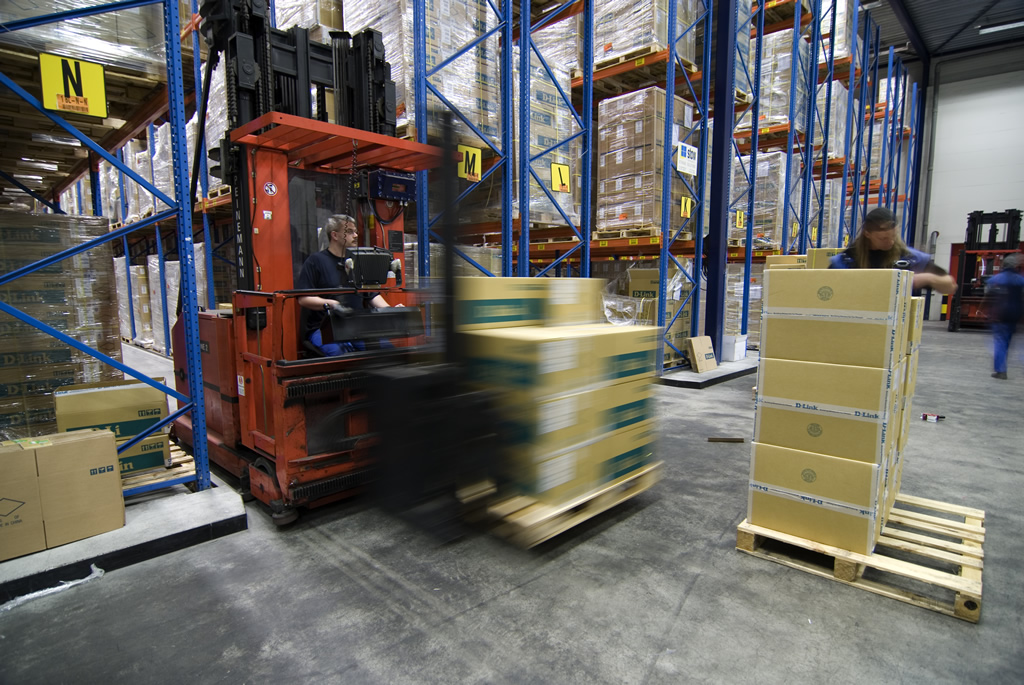 A recent report by Aberdeen Group cited the need to "reduce warehouse operating expenses while maximizing utilization of resources" as the number one concern of the survey of 158 warehouse executives surveyed.
Seems that no matter the size of the business, from small to huge, this is a common goal.
Continued reading of the survey revealed the majority of the actions that these executives of large companies planned to undertake are technology-related, and available to businesses of all sizes…
Better integrate order and operating delivery flows (54%)
Increase visibility into inventory and order status (36%)
Improve throughput through systems or automation (e.g. batch to real-time, paper to paperless, dynamic order picking) (36%)
Enabling actions for improvement
The next step is to enable the actions with tangible methods to improve operational productivity.
The top three "enablers" included implementing:
Barcode technology (93%)
Commercially developed warehouse management software (80%)
Ruggedized mobile computers (64%)
 Source: Aberdeen Group, Warehouse Management Excellence
Enabling your warehouse management with the features & flexibility you need
Acctivate software is the most advance inventory & warehousing software available, enabling your business with real-time visibility, multi-channel order management & fulfillment, barcoding, workflow management and flexible warehouse organization.
Visibility
Acctivate's dashboards have the information you want to see, organized how you want to see it.
From summaries to details, dashboards provide instant visibility throughout the warehouse and entire business and enable each user to organize and display their information in the way that makes the most sense to them.
Multi-channel order management & fulfillment
Acctivate's order management & fulfillment allows your business to capture, process, ship, track and service orders from multiple sales channels.
With seamless integration to major eCommerce web stores and eCommerce platforms, Acctivate brings all channels – online, offline, catalog – together into one system for fulfillment from one or multiple physical and/or virtual locations or warehouses.
Barcoding
Barcoding brings speed, accuracy & efficiency and can transform how your business operates.
Acctivate supports leading barcoding hardware devices, scanners and printers and Acctivate's barcoding is built on a flexible foundation that allows us to work with you to understand your specific environment, and then create a barcoding solution to meet your business needs, goals and budget.
Workflow management
Acctivate workflow management enables businesses to monitor and manage common business processes to improve quality, consistency, visibility and efficiency.
Two frequent uses in the warehouse are work-in-progress (WIP) and order fulfillment, track the movement of items as they progress through the warehouse, with status changes visible in real-time to all Acctivate users.
Warehouse organization
Organized warehouses provide the foundation for quality and efficiency in an environment that is often fast-paced and chaotic.
Strategic inventory storage decisions, enabled by a warehouse system with the flexibility to accommodate numerous inventory statuses, locations and types of ownership, give companies a distinct competitive advantage. Utilize tools to produce shelf and bin labels, and introduce barcoding and wireless warehouse devices, and the resulting well-organized warehouses will be a strategic operations center for the business.
Warehouse organization: The benefits
An organized warehouse…
Increases warehouse & inventory transaction accuracy
Improves picking, packing, and shipping accuracy & efficiency
Optimizes warehouse square footage, reducing costs & overhead
Enables warehouse workflows to be improved, resulting in faster warehouse operations
Warehouse organization: Getting started
Whether you are starting from scratch or an organization in need of an improved warehouse system, the place to start is by defining goals for your specific needs and preparing a plan on how to accomplish those goals.
Warehouse organization plans generally consist of several elements:
Defining the term "warehouse" for your organization. Warehouses can be actual or virtual and either a singular or multiple.
Deciding how inventory will be tracked. Tracking inventory quantities can occur at any location a step below the warehouse, such as aisles, racks, bin locations, on trucks or other company-defined areas. Zones can be used to maximize warehouse organization and operations. For example, zones can be created based on temperature requirements, rate of turnover, locations (e.g. rack, bin, bulk storage and pallet) or any other use as defined by a business.
Selecting a warehousing & inventory management system that contains the required features, delivers the most value for your money and is built to last and grow with your organization.
Organizing warehouses
Acctivate allows for inventory to be configured and organized across multiple, actual or virtual warehouses. A warehouse can be a different physical location, logical division of inventory or a financial segmentation such as:
Geographic
Warehouses defined by physical, geographic locations
Ex: New York ~ Los Angeles ~ Seattle
Category
Warehouses defined by category or inventory type
Ex: Dry Goods ~ Freezer ~ Liquids ~ Hazardous material
Location
Warehouses defined for inventory accountability control
Ex: Warehouse ~ Truck 1 ~ Truck 2
Ownership
Warehouses defined by product ownership
Ex: Company-owned ~ Consigned inventory from vendor ~ Consigned inventory to customer
Status
Warehouses defined by inventory status
Ex: Inspection ~ Available for Sale ~ Damaged ~ Returned ~ Repair ~ Return to vendor
Usage
Warehouses defined by usage
Ex: Raw materials ~ Work in progress (WIP) ~ Finished goods ~ Outsourced
Consignment & vendor managed inventory
Acctivate's inventory management features provide companies the ability to utilize advanced supply chain strategies such as consigned inventory and vendor managed inventory.
Vendor consigned inventory
Inventory on consignment in your warehouse or warehouses that are still owned by the supplier
Inventory consigned to customers
Inventory owned by your company that is shipped to or consigned to your customer or distributor and stored in their warehouse, warehouses or locations.
Typically, consignment inventory is shipped and stored at a warehouse, multiple warehouses or other types of agreed-upon locations (service & repair trucks, stores, etc.). The inventory is held at that location and the inventory is purchased when it is used or sold, or on a pre-determined schedule (monthly, quarterly).
Vendor managed inventory (VMI)
Vendor managed inventory occurs when inventory is managed by the supplier on behalf of the receiving organization, based on pre-determined minimum and maximum inventory levels. Vendor managed inventory can lower inventory levels for both the supplier and the receiving organization, provide suppliers better insight into anticipated demand, reduce lead times, and improve customer satisfaction.
Vendor managed inventory or consigned inventory can be implemented with the same inventory and warehouse procedures as other inventory types, can be included or excluded from warehouse cycle counts, and can be managed with transparency to the end customer.
Location management within the warehouse – and beyond
Track inventory quantities in any location that is a step below the warehouse – aisle, rack, shelf or bin location, on trucks or other company-defined areas.
Location management enables:
Organized inventory count sheets: Inventory count sheets display the locations and zones where a product is stocked. Locations can be identified by zone.
Inventory location transfers: Bin to bin, bin to truck, warehouse to warehouse, etc.
Receiving of inventory to a specific location: Receive products into inventory specifying the warehouse and the specific location within the warehouse
Ability to sell from specific locations: Specify the inventory location to sell from when entering an order (service technician's truck, warehouse nearest customer, etc.)
Primary location defaults: Set a primary inventory location for a product that will be the default warehouse location for every transaction. Set a stock level as well, to keep track of primary location inventory requirements.
Adding locations on the fly: Set up all warehouse locations at one time or add a new warehouse location when needed
Inventory labeling
Increase the ease of locating inventory items and improve warehouse efficiencies with warehouse location labels. Acctivate and Crystal Reports® make printing warehouse labels a snap.
Labels can be used for products, bins or both
Bin labels can contain product number, bin numbers or both and can contain barcodes
Customize the inventory label by size, shape and data shown
Add barcodes to any inventory label
Print inventory labels one at a time or in batch
Print inventory labels for any product in stock with one click of the mouse
Modify or develop inventory labels to include any information stored in the system
Efficient inventory and warehouse transaction management
Keeping inventory accurate and updated is simplified with Acctivate's user-friendly interface. Inventory movement, adjustments and status changes are captured and managed through use of transactions found in the Acctivate Inventory menu. Warehouse transactions are handled in an efficient, one-screen process.
Receiving: Records inventory received into a warehouse or location, with or without a purchase order, without disclosing products and expected quantities (Blind Receiving) or with the Receive all function, which populates the receipt with all outstanding items, allowing for quantities to be changed as needed.
Transfers: Records the transfer of inventory to a new location within a warehouse, from a warehouse to another location, such as a delivery truck, or between warehouses within a company.
Breakage or shortage adjustment transactions: Allows for the manual reduction of inventory to correct inventory levels in the event of inventory breakage, shortage or loss.
Financial or balance adjustment transactions: Inventory is adjusted for accounting purposes such as changing the stated value of inventory for a particular product. Changes will be reflected on the general ledger as a gain or loss on inventory.
Non-sales use or issue of product: Provides a means to record non-sales issues of inventory users, such as in the event of donations or marketing.
Physical count: Products to be counted will be "frozen" until the count is completed at which time a variance report will be generated and the inventory on hand quantity adjusted to reflect the count.
Customer returns: Returns are efficiently managed through the Return Merchandise Authorization (RMA) process which allows tracking of the returned inventory and related information by referencing the RMA number generated by Acctivate. There are several methods for handling the return transaction depending on if the product will be returned to inventory or if the product is discarded.
Vendor returns: Vendor returns of inventory are handled by issuing a return request which,
when approved, will automatically create a vendor credit and reduce inventory.
Sales: Processing of a sales order automatically creates warehouse transactions for picking.
Barcoding
Acctivate is easy to use, with an intuitive interface that makes daily activities, such as handling warehouse transactions, a simple and quick process.
Warehouse transactions handled with barcoding increases:
Speed
Accuracy
Efficiency
Access to inventory information
Information for decision making
Rapid receipt of inventory
Access purchase orders on a handheld mobile computer with a barcode reader, quickly scan the received product into inventory and immediately verify the correct product and quantity have been received.
Inventory transfers between warehouses, within warehouse or to trucks
Swiftly transfer inventory between company warehouses, between locations within a warehouse or from a warehouse to trucks or service vehicles with wireless handheld barcode readers and Acctivate.
Rapid, accurate physical and cycle counts
Accurately count thousands of inventory items and immediately update warehouse inventory information – simply, rapidly and with less expense.
Choose between digital count sheets displayed on a wireless handheld device or accelerate the physical count even further with Acctivate barcoding, where count information is obtained by simply scanning barcodes.
Picking
Achieve new levels of productivity and accuracy with Acctivate enabled wireless handheld barcode picking.
Easily pick the product by scanning the barcode, complete the order and prepare it to ship – all from a mobile handheld computer with barcode reader with no printed paperwork required.
Discover Acctivate
We invite you to explore more or, if you'd like to get started, simply complete the form below or give us a call at 866-877-1311.
Get started today!
Call us at 866-877-1311 or complete the form and someone will get in touch with you to discuss your specific needs and start your no obligation, free trial.