Acctivate is a sophisticated inventory management software built to do much more than manage inventory.
It also manages warehouse operations, customers, sales, orders and more. For the last 16 years, Acctivate has been hard at work ensuring the development of Acctivate software continues to meet and optimize the needs of small to mid-sized businesses across many industries.
Ready for download to desktops near you is the much-anticipated Acctivate 10.3. Version 10.3 is full of new enhancements, over 80, guaranteed to continue in improving day-to-day business operations. While Acctivate continues to evolve, Acctivate remains true to a core foundation and features.
The following are some of the top enhancements in 10.3
---
Alternate Product IDs:
Acctivate 10.3 comes with the ability for a user to create and import multiple alternate product IDs for each item which could be the alternate ID, UPC, web store product ID, etc. This enhancement creates better support for multi-channel sales including selling online via web stores.
For web stores, users can now manually create or import the alternate IDs for Amazon and eBay since both platforms have their own IDs for each item.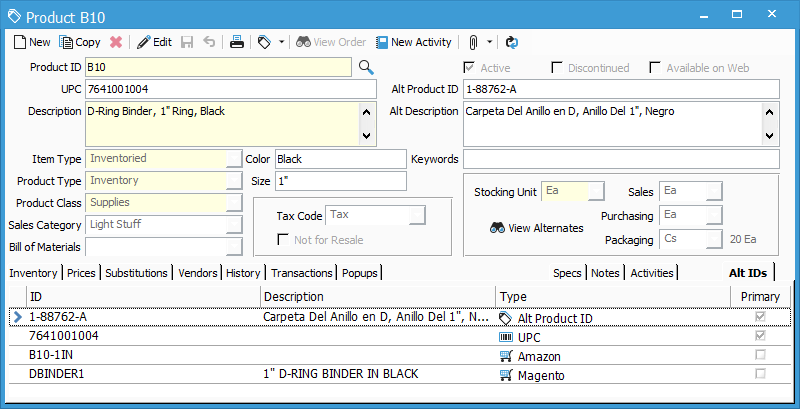 ---
Assemblies:
With 10.3, automatically generate inventory assemblies based on inventory requirements per product per warehouse. Inventory assemblies can also be created directly from a sales order.
Another new assembly feature is support for multiple lot numbers for assembly components.  This provides the ability to split lot numbered rows for components when there isn't enough of one lot to fill the line.
These new features will streamline the assembly process even further, allowing faster production times and order fulfillment, while also saving businesses more time and money.

---
EDI:

A major 10.3 EDI enhancement is the ability to send and receive FTP EDI transactions directly between Acctivate and an EDI Service Provider. This eliminates the extra steps of having to run command prompts to move files from FTP applications to a local directory. This is especially important for clients using SPS Commerce.
---
Mobile Warehouse Management:

With 10.3, mobile warehouse device users now have the option to receive in the purchasing unit rather than the stocking unit.
A mobile picking user can now also scan barcodes with the net weight for lot or serial numbers.
For mobile warehouse users, these enhancements will ensure even more precision, accuracy and speed for receiving, inventory counting and overall warehouse operations.
---