You can read more about Acctivate Version 10.3 or proceed to download the software updates below.
If you need to download the latest release of Acctivate (Version 11) rather than the below Acctivate Version 10.3 sp7, click here.
The following Acctivate software updates are available for companies with an active Software Maintenance and Support (SMS) plan or Software-as-a-Service (SaaS) subscription. Your software license will be verified during the server update. You will be prompted for your Acctivate ID and Password. This information was provided via email when you first registered Acctivate.
---
Acctivate Server & Workstations
IMPORTANT (read the following before downloading any updates below)
Download and install these updates on your server.  Each workstation will be updated automatically. Be sure to select the appropriate Update for your Acctivate edition below.  When you start Acctivate, you will find the version of Acctivate currently installed on the splash screen.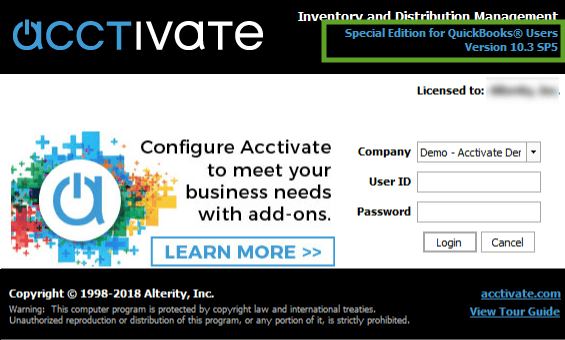 After installing the appropriate Update, open each company on the server to upgrade the database(s) before attempting to run Acctivate on any other workstations.
Use the Update link if you are running Version 10.3 or later, the Cumulative link if you have an older version or the New Install on a computer without Acctivate.

Use the Workstation Install link only for new workstations. Do not use this link if an older version of Acctivate is already installed. You must install Acctivate on the server before any workstations can be installed. Existing workstations will be updated automatically.
Available Downloads:
Acctivate 10.3 sp7 (Build 4956) from August 16th, 2019
Acctivate Workstation 10.3 from November 28, 2017
Downloads for QuickBooks Users:
Read the release notes for this update.
Refer to the System Requirements to ensure compatibility.
Review the Installation Guide if a re-installing the software.
Acctivate Mobile

All users running Acctivate Mobile must download and install this update after upgrading the Acctivate Server. Use the Update link if you are already running Acctivate Mobile. The New Install link should only be used for a computer that does not have an older version of Acctivate Mobile installed.
Acctivate Mobile 10.3 sp7 (Build 54411) from August 14th, 2019:
Review the Mobile Installation Guide if you are just setting up Acctivate Mobile for the first time.