Cloud-based inventory management software
Cloud-based inventory management software provides inventory control, purchasing, warehousing, order management and fulfillment, and business management capabilities delivered via cloud computing. Inventory management in the cloud can help minimize or eliminate not having the ability to access files on a desktop in a different location, improves worker collaboration, and reduces IT infrastructure and overhead.
Do you use the cloud today?
The answer is most likely yes although it appears many people don't realize it. In a recent cloud computing survey…
32% see the cloud as a thing of the future
15% think the cloud is intended for people who work in technology
51% believe stormy weather would interfere with their cloud computing
Yet, cloud computing is being used by people all over the world in business and in everyday life – come rain or come shine. What seems to be the source of the confusion over the cloud? It appears that it stems from a basic understanding of what the cloud is and how it is used.
When asked, 54% of Americans claimed to never use the cloud. But… 95% of those who think they're not using the cloud, actually are.
Of those responding:
65% banked online
63% shopped online
58% used social networking
45% had played online games
29% stored photos online
22% had stored music or videos online
Source: Citrix Cloud Survey, Wakefield Research
What is cloud computing?
Obviously, many who are already using cloud computing do so and just don't call it by its formal name.
Gmail, Google Apps, Mint, Facebook, Twitter, LinkedIn – all are examples of cloud computing.
For the individual user, cloud computing means flexibility with the ability to access the application or data anytime, anywhere.
For a business, cloud computing is simply completing tasks using services accessed over the internet instead of having the applications & the hardware running the applications at your location.
The hardware and software you need to run your business is located "in the cloud," which is really a cloud computing service provider with huge amounts of hardware & storage and skilled professionals that manage & maintain applications ensuring they are secure, up-to-date, and backed-up.
---
Acctivate cloud-based inventory management software user, The Lone Grazer Creamery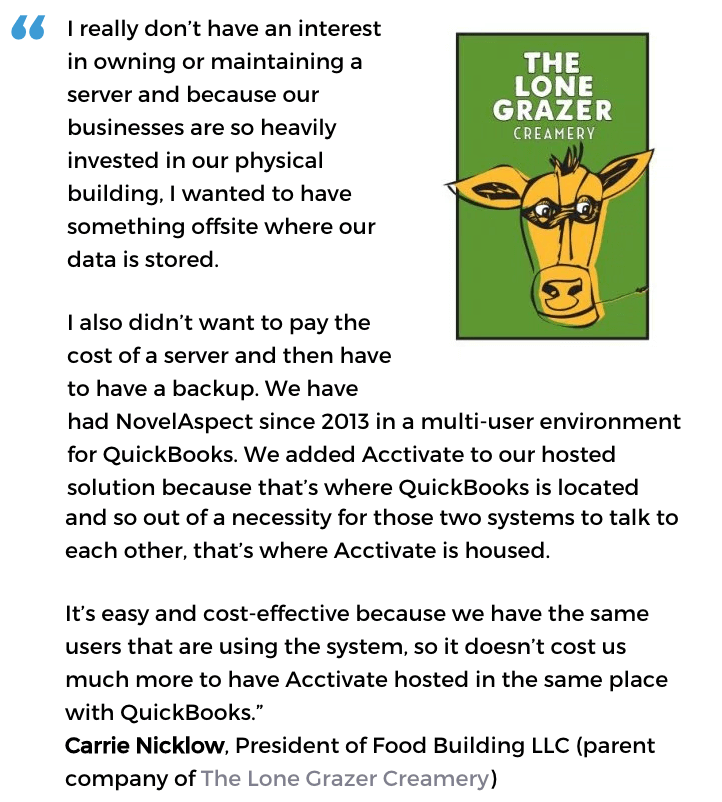 ---
Cloud-based inventory management software benefits
Have you ever…
…been away from the office and wished that you could access something on your desktop?
…had people working in multiple places with collaboration restricted by geography?
…thought about disaster recovery or built a redundant infrastructure?
…wished you had access to highly skilled IT people?
…had a computer crash and lost your data?
Frustrating. Expensive.  Time-consuming.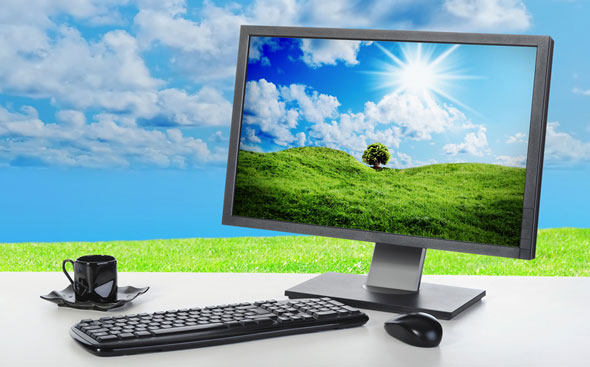 In a recent survey of small business owners:
75% felt that a crashed computer was more disruptive than a sick employee
75% said that a tech malfunction had negatively affected their business through a missed deadline or opportunity
52% believe that investing in their business can give them an advantage over competitors
51% said that they prioritize technology tool-related capital investments such as new software, mobile apps and cloud computing services
Source: Brother Small Business Survey
Wakefield Research
Cloud-based business and inventory management can help minimize or eliminate these issues and more.
The cloud is quickly moving beyond IT and the hype of the media – it is becoming a mainstream business strategy for businesses both from an operational standpoint and as a service delivery option and businesses are discovering how cloud computing can be their competitive advantage and over half are prioritizing it in their business.
Cloud isn't just a technology issue; it's very much a business issue. Firstly from the technology point of view it gives you considerably more flexibility in your architecture to actually respond to changes in the business environment. But we also see it completely changing the way that businesses are thinking about themselves and actually re-architecting their business models."
– Accenture, Cloud Strategy—Considering Cloud as Part of the CIO Agenda
Cloud-based inventory management is available to businesses of all sizes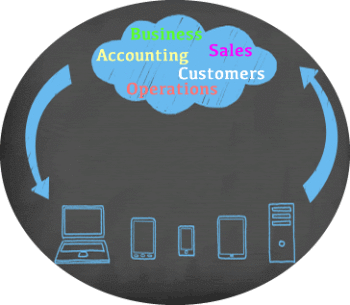 Available to businesses of all sizes, cloud inventory management software can level the playing field and be a strategic advantage with benefits such as:
Reduced cost. Pay for what you need as you need it
Access to expertise. Have your systems managed and maintained by IT professionals
Redeploy IT resources. IT personnel no longer have to worry about keeping software & systems up to date
Flexibility & mobility. Access what you need anytime, anywhere
Developing a cloud-based inventory management strategy
Many small and mid-sized businesses are wondering if inventory management in the cloud offers a strategic advantage for their growing businesses. Like all business decisions, that depends on your business and your business strategy.
As cloud computing continues to grow, businesses must develop a cloud strategy – by determining where the cloud will provide the most value for their business. By focusing on the business value of the cloud – efficiency, improved flexibility & mobility, less operational issues, better use of resources, access to expertise – businesses can set out a cloud strategy aligned with their business goals.
The strategy should also account for the potentially significant change in the way the businesses operates – processes may need revised, policies and procedures updated.
---
Acctivate cloud-based inventory management is trusted by Bison Supply to manage their business

---
Is cloud-based inventory management right for your business?
Good news. It's your choice.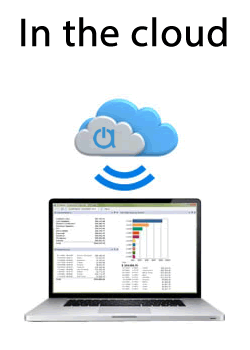 Acctivate is available on-premise or in the cloud – letting you choose which deployment is right for your business.
Acctivate brings decades of business, technology & accounting knowledge and real-world experience to cloud-based inventory management and to its premise offering, with the tools growing companies need to manage their businesses more effectively and improve productivity and profitability.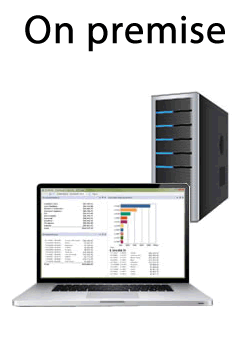 The same power and functionality in an affordable, easy to use on-premise or cloud-based inventory management solution that…
Transforms business operations with best-in-class inventory control, warehousing, purchasing & order fulfillment
Places real-time access to prospect, customer, vendor & company performance information at your fingertips
Manages & tracks leads, prospects, contact, credit and the sales pipeline
Provides access to all customer orders, returns, communications, issues and history to everyone in the company
Helps you maximize and grow your business, presenting the real-time information you need, organized how you want to see it – via customizable dashboards, decision support & analytical tools, or standard or custom reports
Learn more about Acctivate
Acctivate, whether used on-premise or as cloud-based inventory management, is packed with features for your entire business. We invite you to explore more or if you'd like to get started, try Acctivate for free or give us a call at 817-870-1311.