Built with an environmentally-friendly approach that enables businesses to almost eliminate paper throughout the entire company, Acctivate supports businesses with their internal efforts to green their business environment with eco-friendly software.
We view sustainability as one of the most important opportunities we have to shape the future & are committed to delivering solutions promoting sustainable behavior and a greener environment.
---
Acctivate, eco friendly software user, Hobbs Iron & Metal
---
Green your business with Acctivate
According to the Natural Resources Defense Council, the average office tosses out about 350 pounds of paper per employee, per year.
While there are many sustainability efforts environmentally-friendly businesses of all sizes can implement, reducing paper usage is a critical step in the greening process.
Acctivate enables businesses of all sizes to eliminate almost all paper with features such as:
Documents from multiple sources, including email, can be stored electronically with the transactions within Acctivate
Acctivate reports & documents can be captured & printed directly to PDF
Quotes & documents can be created & sent electronically to customers & vendors
But the reduction of paper usage can go much further throughout the entire business with the powerful, green features of Acctivate.
Barcoding & mobile technology, eCommerce, EDI, and paper-reduced picking & shipping will have your business on the path to paper elimination quickly, easily & affordably.
Barcoding & mobile technology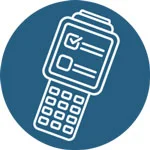 Replacing pens and paper with bar codes and mobile devices in the warehouse and across your business eliminates paper, reduces costs, improves operations and is available to businesses of all sizes.
Acctivate barcoding is easy to implement, easy to use and delivers a quick return on investment, all while creating a greener business environment.

eCommerce and web store integration
Acctivate delivers powerful eCommerce and multi-channel order & customer management across online, offline, mobile, fax, mail order, telephone orders, or catalog channels.
Orders are processed electronically from website to shipping, with no need for printing anything except the shipping label.

EDI

The Acctivate EDI solution is an end-to-end, fully-compliant EDI solution created for small and mid-sized businesses.
Sell finished goods to thousands of companies using EDI, automating all processes and handling all order processing from purchase order to shipping electronically, with, once again, no need to print anything except the shipping label.

Order fulfillment
Pick products using a handheld device with a barcode reader with no printed paperwork required, then automatically print FedEx, UPS, USPS or DHL shipping labels from the order information combined with pre-determined weights obtained from the Acctivate database.

---
Get started today!
Learn more about Acctivate & how it can improve operations across your entire business. Call us at 817-870-1311 or try Acctivate for free.