A platform must be flexible, secure, and have the capability to handle significant business growth to meet the needs of businesses today and in the future.
Acctivate's platform was designed using industry-standard development tools that integrates with top technology providers – an approach we believe ensures application longevity, flexibility, and performance. The technology beneath the Acctivate application is robust, secure, and accelerates the value delivered to customers today and in the future.
---
The Brand Passport

---
Microsoft® is a strategic technical partner and provides strong support for the foundational layer of the Acctivate inventory software. Acctivate supports most versions of Microsoft Windows and all Microsoft Server Operating Systems and additionally utilizes:
Microsoft® SQL Server
Microsoft Development Platform
Microsoft Terminal Services
---
Arabel

---
Crystal Reports® is the world's recognized leader in business reporting software. Acctivate's reporting and document management capabilities were designed around Crystal Reports, providing Acctivate users the ability to develop advanced, integrated reports and documents with professional design quality & branding.

---
Bird Watcher's Digest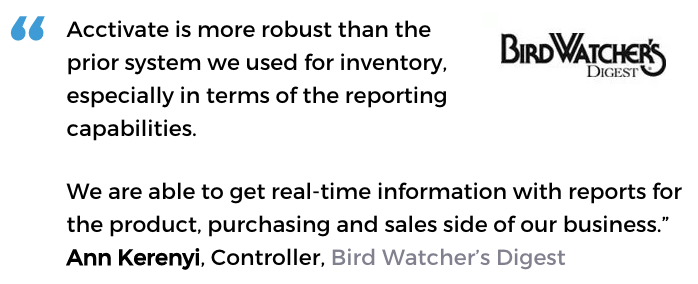 ---
Intuit®, the makers of QuickBooks, has been a strategic partner since 2003, with Acctivate being one of the first software providers to develop an integrated application with QuickBooks. Out of the hundreds of packages that now integrate with QuickBooks, Acctivate is one of only a few that have achieved Gold Developer status, the top level of achievement attainable by QuickBooks partners.

QuickBooks Gold Developer status assures customers that Acctivate for QuickBooks has undergone an extensive testing and approval process and has been certified by Intuit® as a quality software product that seamlessly integrates with QuickBooks.
Gold Developer status insures software developed for QuickBooks is…
Rigorously tested: Acctivate passed the QuickBooks Technical Review requiring Gold Developers to meet high quality standards of operation & compatibility
Proven solution: Acctivate passed QuickBooks' requirements for software to be used by real customers with customer case studies available for review
Customer approved: Acctivate passed an extensive independent customer survey conducted by a 3rd party on behalf of QuickBooks, with results outranking competitors
ProAdvisor reviewed: Acctivate passed the QuickBooks ProAdvisors industry expert review of software installation, features, ease of use and more
---
Murphy Industrial Products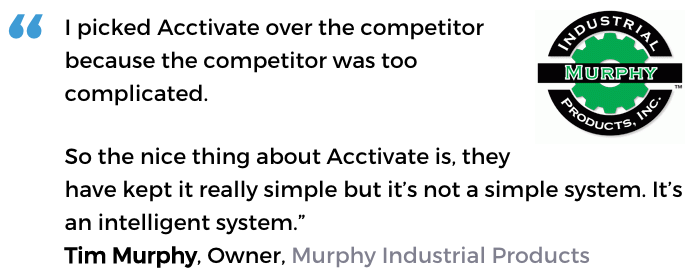 ---
Acctivate inventory software user, KIND Snacks

---
TrueCommerce®, partnered with Acctivate to provide a streamlined end-to-end EDI solution for small and midsized businesses. Acctivate customers are currently using EDI successfully with some of the largest companies in the world, such as Wal-Mart®, The Home Depot® and Academy® Sports + Outdoors.
Learn more about Acctivate's EDI capabilities »
---
BergHOFF

---
Learn more about Acctivate
Acctivate is packed with features for your entire business. We invite you to explore more or, if you'd like to get started with a free trial, let us know here or give us a call at 817-870-1311.