---
Topic: Software Implementation
---

If you're considering moving to an inventory add-on, I'm here to assist you and your business with QuickBooks integration and system implementation.
Not all moving has to be stressful. If your business is growing or has advanced inventory needs, it may be time to add an inventory system to complement QuickBooks. Adding a new system may seem scary or nerve-racking as a business owner. However, my job as an Implementation Specialist is to make sure your business' transition to inventory software goes as smoothly as possible, and that you and your staff are able to learn the software to maximize your business' capabilities.
My coworker recently asked me about QuickBooks integration, software implementation, and my favorite parts of my job and I wanted to share the Q&A with you so you have a better understanding of the software implementation process.
---
Q: What do you most enjoy about your job as an Implementation Specialist?
One of the things I enjoy about my job the most is working with customers and helping them set up Acctivate inventory software. It's just so great hearing customers rave about how much they love Acctivate compared to what they had before and how it's helped them increase the profitability of their business.
Q: How have your previous work experiences helped prepare you for your role now?
I have a pretty wide range of experiences from technical support to training to human resources, staffing, and recruiting. I've even had the opportunity to work in a warehouse and distribution center for a week at one of my previous jobs so I feel like I have a pretty well-rounded experience when it comes to all of the different aspects of business.
Q: What are some limitations of using only QuickBooks for business?
A lot of people think that the QuickBooks advanced inventory feature is going to solve all their issues as far as inventory management goes. However, they find that even the advanced inventory module in QuickBooks doesn't necessarily cover the functions that they need. QuickBooks is great from an accounting standpoint, but inventory add-ons specifically exist to add functionality to the use of QuickBooks.
For example, Acctivate can powerfully and accurately handle LIFO, FIFO, actual costing, as well as other types of costing. We also have a very strong lot and serial number module that customers use. For many of the customers that I work with that are moving to Acctivate, they had decided they needed an inventory add-on because they were limited on what they could do with their inventory in QuickBooks.
Q: What can an inventory add-on such as Acctivate offer in addition to QuickBooks?
Acctivate's Track & Trace feature that allows you to track your inventory, your lot numbers, where products came from, and where they went out to.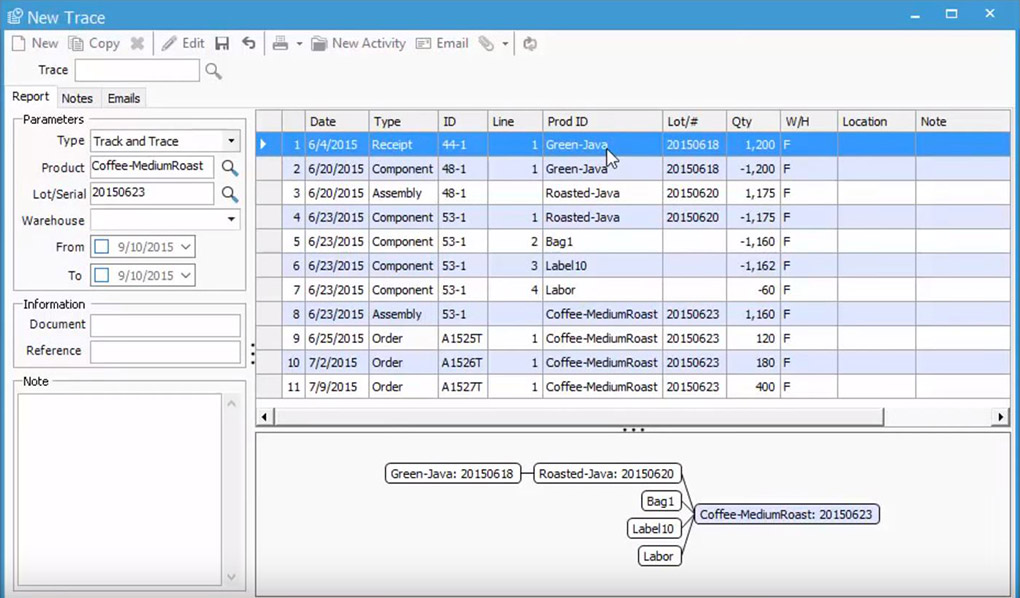 To give a real life business example, recently there was a very large and well-known ice cream company that had a recall situation where they had to track back their inventory and find out which lot numbers were produced in which production facilities. The multi-million dollar company in question had to track that back all the way to the store level.
Our Track & Trace feature allows small and medium sized businesses the ability not only to track where they've purchased their inventory down to the raw ingredients, but it also allows them to track who they've sold their products to.
Q: How would you describe the integration between QuickBooks and Acctivate?
It's pretty seamless as far as integrations go. We have a really good transition process when we create the company file. Inventory is essentially deactivated in QuickBooks and marked as inactive. It's not deleted completely but it's marked as inactive because from that point forward, the inventory is managed in Acctivate.
Acctivate syncs back any financial information to QuickBooks but then Acctivate becomes your inventory management software. From that point on, Acctivate is where you would create all of your purchase orders, your sales orders, your invoicing, etc. – and all that information gets sent back over into QuickBooks as journal entries.
Q: How does the Acctivate implementation team guarantee that inventory is correctly transferred over?
We are all very focused on the customer and the customer's needs. We will do anything we can to try to assist the customer with their integration and their implementation. We have lots of resources available on our website, including videos, help articles, etc. but we're always available for phone calls for training sessions with our customers.
However, don't be afraid to ask us any questions during the implementation process. If there's something that you're not sure about or something you're really concerned with, bring that up as early as possible. Don't just assume that the software can't do something. We are very good at assisting customers with finding a way to make the software work for their business.
Q: What is your favorite part of work in general?
My favorite part of my job is probably the people that I work with. The people that I work with include not only my fellow coworkers, but also my customers and knowing how much they appreciate the support that they get from our team.
Q: Speaking of your coworkers, what's it like over in the Support and Implementation department for Acctivate?
We work very closely together. Each person in Support and Implementation brings a unique skill to the table and even though we may be working individually with customers, we all work as a team behind the scenes.
For instance, if there was something that was just over my head technically, the support team would be very quick to jump in and assist me with anything that I need. If I have an accounting question, we have a person that has an Accounting degree; we have a person that has an Economics degree, etc. My degree is Leadership and Education and Communication, so I feel like I bring a high level of customer service to the table.
We also use a remote support platform called GoToAssist, which allows us to connect directly with a customer's computer so that we can actually control their mouse and keyboard and see their screen.
If you were to call us with a question, we can actually connect directly to your computer and see the problem that you're having and in many instances, we can quickly resolve it right then and there. There are some other times where we may need to do some more investigation on our end, but most of time we can resolve the problem right away.
We're here to help
If someone is considering moving from QuickBooks to a more robust inventory management solution, then Acctivate should definitely be at the top of the list. We not only provide robust inventory software and functionalities but Acctivate also has a user-friendly interface and modernized look.
At Alterity, Inc., we're very much a family here and we try to extend that warmth and friendship to our customers and we try to spend as much time as they need to make sure that the software will work for them in their business.
Hope to hear from you soon!
Find out more!
Learn more about Acctivate Inventory Management Software by giving us a call at 817-870-1311 to talk about your specific needs or by simply completing the form and a specialist will contact you to discuss solutions.
Discover Acctivate
Start a conversation with a specialist today to learn more.
Or call us at 817-870-1311