---
Topic: EDI questions
---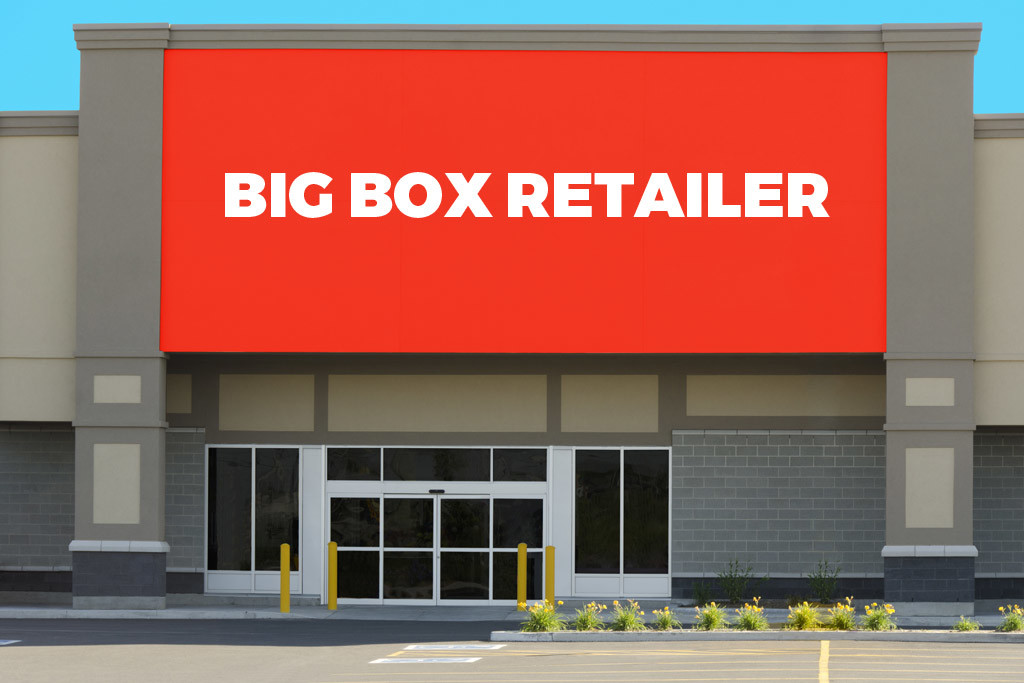 Interested in learning about EDI? I'll be answering some of your EDI questions today
Hi, my name is Lauren Stine and I'm the manager of implementation at Alterity, Inc. Being the manager of implementation, I get to work directly with many businesses as they transition to using Acctivate inventory management software to help streamline their business processes and workflow. My typical duties include working directly with customers to prepare them to go live with Acctivate and presenting informational webinars to help customers learn how to efficiently use Acctivate.
I recently presented a webinar on EDI in Acctivate version 10 and wanted to explain EDI to businesses that want to learn more about it – hopefully answering some of your EDI questions in the process. If after reading this article, you still have questions about EDI or EDI-related processes, I'll guide you to some additional resources where you can keep researching.
EDI Question #1: What's the difference between an inventory management software program like Acctivate versus an EDI provider?
The EDI provider is what makes you compliant with your EDI trading partners. Acctivate is not an EDI provider. Acctivate is software that manages inventory and other business operations. An inventory management software by itself will not make you compliant with your EDI trading partners.
That's where an EDI provider comes in. Big Box stores will send restrictions in what they require to the EDI providers. The EDI provider is the one that actually takes that information and puts it into a format that Acctivate can read. Acctivate will read the transaction files and create documents to send back to the EDI provider. The EDI provider will then send those documents to the trading partners, which will be Big Box retailers or 3PL warehouses.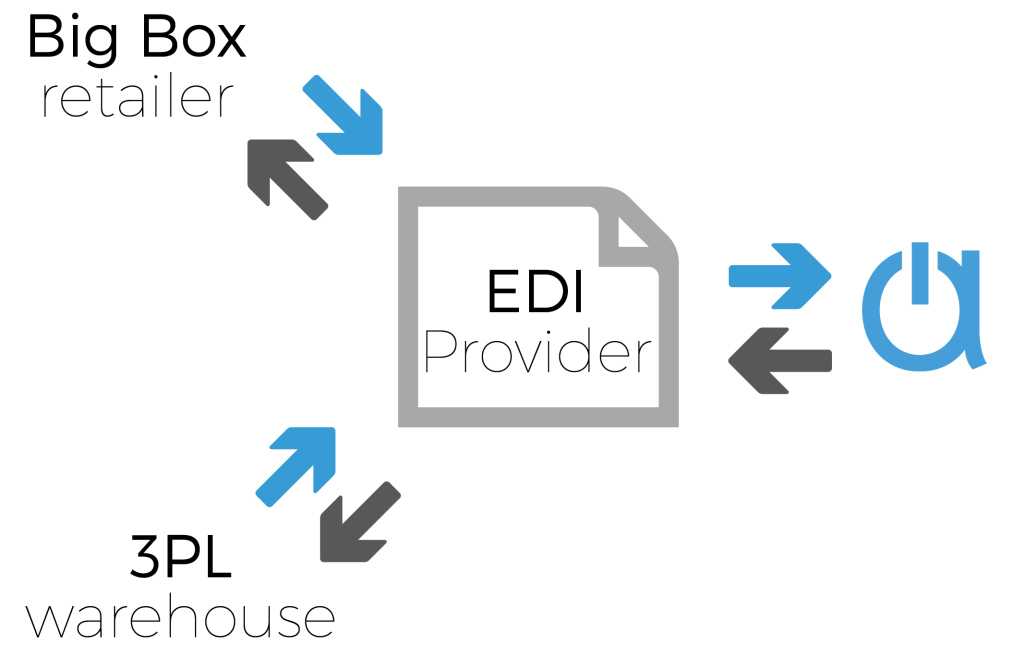 EDI Question #2: What's the relationship between EDI and 3PL?
3PL is third-party logistic warehousing. Let's say you have a business which only has a sales office. You have Acctivate but your warehousing isn't done in-house. Instead, you have a 3PL warehouse processing your entire inventory. The 3PL warehouse will let your business know once product is received into the warehouse and your company is then responsible for the value of that inventory – it's technically your inventory.
However, the 3PL warehouse will be the one that transacts the inventory – they're the ones that are sending it to the customers. So the sales office will create sales orders for customers. If you have multiple 3PL warehouses, such as some of our customers who have multiple warehousing companies working for them across the US, you'll choose a warehouse in the order details which is assigned to your 3PL warehouse.
The 3PL and Acctivate warehouses are connected. Acctivate will send a warehouse order to whichever 3PL warehouse is specified so the warehouse can go ahead and pick and pack – just as if you were to have a warehouse on-site. Once they've shipped that to the customer, they'll send back a 945 transaction file, which is called a Warehouse Shipping Advice, and that marks the order as having been shipped in Acctivate. Then if you're ready, you can go ahead and invoice the customer.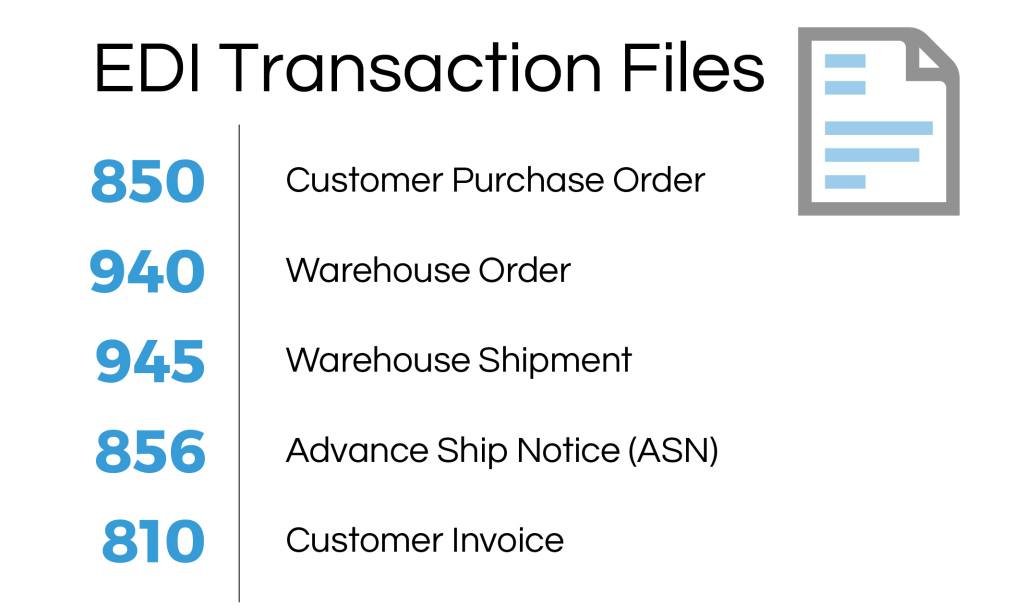 So the 3PL warehousing is off-site warehousing but you're still responsible for the value of inventory – you still need to be involved in that flow. Acctivate allows you to create sales orders, export that information, and import shipments back so you can complete the invoice and collect payment. But this is all done via the EDI providers because they're still the ones that are making everything EDI compliant based on the trading partner specifications.
EDI Question #3: When should a business start using EDI?
A lot of times, Big Box retailers will require EDI. For instance, Bed Bath & Beyond® is processing many transactions a day and they have many different vendors creating items for them to sell. When people go online and order products, instead of going into the store, Bed Bath & Beyond can utilize those vendors to ship those orders directly to those customers instead of having to go through Bed Bath & Beyond directly.
Most Big Box stores such as Amazon, Kmart, Target®, and Best Buy® will process EDI orders. They may not necessarily require EDI but usually, if you're servicing those Big Box stores, you're going to be dealing with a high volume of orders. It's going to be really time-intensive to create all those orders manually. What EDI does is allow you to create those orders in a batch, process those orders, and notify the trading partner when you've shipped it. When you've invoiced the customer through Acctivate, Acctivate will send that information back to the EDI provider.

EDI Question #4: What's the greatest benefit of using EDI?
For me, it's the automation. It's also being able to service those Big Box stores with a set of information that's always going to be formatted the same. That way, you're not always having to deal with different specifications from different places – it's all going to come in one form.
EDI provides automation of everything so there's no manual entry of orders. You're going to be able to bring in those orders and they'll be ready to process. If you're going to be getting many orders at one time, you're not going to want to pay somebody to sit there and enter all the orders in manually when you can just import them through EDI.
EDI Question #5: What should a business consider when looking for an EDI provider?
A lot of times, you're going to want to pick a provider based on how many transactions they're going to be processing because some EDI providers charge per transaction. Also, some trading partners will require you to go through a specific provider for ease of use. If Walmart is only going to use one provider, all the information they're going to get from them is going to be set up exactly the same way so it's all about automation and getting things out the door quickly.
However, the best way to go about it would be to look for EDI providers that have partnered with the software that you're using. For instance, we primarily work with TrueCommerce, SPS Commerce, and B2BGateway. What this does is it gives our customers the convenience of getting to work with a provider that's experienced with working with Acctivate information.
Also, there's not that added cost and time of implementation because they've got a team of people that implement Acctivate specs: they've already talked with us, they've already partnered with us, and they know what our specs are.
Instead of having to go through implementation, you can go straight to testing to make sure all of your products and shipping locations are set up and that all the transactions are going to be linked to all that. So that is the key: look for an EDI provider that's already partnered with the software you're using.
---
As I mentioned earlier, Acctivate partners with TrueCommerce, SPS Commerce, and B2BGateway. Learn more about each provider here.
---
EDI Question #6: What's new with EDI in Acctivate version 10?
Being able to sync all EDI transactions at one time is a huge breakthrough with Acctivate version 10. With just one click it shows all the trading partners that are listed and every single transaction you have listed for each trading partner. It's sorted by transaction type and under each transaction type, you'll be able to see any of the trading partners that have those specific transactions set up.
Before you process or do anything, Acctivate is already validating the files to see if there are any errors, warnings, or anything that doesn't jive right in the EDI file itself. You'll see it on screen, plain as day: we have a green dot, a yellow dot, and a red dot. So for a person that's managing EDI, not only are they able to manage all trading partners and all transactions at once, they can also see anything they need to clear up before they actually process those transactions. It's all there on one screen.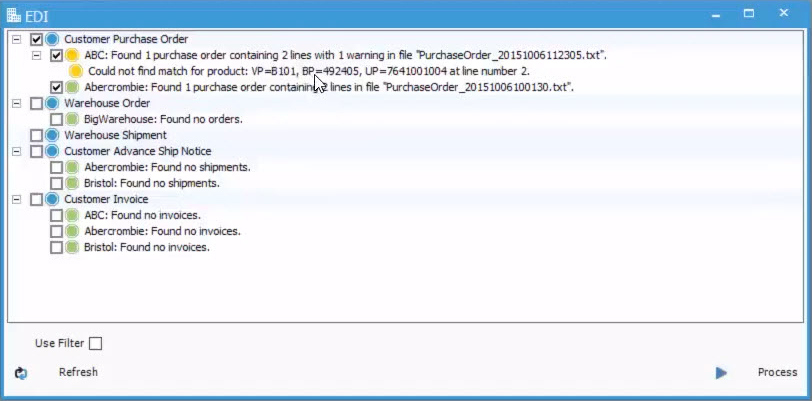 ---
EDI is just one of the features that will have new and improved functionality in Acctivate version 10. Click here to learn more about the enhancements and changes in version 10.

---
For even more on EDI…
I hope I've been able to answer some questions you may have had about EDI. If you're still interested in reading more, check out our EDI informational page here.
Find out more!
Learn more about Acctivate Inventory Management Software by giving us a call at 817-870-1311 to talk about your specific needs or by simply completing the form and a specialist will contact you to discuss solutions.
Discover Acctivate
Start a conversation with a specialist today to learn more.
Or call us at 817-870-1311