Small businesses collectively play a crucial role in a healthy economy. They cultivate growth and innovation in their surrounding communities and stimulate the economy by creating more jobs. However, the current crisis has many small businesses sitting in the wakes of uncertainty from the COVID-19 pandemic.
We are here to help other small businesses demonstrate flexibility, find financial resources and take proactive measures to better navigate this temporary storm. It's important for small businesses to respond now in order to stay in the best shape possible, and to also be better prepared for the unknown. It is never too soon to protect your small business's most valuable assets and optimize financial management.
A U.S. Bank study reported that 82% of small businesses fail due to cash flow problems. Meanwhile, 43% of small businesses do not track their inventory or use a manual process to do so. Coincidence? Cash flow and inventory go hand in hand.
Fortunately, we live in an age that embraces technology. Proactively protecting your small business with software will improve inventory management, safeguard inventory investments, and support long-term financial stability.
Protect your small business by improving cash flow with better purchasing decisions
Poor purchasing management can be a catalyst to costly financial mistakes and directly impacts cash flow for the worst. Over purchasing of products can lead to stale inventory. Out of stock products result in lost sales and potential back order fees. Either undesirable scenario can be avoided by investing in an inventory software with stocking alerts to notify businesses when and how much to purchase products.
Inventory with expiration dates require even more consideration when it comes to purchasing. Careful tracking of inventory by expiry dates and having a better understanding of your business' purchasing needs reduces inventory write-offs from expired items and potential lost sales due to out of stock expired items that could have been sold (even at a discount) before they became worthless.
Protect your small business by making warehouse operations flexible and safe
Warehouse conditions are safer and more flexible with a mobile barcoding warehouse software in place. Mobile barcode scanners enable faster fulfillment, improve accuracy, and decrease the need for manpower in the warehouse without hindering productivity.
Customizable warehouse maps and picklists allow businesses to tailor the workflow management system to their specific needs and provide full visibility to the order fulfillment process. With the option to create a workflow process that is ideal for your warehouse, businesses can reduce operational costs, remove bottlenecks, and operate as efficiently as possible.
Protect your small business by building a trustworthy brand
Cultivate a loyal customer base with order management your customers can always count on. A reliable order fulfillment system increases the potential for returning customers and positive word of mouth. Part of building a trustworthy brand involves keeping inventory in stock to eliminate products not being available and managing orders consistently and accurately.
Trustworthy online retailers are able to meet the needs of customers and reach a larger customer base by having various ecommerce integration capabilities. Inventory software with webstore integration accounts for inventory in real time to accurately reflect stocking information online and in the warehouse. Integrations with popular ecommerce platforms, as well as providing multiple payment options, allows your business to meet the needs of more customers and make conducting business transactions hassle free.
Protect your small business by retaining your customer base.  A software with centralized customer data makes creating meaningful relationships possible. Knowing your customers, what they like to buy, how they buy, why they like to buy from your company, and so on, are all crucial parts of a mutually beneficial client-business relationship. Providing order updates and detailed tracking information allows your business to demonstrate quality customer service and give customers peace of mind.
Protect your small business with Acctivate Inventory Software
Inventory is the biggest and most valuable asset to a product-based business. Proactively managing inventory with a software suited for your business provides protection and stability. The sooner a company invests in proper inventory management, the better off it will be in the long run by avoiding unnecessary costs and maintaining a reliable reputation.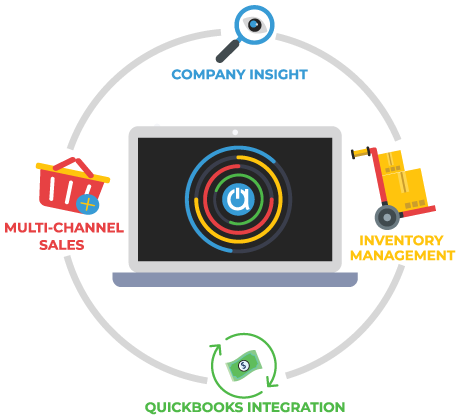 Acctivate Inventory Software for QuickBooks is a proactive solution to protect your small business. Advanced warehouse intelligence with real-time inventory control allows businesses to visualize current stocking levels and oversee the entire order fulfillment process. Integrations with popular ecommerce platforms as well as shipping providers enable faster fulfillment and allow your businesses to meet the needs of more customers. An integrated financial, inventory, and order management system is a proactive investment in business technology to provide protection and stability for long-term business success.
Find out more!
Learn more about Acctivate Inventory Management Software by giving us a call at 817-870-1311 to talk about your specific needs or by simply completing the form and a specialist will contact you to discuss solutions.
Discover Acctivate
Start a conversation with a specialist today to learn more.
Or call us at 817-870-1311