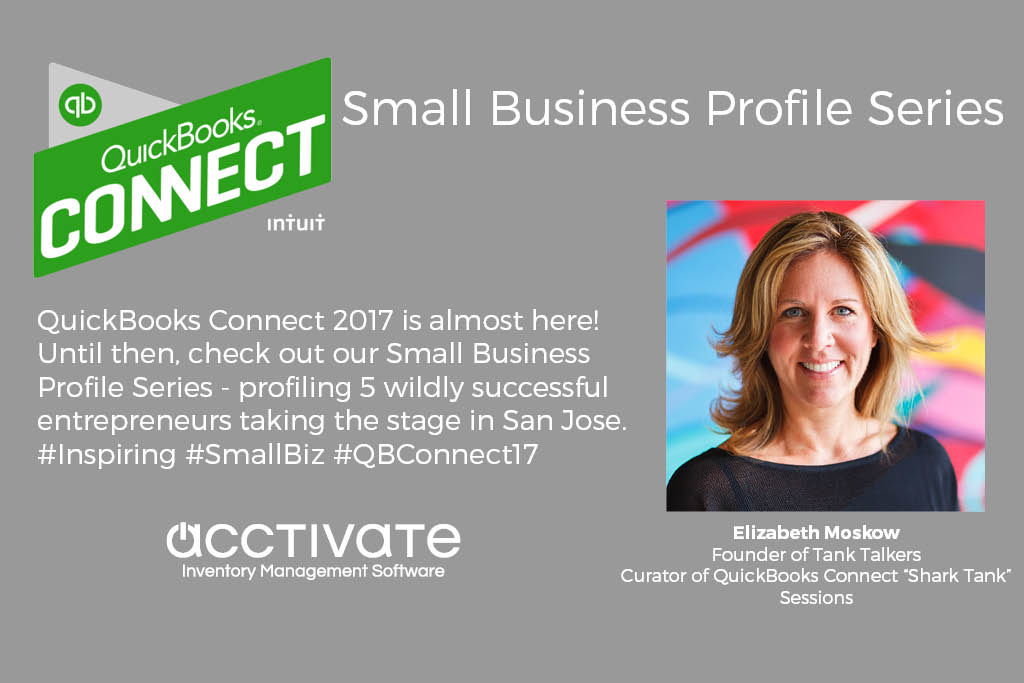 A bit of an entrepreneurial and professional wizard, anything Elizabeth Moskow touches becomes a success. Elizabeth is, among many other things, the founder of Tank Talkers. Elizabeth curated the Shark Tank panels, including Romy Taormina, Neal Hoffman, Lindsey Laurain, and Amy Baxter, for QuickBooks Connect, November 15-17 in San Jose, California.
---
Elizabeth started conquering the world of business at the early age of 23, fresh out of culinary school, when she and a partner purchased a dying restaurant in Boca Raton, Florida and brought it back to life. From the restaurant, Beany's Café, came a second location and Epicurean Gourmet Catering Inc. But it was only five years before Elizabeth sold the highly-successful business and kept rolling.
We took over the restaurant and infused it with the, you know, the enthusiasm that a 23-year-old would. We owned it for five years together, opened up a second location, and had a robust catering business. But by the time I was 27, I was sort of burnt out on the small business restaurant world."
Elizabeth did a 360 into her next venture. After doing some contemplating and self-exploration, Elizabeth found herself opening Simply Yoga Inc. — a yoga studio, a spa, and retail store — in Great Long Neck, Long Island, New York.
What was interesting about that role was the raw space I had. I built out from concept to creation instead of taking over someone else's business and changing it."
Just two and half years later, Elizabeth sold Simply Yoga Inc. for profit in 2005.
Elizabeth worked in a variety of positions in different industries, from a food critic to a managing director at a yoga facility to a private chef and nature guide in Yellowstone National park, for the next few years.
In 2008, Elizabeth and a partner created a unique, two-ended chap stick named Balm Chicky Balm Balm. This product led to a debut on ABC's Shark Tank in 2015. In 2016, Elizabeth and her partner decided to sell out of inventory and exit the business together. Elizabeth realized the Consumer-Packaged Goods (CPG) market was not for her.
In March of 2016, Elizabeth was seeking a new calling when she found inspiration in an exclusive Shark Tank Facebook group — Shark Tank Pals — where former contestants communicate, share advice, and help each other out.
I thought, 'There's something to this amazing network of people. How can we A.) Keep them galvanized together? B.) How can we keep offering an opportunity for them to get their messages out there, help market their products, and connect them to different people and places?'"
From there, Elizabeth called and interviewed many former Shark Tankers, created a website organized by the soon-to-be speakers' areas of expertise, and titled the project Tank Talkers.
Many of the Tank Talkers speak individually or in panels on a plethora of different topics at a variety of venues, such as universities and national events like Intuit's QuickBooks Connect.  Today, Tank Talkers is going strong. Elizabeth also holds a position as Culinary Director at Sterling-Rice Group in Boulder, Colorado.
Check out Tank Talkers!