Warehouse inventory control can be difficult, but the right solutions and systems can ease the challenges your business may face.
As an implementation specialist for Acctivate inventory software, I get to work with businesses as they transition from not having a centralized, real-time inventory system to using a system that allows their business to control the various aspects of their operations more efficiently.
I wanted to discuss some of the most common warehouse-related challenges I've seen.
I will go over six common challenges when it comes to warehouse inventory control.
Using Acctivate as an example, I will also go over how inventory software with features such as reporting and barcode and mobile can help with these issues.
1) Cycle Counts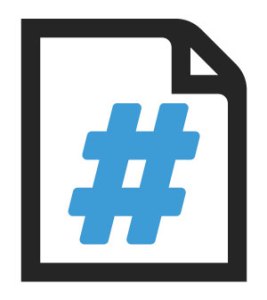 Many businesses that have warehouses struggle with inventory counts. Some warehouses do inventory counts just once a year. Depending on factors such as the size of the warehouse and the number of products, this process may take many days.
However, instead of counting everything in your warehouse at once, you can set up smaller cycles. For instance, you could count a corner of the warehouse on one day and count another corner another day.
Conducting frequent cycle counts helps ensure accuracy and also breaks it up into smaller, more manageable counts. Having more frequent inventory counts is less intrusive on daily operations, especially if you have a larger warehouse and many products.
For example, if you conduct frequent cycle counts, you may conduct counts for Cycle A printers in January and count Cycle B ink in February. You may start to notice several little discrepancies, which allows you to find out about issues before they become more problematic.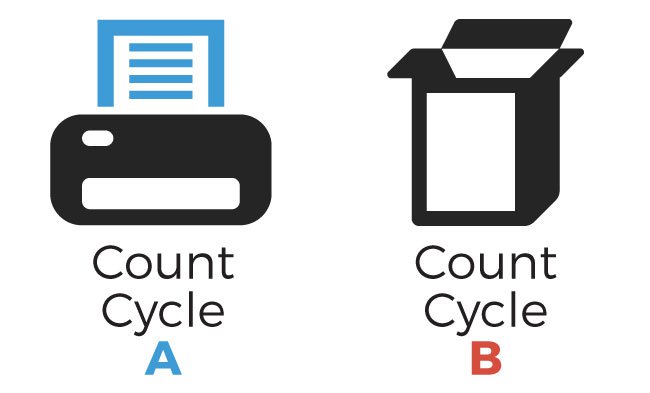 You can also quicken inventory counts by organizing your warehouse in a logical way, such as keeping all like items in one physical area of the warehouse. By laying out your warehouse in a way that when you do a count, the products you want to count are altogether.
Continuing with the printers and ink example, you could keep all printers (Count Cycle A) in one area of the warehouse, and all ink in another area of the warehouse (Count Cycle B).
---
How to use Acctivate to help with cycle counts
---
In Acctivate, you can assign a Cycle Count to each product.
For instance, all printers could be recorded in Acctivate's database to Count Cycle A and all ink could be in Count Cycle B.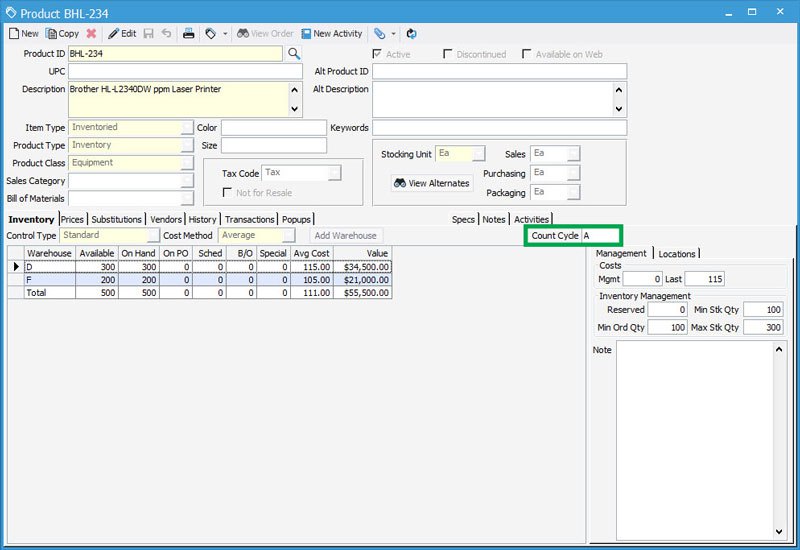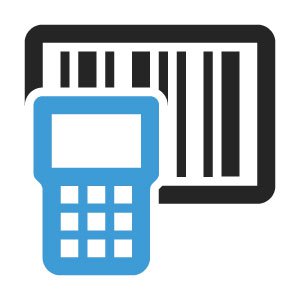 Additionally, barcoding and mobile improves accuracy and efficiency, as well as providing ease. The handheld unit that scans product barcodes is synchronized with Acctivate's database.
Using a handheld unit, you can expedite the cycle count process by scanning product barcodes. Scanning the barcode with a handheld unit allows you to count, verify, and adjust inventory.
You can also conduct a count in Acctivate per warehouse, which means if you have multiple warehouses, you can count both warehouses at the same time.
2) Multiple Warehouses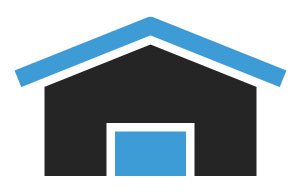 Some businesses may have multiple warehouses, storefronts, virtual warehouses, etc.
Sometimes when businesses have multiple warehouses, there may not be much management or visibility from a macro level. This can result in communication errors, such as the warehouses or other locations not knowing the other locations' stock levels.
However, this is easily remedied by using a centralized system to manage inventory across warehouses.
---
How to use Acctivate to manage multiple warehouses
---
In Acctivate, you have the ability set up as many warehouses as necessary.
For instance, you can have a warehouse for each physical warehouse and you would set the inventory levels for each warehouse. Then, you can see the exact location inventory is at and the value of the inventory at that warehouse.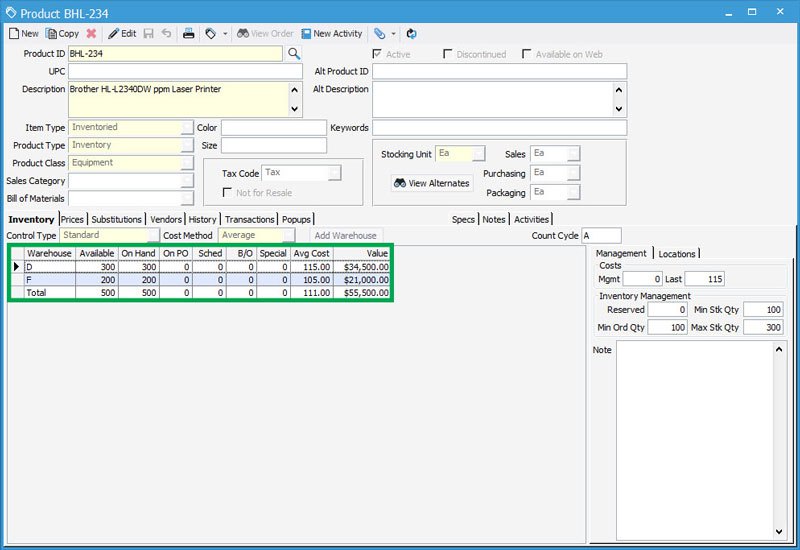 Just by being able to quickly see this information in Acctivate, you are able to see what you have available to sell versus what you need to order and how much you should order all the way down to the warehouse level.
Additionally, with reporting, you have the ability to create reports that drill down inventory by warehouse or you can filter your search to see the inventory at a particular warehouse. Acctivate provides over 100 standard reports, and you can learn more about reporting here.
3) Warehouse Transfers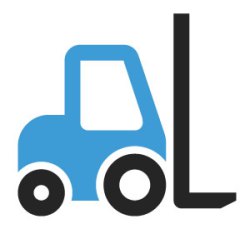 Continuing with the theme of managing multiple warehouses, warehouse transfers can become problematic if the 'From' warehouse and the 'To' warehouse do not have a fully open line of communication with each other.
This could result in the inventory transfer not being documented correctly (or at all), which means discrepancies for both warehouses' inventory levels.
Again, this is where a centralized inventory system that updates in real-time can ease inventory errors.
---
How to use Acctivate to help with warehouse transfers
---
Any time that there's a transaction that requires moving inventory, you can easily transfer the inventory using Acctivate.
Not only are you able to record the inventory transfer in the system, by posting the inventory transfer in the system, you can initiate the physical transfer while being able to track the quantities you're moving across the different warehouses.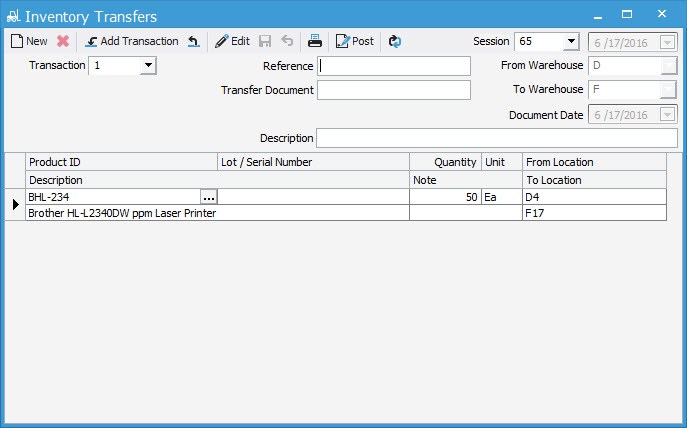 Barcoding and mobile simplifies this process even more.
For instance, if you're transferring from your D warehouse to your F warehouse, you just create a new Inventory Transfer and set up the 'From' and 'To' warehouses, and indicate the product(s) and the quantities. You can then use the handheld unit to scan the item and scan the quantity.
4) Multiple Location Control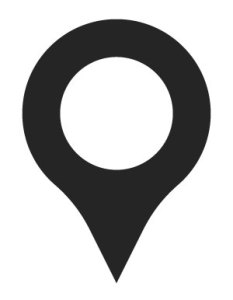 In addition to having multiple warehouses, you may stock the same item in multiple locations within a warehouse.
Going back to the printer example, you could have been storing printers on one shelf, but when that shelf became full, it overflowed to another shelf.
However, having multiple locations for each product within each warehouse can further complicate matters from an inventory control standpoint.
For example, while you may know that you have 200 of a product in a specific warehouse, if there are 100 of the product in one location, 50 in another location, and 50 in yet another location, then keeping track of all of the quantities and locations can be difficult and frustrating.
One tactic I would suggest to help with managing multiple locations is for each product, having one location as the product's primary location.
For instance, you could keep a majority of the printers in Location A (your primary location) and Location B could be an overflow location. If Location A was full, then all overflow items would then go to Location B.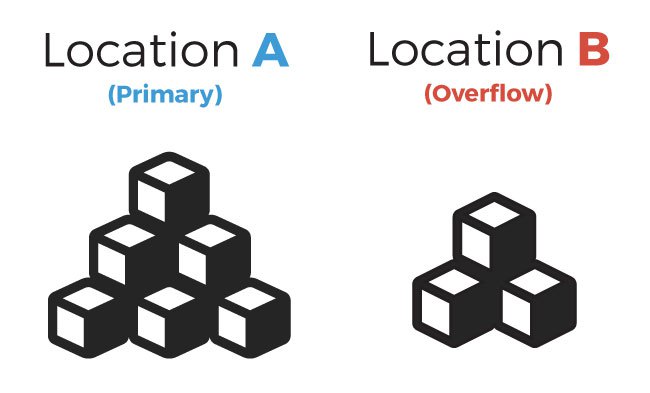 This makes it easier for warehouse workers because they will know to go to the same location each time by default, saving time and hassle.
Additionally, if a customer were to order a high quantity of one item, then there's a better chance that the product would be in one place, which means workers do not have to go to two different locations to pull the inventory.
When the primary location runs low, workers would know to go to the overflow or secondary location(s). Depending on how low the inventory is getting, then efforts can be made into re-ordering more of the product and/or transferring items from the overflow location(s) to the primary location.
Having a centralized database that updates inventory in real-time is an effective solution for managing multiple locations down to the product level and knowing general inventory levels.
---
How to use Acctivate to help with multiple location control
---
In Acctivate, there is actually a field on the product ID called the primary stocking location.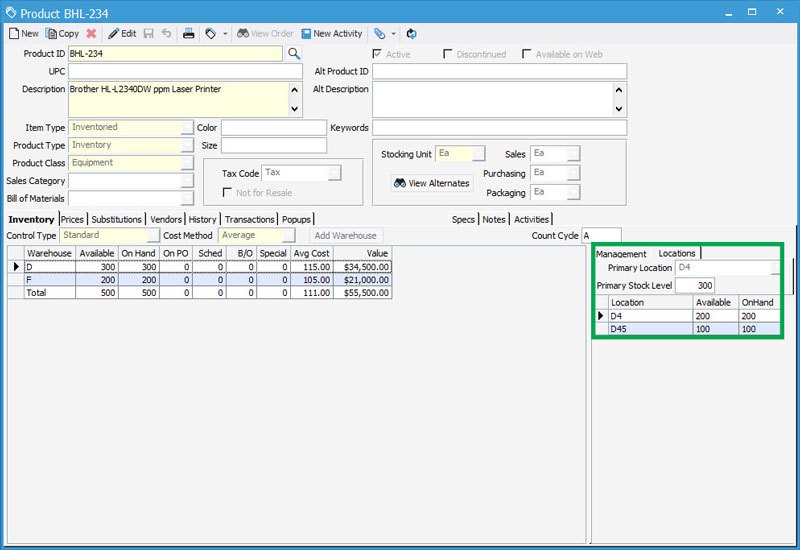 Acctivate also has a report called the Primary Location Stocking Report.
The Primary Location Stocking Report will show you if your primary location has run low and from there, you can make the decision to transfer items from other locations to the primary location.
Additionally, you can use barcodes to keep track of each location. With Acctivate, you can create barcode labels for each location you have within the warehouse and place the barcode labels on each shelf, bin, etc.
Barcoding locations helps make sure that the inventory is coming out and going into the right location. You can use the handheld unit to scan that location's barcode and enter the quantity you're pulling from that location.
Barcoding the locations themselves in conjunction with the individual products removes tedious data entry for warehouse workers and saves them time.
5) Minimum and Maximum Quantities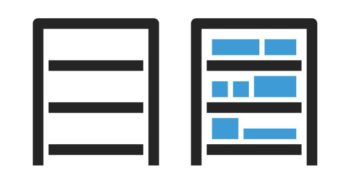 Establishing minimum and maximum quantities for each product is integral in the prevention of overstocking and out-of-stocks. Minimum and maximum quantities reduce the amount of money tied to inventory (overstocking) and lost sales due to out-of-stocks.
---
How to use Acctivate for minimum and maximum quantities
---
Let's say your minimum stock quantity for an item is 100 eaches, but your maximum quantity is 500.
When you fall below 100, Acctivate's Reorder Alert will let you know that the product's inventory levels have fallen below the minimum stock quantity and that 450 need to be reordered to get you back up to maximum 500.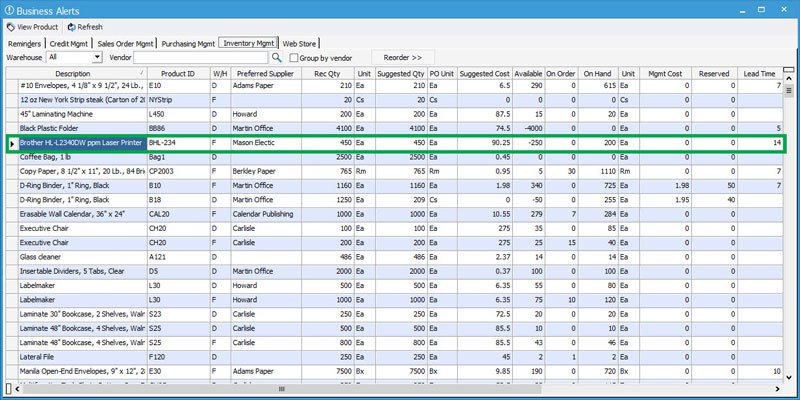 Acctivate will provide the information to help your business figure out how many you're selling of a specific product each week (or another time frame) and how long it takes to obtain the product.
For instance, a Reorder Report may say you sell an average of 100 of a product each week but it takes two weeks to order them. Then you can make the informed decision to keep at least 200 of the product on hand to last you those two weeks.
Acctivate is also helpful because it will allow you to set minimum and maximum levels for each item per warehouse.
For example, Product A in the D warehouse could have a different level than the F warehouse.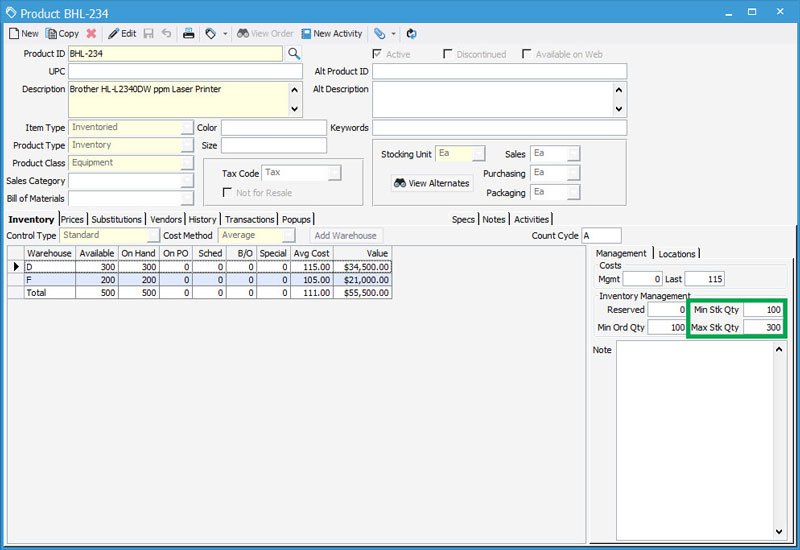 Being able to see these quantities in real time and having minimum and maximum stock quantities in Acctivate helps your warehouse have better control of inventory levels. Since it also alerts you when the warehouse falls below a minimum stock level down to the warehouse level, your business has a better way to stay on top of inventory.
6) In-Transit Warehouses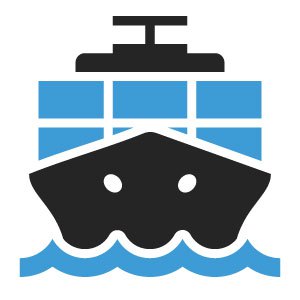 A common type of warehouse used by distribution businesses is the in-transit warehouse. An in-transit warehouse is a warehouse that's been created to accommodate for inventory that has been purchased but not yet received.
To give you an example, you could buy a product from overseas, but it may be on the freight boat for three months after the initial purchase order. However, you've already paid for it, so you technically own that inventory. I typically tell people if you've paid for it by the time it's on the boat, you own it and you should show it on your balance sheet.
The in-transit warehouse's role is to record the value of that in-transit inventory in a way that keeps it isolated from what you physically can sell out of your warehouse today.
Financially, you will need to show that you own a million dollars' worth of inventory, because you do. However, you won't want to receive the inventory in your main warehouse because you don't have the ability to sell all of that inventory today, you only have $400,000 worth.
With the in-transit warehouse, you're able to track the other $600,000 of inventory. When that inventory arrives, you can just transfer it into your main warehouse.
---
How to use Acctivate to help with in-transit warehouses
---
As I mentioned in the Multiple Warehouses section, Acctivate allows you to keep track of all of your different warehouses, including in-transit warehouses.
Once you have received your inventory, transferring the items from the in-transit warehouse to your physical warehouse(s) is simplified with Acctivate through posting an Inventory Transfer.
Additionally, for increased expedition, you can use a handheld unit to scan barcodes of the products as you are transferring them from your in-transit warehouse to your physical location.
Simplifying your warehouse inventory control with Acctivate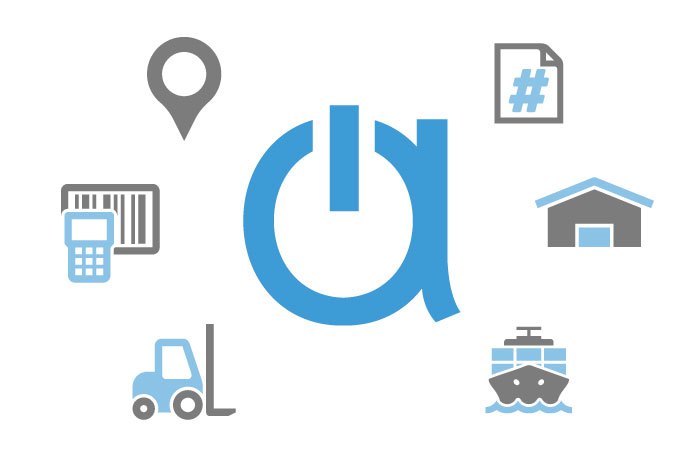 In this article, we discussed how inventory software such as Acctivate can help with inventory counts, multiple warehouses, inventory transfers, multiple location control, minimum and maximum quantities, and in-transit warehouses
Because Acctivate is a robust system, it is able to help many small to mid-size businesses tackle the warehouse inventory control challenges they face.
Acctivate's Barcode and Mobile feature also adds ease to typical inventory functions.