Warehouses are facing new challenges, but with the help of warehouse management system software, small businesses are able to effectively manage warehouse logistics
Challenges of modern warehouses
The growth of eCommerce continues to boom. In fact, Business 2 Community recently stated that eCommerce will continue to rise 10% each year, and mobile shopping alone is expected to reach nearly $100 million in sales by the end of the year.
Caught in the growth of eCommerce sales are warehouses, who are the powerhouses behind fulfilling those orders. Motorola explains in a recent warehousing report that…
"Today's warehouse professionals face a series of significant changes in the ways warehouses, distribution centers and the entire supply chain operate… The growth of omnichannel transactions creates the need for increased inventory control, flexibility and faster, more accurate fulfillment."
– Motorola's From Cost Center to Growth Center: Warehousing 2018
Additionally, the report not only discussed the trickle down effect omnichannel has on warehouses for faster and accurate fulfillment, better inventory control, and flexibility, but explained that economic growth has also spurned many businesses to invest in technology. In fact, the top two warehouse expansion plans of those surveyed were technology expansions: automation of processes, and equipping staff with technology.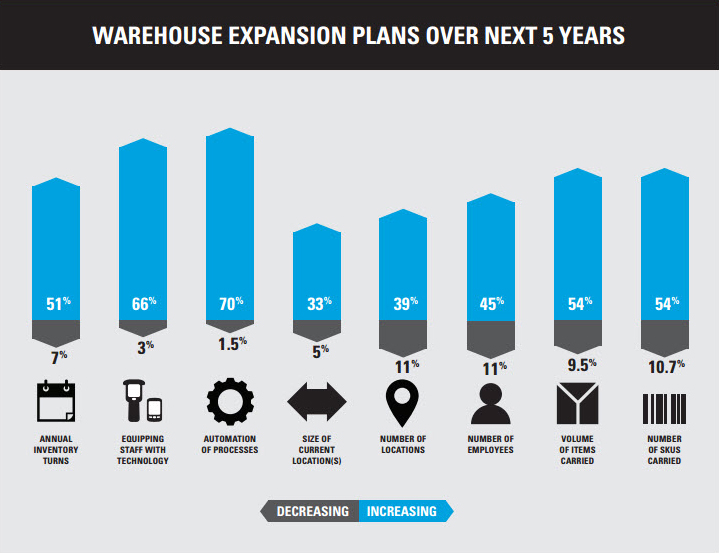 The report explains that…
"automation is expanding from the picking process to adjacent materials management and inventory control processes, such as cycle counting.
By 2018, only 12% of respondents expect to use pen and paper-based processes; 66% plan to use handheld mobile computers with real-time access to WMS systems."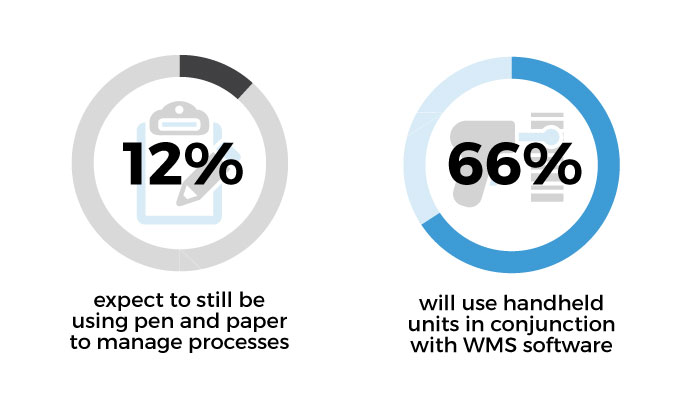 What is warehouse management system software?
Warehouse management system (WMS) software is a solution used to enhance warehouse management by providing automation to typical warehousing processes such as:
receiving
picking and packing
shipping
and overall inventory control and management.
A WMS software can be combined with a barcoding system and mobile devices to provide quicker processing and fulfillment capabilities. Barcodes and handheld devices mobilize warehouse workers and simplify tasks such as:
inventory receiving
inventory counts
order picking.
Thus, when combined with WMS software, a barcoding and mobile system enhances overall warehouse processes. More information on barcoding and mobile can be found here.
How warehouses can tackle logistics challenges with warehouse management system software
Referring back to Motorola's report, the new challenges warehouses face are:
the need for increased inventory control
flexibility and
faster, more accurate fulfillment.
Warehouse management system software addresses these challenges by providing a solution that automates and streamlines typical processes while increasing organizational visibility.
Driven Racing Oil uses software for warehouse management. Project Manager Travis Pollock explains how the company subsequently had better visibility into their inventory…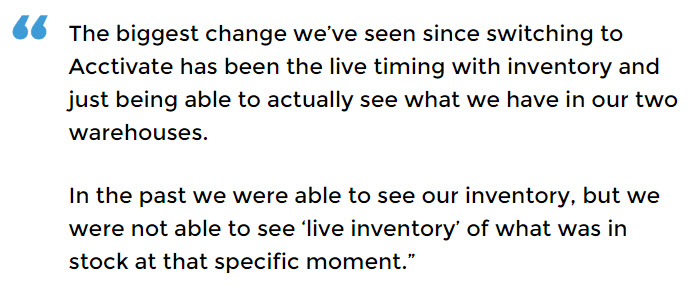 Driven Racing Oil also uses handheld devices in their warehouses for picking and packing products for shipment. Pollock says of using handheld devices to enhance their pick and pack process…

Library book distributor Rainbow Book Company is another business that utilizes warehouse management system software to enhance their workflow capabilities. They currently use a mobile device for inventory receiving to update their inventory as soon as products are received.
Co-owner Michael Sherman compares their previous manual receiving process versus their receiving process with WMS software and a handheld device…

Additionally, they utilize barcodes and handheld devices to synchronize with their warehouse management system software to streamline the shipping process. Sherman explains…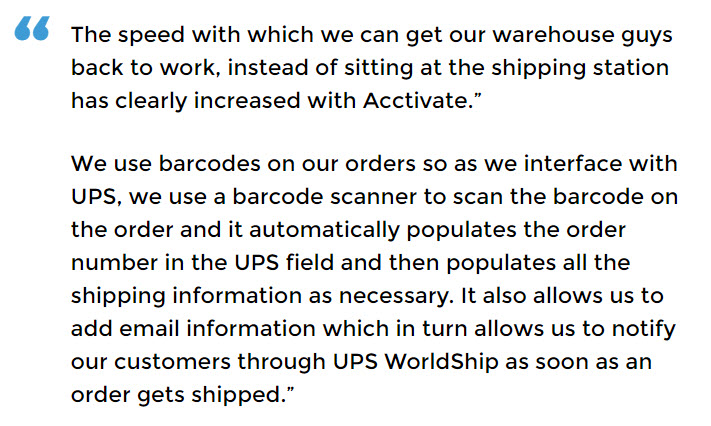 Driven Racing Oil and Rainbow Book Company are just two examples of the many businesses who utilize warehouse management system software to increase inventory control and organize processes. More stories of businesses enhancing warehouse operations include:
Furniture and home décor distributor Europe2You and their improvement in workflow management
Snack distributor The Brand Passport maintaining inventory visibility, as well as lot number control, with their third-party logistics provider
HVAC equipment distributor Masters Equipment effectively managing multiple warehouses and even sublocations of products using WMS software
Acctivate warehouse management system software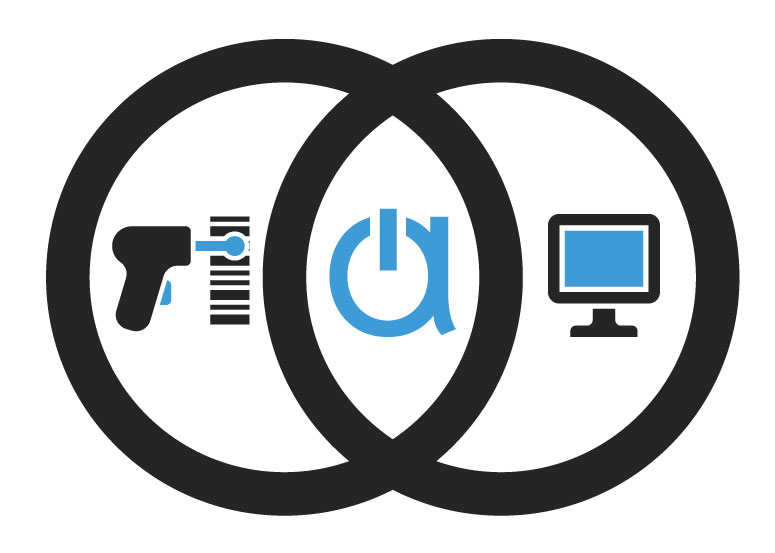 Acctivate warehouse management system software is software that's powerful, easy to use, and affordable. The businesses mentioned above are just some of the many organizations that have found success using Acctivate. Isn't it time for your business to find the same warehouse management success too?
Find out more!
Learn more about Acctivate Inventory Management Software by giving us a call at 817-870-1311 to talk about your specific needs or by simply completing the form and a specialist will contact you to discuss solutions.
Discover Acctivate
Start a conversation with a specialist today to learn more.
Back to top
The following two tabs change content below.
Latest posts by Susie Chung (see all)