EDI (Electronic Data Interchange) is how businesses communicate with each other to complete B2B (Business-to-Business) transactions. EDI facilitates the exchange of electronic data between systems for transactions such as orders, packaging instructions, shipping directions, shipping notices, and invoices with little human intervention. EDI automates routine tasks, eliminates data re-entry, quickens order and transaction processing, and increases accuracy.
Globally, over 150,000 companies use EDI. In the case of a small business owner, EDI is what your business will use to engage in trade with Big Box stores. But as a small business owner, understanding what EDI is and how it works for your business takes more than just one simple definition.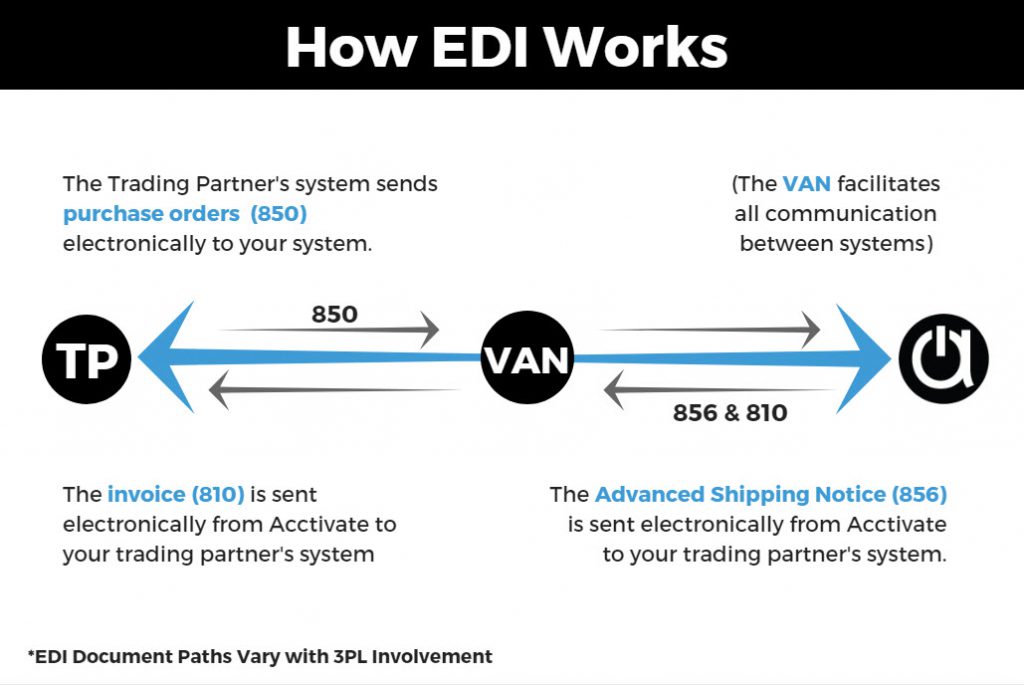 ---
What is an EDI trading partner AKA Big Box Retailer?
A well-established store, usually physically large, with a series of chain stores is the accepted term for a Big Box retailer. These types of stores are typical EDI trading partners – retailers such as Walmart®, Target®, Lowe's®, Home Depot®, Walgreens®, etc. are Big Box retailers.


When a Big Box store becomes your trading partner, you will need to have certain operations in place before the trading begins, such as achieving EDI compliance through an EDI provider and a system to handle complex, bulk orders. It is usually non-negotiable whether a small business must become EDI compliant in order to do business with a Big Box store. Implementing EDI into your operations is quick and pain-free. An EDI management software and EDI provider working together automates all processes and saves time. Shortly after implementation, a business will reap the benefits and enjoy enhanced productivity with the EDI system quickly paying for itself.
What is an EDI provider?
Acctivate is software for EDI management which works in sync with an EDI provider to streamline a business's entire EDI operations, cut costs, and boost efficiency. Acctivate performs EDI management with the assistance of an EDI provider.

An EDI provider is a VAN (Value Added Network) such as SPS Commerce™, True Commerce™, and B2B Gateway®. The VAN is what makes EDI trading possible. The VAN processes the interchange of data between systems and allows a small business to achieve EDI compliance.
VANs have the ability to translate data between different systems into a readable format, ensuring accuracy and efficiency when sending communications. Without a VAN, employees could spend hours decoding the orders and manually entering everything into the system, opening up the orders to a variety of errors.
What is EDI management software?
While EDI compliance is necessary for trade, EDI management software automates the process.


Without a system in place to handle frequent, large-scale orders, trading can become a very time-consuming and costly operation. With EDI management software, such as Acctivate, in place, manual data re-entry is nearly eliminated, processing and transaction time is expedited, and the chance for errors is slim to none.
Acctivate's EDI management capabilities streamline order fulfillment while also managing inventory and warehouse operations. Acctivate makes order receiving, picking, shipping and invoicing simple electronic commands.
---
EDI takes virtual teamwork
EDI trading normally involves a Big Box store (trading partner) and a smaller business. The small business sells products in bulk to the trading partner. Participating in trade with a Big Box retailer typically requires automating complex purchase orders, packaging and shipping instructions using EDI.
EDI only works when all appropriate systems are in place. The main component is the VAN, which will transfer and translate electronic data between a trading partner's system and your EDI management software.
Some typical transactions processed through EDI are purchase orders (EDI transaction 850), Advanced Shipping Notices (EDI transaction 856), and invoices (EDI transaction 810). EDI requests are fulfilled by direct ship-to-store, to distribution centers, or through a 3PL.
---
How do these transactions occur? Here's a real-world example of an EDI transaction flow…
Home Depot called – you got the deal!
Home Depot operates 2274 stores and 60 distribution centers. Each distribution center delivers to about 37 stores each.
Before placing your products in store nationally, Home Depot initiates a test run.
Home Depot sends orders (through EDI) to you via the VAN for 4 orders for 4 stores, going to 2 distribution centers. The VAN facilitates the communications between Home Depot and your EDI management software.
When the orders arrive, your EDI management software (Acctivate) comes into play.
Acctivate accepts the transaction and serves as the warehouse guide for ensuring the right orders are packaged, labeled, grouped and shipped to the right place.
Why is this important?
Imagine if you take orders for all 2274 stores to be shipped to 60 different distribution centers. Your system needs to be able to read the orders as 60 grouped shipments –

not 2274 separate shipments.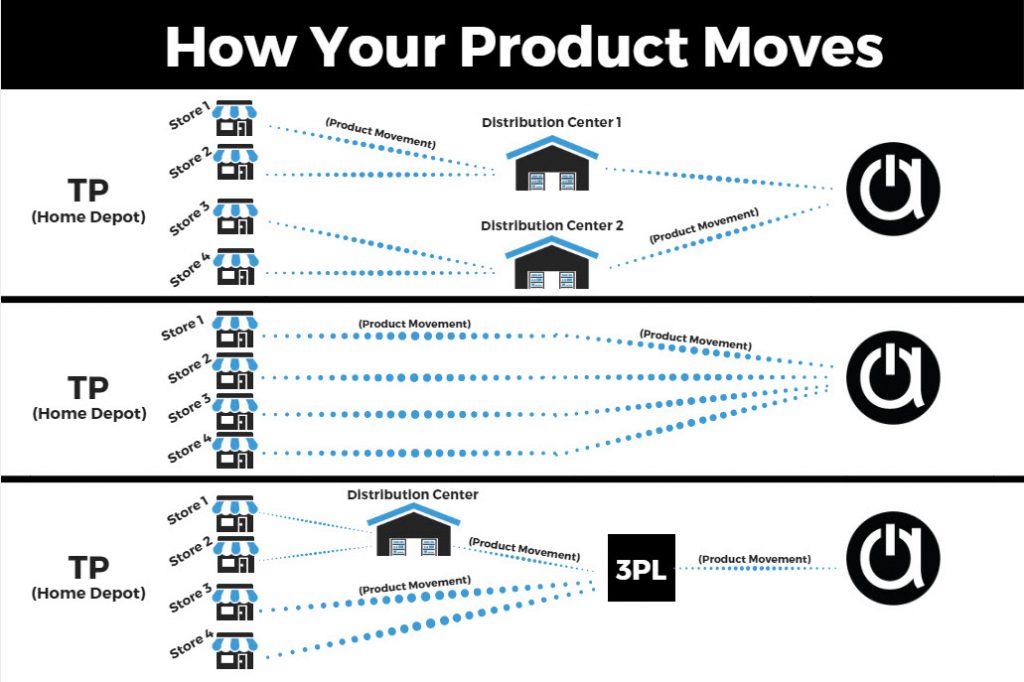 ---
Acctivate is what makes EDI Efficient
Acctivate, designed to work seamlessly with QuickBooks®, not only manages EDI, but inventory, warehouse operations, order fulfillment, light manufacturing, sales and purchasing.
Acctivate is loaded with features like barcoding & mobile, flexible pricing, forecasting and trend analysis, eCommerce tools, reporting, landed cost, traceability and import export capabilities. Businesses can add-on as many Acctivate specialized features to best suit their industry needs.
With Acctivate EDI management software, order management and fulfillment performance and accuracy are improved, making your trading partners happy and bringing you more orders.
Once EDI is Simplified
When EDI is broken down into parts, it is easier to understand what EDI is. With the knowledge of all working components and processes, a small business owner is more adept to engaging and succeeding in trade with Big Box stores. With the assistance of an EDI management software, EDI trading is a simple, seamless, and drastically more affordable task.
---
Get started today!
Discover how Acctivate's EDI management tools and a multitude of customizable features can transform your business. Try Acctivate for free or call us at 817-870-1311.