Watch the webinar above (30 min.)
3 Things Food Safety Inspectors Focus on During a Recall
Recalls are on the rise each year and businesses of all sizes are at risk. Acctivate hosted a webinar to educate food and beverage distribution companies about how to be better prepared to help minimize potential damages. The webinar entitled, "3 Things Food Safety Inspectors Focus on During a Recall" featured guest speaker, Eric Thompson a food safety consultant and 20+ year USDA Food Safety Inspection Service (FSIS) veteran.

Watch the webinar above.
Navigate the tabs below to get an overview of the webinar, read the webinar recording transcript, view slides and see how Acctivate can help your business.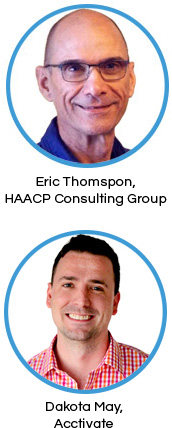 The much-anticipated webinar, "3 Things Food Inspectors Focus on During a Recall," has come and gone, but thanks to the digital age, it is available at the top of this page. Eric Thompson, former USDA food safety inspector and consultant of HAACP Consulting Group, and Dakota May, sales manager of Acctivate, co-hosted the webinar on August 17, 2017.
The purpose of the webinar was to break down the mystery of food or beverage recalls, educate on proactive steps businesses can take, and how to survive a recall if one occurs. Eric's extensive background in and knowledge of the food safety industry is what made this webinar possible, with the help of Dakota's expertise on how Acctivate can help food & beverage businesses proactively prepare and protect themselves if a recall ever occurs.
Webinar Overview:
What is needed to show immediate proof the contaminant is independent of the product.
Eric breaks down the differences of chemical independence, physical independence, and microbiological independence. While he discusses the differences of the contaminants, he discusses the need for the types of documents that can be used to show proof of independence such as formulation, sanitation, or physical records.
Navigating through the supply chain for the contaminated products and what a worst case scenario might look like.
Before Eric breaks down exactly how different product contaminations must be traced, he relays a story of a recall he took part in.
---
If you can't prove independence in a lot, a year's worth and multiple-lines of your products could be at risk," Eric said
---
How lot tracking records will help assess what products have been contaminated and what products have not.
Eric explains how any adulterated products must be tracked down and how far along the line for each.
Adulterated ingredients are tracked by lot through each batch of product produced and where the products ended up.
If the product was contaminated through personnel or production practices, the product must be tracked through the lots of finished products that were involved in these particular practices and where they went.
If a product is adulterated by mislabeling or mishandling, all labels applied to the products and all the shippers involved with distribution must be tracked all the way through.
---
The USDA and FDA both have the same catchphrase concerning what did or did not happen at a plant: If it's not written down, it did not happen," Eric said.
---
Without records, Eric continues to emphasize, there is no way to either track or to prove independence, which can put a business into a serious bind.
How Acctivate can help food & beverage businesses proactively prepare and protect themselves if a recall ever occurs. 
In the latter portion of the webinar, Dakota describes how Acctivate can quickly help determine the scope of a recall, independence, and pull all the relevant records for the investigation. Acctivate stores all records kept electronically in a centralized, easy-to-access system. Acctivate also tracks raw and finished goods through transaction history, and serial and/or lot numbers. Users of Acctivate can also manage, view, and report on source, expiration date, lot, inspection and quarantine information. By proactively preparing with Acctivate Inventory Management Software, a business facing a recall can feel more protected, secure, and certain when the investigators come to call.
Webinar Transcript: 3 Things Food Inspectors Focus on During a Recall
The following is an approximation of the webinar audio from the above video.
---
Dakota May:

Hello everyone thank you for joining us for "3 Things Food Inspectors Focus on During a Recall." My name is Dakota May and I represent Acctivate Inventory Management Software for QuickBooks.

Our agenda today will follow Eric Thompson's experience as he sheds light on what inspectors focus on during a recall and that includes immediate proof that the contaminant is independent, how much is in the supply chain, what's the worst case scenario without proof and lot tracking records to determine what's been contaminated with versus what's not.
We will follow that up with a discussion on how an inventory software like Acctivate can help and then we'll wrap up with the Q&A session for all attendees to take part in, so if you have questions throughout the webinar definitely submit those using your webinar toolbar and we'll make sure we cover those at the end.
I'm very excited to introduce our guest speaker today, Eric Thompson with the HACCP Consulting Group. The HACCP Consulting Group has an impressive resume of helping clients and countries improve food safety and reduce risk for over 20 years. Eric has an equally impressive resume with food production and is a former USDA Food Inspector spanning over 20 years of specialized knowledge regarding food safety recall protocols and prevention.
Thank you, Eric for joining us today I'm very excited for what you've prepared to talk about and without delaying any further I'm going to go ahead and kind of hand it over to you so that you can go ahead and get started. 
01:29
Eric Thompson:

Hey, good morning everybody.

As Dakota said my name is Eric Thompson and I'm happy to be here with everybody. And I'll go ahead and get started. If you keep up with current food safety news, you know that recalls are increasing every year. Some of those recalls are massive and turn out to be the gift that keeps on giving. Take for example the recall on sugar for the presence of metal shavings and then every food manufacturer that used that recalled sugar as an ingredient has to recall those products produced with that ingredient.
01:58
The sophistication of the data collected by FDA in the USDA keeps increasing, allowing these agencies to have access to real-time data and get better and better at identifying potentially adulterated product in commerce. I retired from the United States Department of Agriculture Food Safety Inspection Service after 20 plus years and I can tell you that when an agency calls with evidence your firm produced and shipped adulterated product, you may not have much warning or time to develop information to defend or support your position on what should or should not be part of the recall.
02:30
I remember a 37 million pound recall that was initiated through an outbreak of Salmonella Heidelberg, where emphasized sampling records determined that a particular plant was suspect. FSIS performed an investigation and found records documenting that the plant was actually producing carcasses with very low levels of Salmonella. It also found records documenting finished product that was highly contaminated with Salmonella. The records told a story of cross-contamination and nothing to limit the scope of the recall. Various raw ingredients with various levels of Salmonella contamination were mixed with each other on various days producing product that was shipped out to the world with high levels of Salmonella contamination including Salmonella Heidelberg.
03:15
In my experience with the USDA and HACCP Consulting Group, most plants are running around like chickens with their heads cut off after one of those calls and their most difficult task is trying to document or determine the scope of the recall. Determining the scope is trying to prove that you can show microbiological or physical or chemical independence of all lots of product you have produced that could be affected by the contaminer.
03:41
Let's talk a little bit about independence. Independence means that you can support at some point or process the starting and stopping point in contaminated or adulterated product. Microbiological independence could be clean up to clean up sanitation records, sampling and testing records, or the scientific documents defining a supporting microbiological growth or debt. Chemical independence could be formulation records demonstrating only one line of product used miscalculated ingredients or sanitation records demonstrating only one combo or product was contaminated by a hydraulic leak. Physical independence could be records demonstrating you only started using blue gloves a week ago where you found all of the parts of a white plastic roller that fell apart.
04:30
So if you can't demonstrate the independence of any potentially contaminated lot and the agencies can ask or demand that you recall one year fresh product or two years of frozen or canned product or more. An example would be if product is found in commerce of metal shavings and it can be traced to your plant and you have a very good foreign material program, you may be able to show that only one lot of product needs to be recalled, say from the bad lot of product back to or forward to the last check. But then what if you take the leftover from today or from that lot and use it in fresh product tomorrow or your next lot. Then you have lost the ability to prove that the lots are independent.
05:11
The USDA and FDA both have the same catchphrase concerning what did and didn't happen at a plant. "If it is not written down it did not happen," so even if you're in a one-man operation and you were the one that purchased ingredients, formulated the raw material, processed it, packaged it and sold it and you remember every step, the agencies will not listen to you without corroborating evidence and that corroborating evidence is records.
05:38
We are going to talk about how a recall starts. A recall starts when the agency receives information suggesting your product is contaminated or adulterated. And that can be testing results, consumer complaints, records reviews, whistle blower information and anything else that you can think of. The next step is for the agency to gather a group of its subject matter experts, discuss the evidence at hand and make a decision on the worst case scenario and how much product might be subject to a recall. After that the agency will call the plant to see if it agrees and if the plan doesn't agree the agency will listen to the plant explain and outline any information and evidence the plant has to support why it should or should not recall that product or that much product.
06:25
And I can tell you from the time the agency gets the first round of information from the inspector or notifications, it can take from a few hours up to a day or more to gather its team, consider the evidence, make a determination and then make that call to the plant. This is all determined by the quality of the information, the availability of resources and the threat to the consuming public. If the plant supplied the data they may have had time to investigate and supply a meaningful data to the agency. If the agency developed the data on its own, such as consumer complaints or agency testing. A plant more than likely may have had zero time to investigate and develop its side of the story. So all of this should tell you how vitally important, easy and even instant access to records can be.
07:12
If the products in question were adulterated by the ingredients you used, you will have to track that ingredient by a lot into each batch of product you produce then you will have to track where those products went. Examples include metal shavings in sugar or undeclared soy in a sauce.
07:29
If the products in question were adulterated by personnel, such as cross contamination or practices, such as rework at your plant you will have to track those personnel and/or those practices by the lots of finished products they were involved with or affect and where those products went. Examples would include Listeria or Salmonella in finished RTE products, or customer complaints of plastic in product.
07:56
If the products in question are adulterated by mislabeling and mishandling, you will have to track all of the labels applied to product and all of the shippers and distributors that you sent the product to and where they sent the product to. Examples include undeclared allergens, missing ingredients, and abnormal packaging in commerce.
08:14
You do have to perform this investigation record search in short order. This supplies sufficient and applicable records to prove the independence of all affected lots from all unaffected lots. I've seen plants forced to recall two full years of production when they could not produce the records to support a smaller recall. And days and weeks later after hand searching through all of their records, they finally did come up with the records they needed to support a smaller recall. There is no going back and they were held to recalling the original amount.
08:52
Electronic records are the easiest records to search, segregate and supply, but there again only unless the person with the knowledge of your computer program is not off that day or if they just recently quit or say the request comes in on a weekend or other holiday and the system is down.
09:11
So if you get prepared now, develop a meaningful recall plan which is now required by regulation and it is more than a copy and paste from the agency's website and practice it on a somewhat routine or scheduled basis, even if you ever do get the call, you can respond quickly with all of the data necessary to reduce your liability to the minimal amount of product possible.
09:33
And talk about liabilities, recalls can up your legal and monetary abilities also, within severity of the risks to the public and the public's ability to prove that your product caused them to suffer. There's no shortage of law firms out there, that are more than willing to take on clients that claim to have been harmed through product adulteration.
09:50
Remember, if you can, the fast food hamburgers of E.coli O157:H7 in the Northwestern United States, where children got sick, suffered and died and it was all recorded daily on TV. How about ground turkey of Salmonella Heidelberg where 37 million pounds of product were recalled and it actually shut down an industry for a time. And then there's pot pies and Salmonella, peanut butter and Salmonella, I could go on and on, but I'm sure you watched and listened to these events as they unfolded on your local or national media.
10:19
So don't be a victim. Get prepared and be a participant that can demonstrate and support your position when it was most needed.

Dakota May:

Thank you, Eric. That was fantastic. What I'd like to do now is actually shift and talk a little bit about how Acctivate can actually help with a lot of the points that you were just mentioning. So just kind of summarizing some of those talking points, you know determining the scope of the recall, proof that the contaminant is independent and perform the investigation and records search quickly.
10:54
To talk about how to meet those requirements, it is imperative that you have a solution in place that gives you easy access to all the relevant transactions. It would be beneficial if those transactions are centrally stored and as you were just saying earlier that electronic form is better than obviously paper, it's going to be much quicker. So taking that a step further though to prove that the contaminant is independent, traceability from the supplier to the customer for a given lot of product that you have can help determine just how much of a product that will need to be recalled as a part of the investigation. When storing and tracking all of this data of course it's important but if you can't do it quickly, you also noted that you know if it takes you weeks to pull it together, it may be too late and now the scope of the recall is going to be much larger than what it could have been had you been able to pull that together in a faster, more easily readable fashion.
11:48
So this is kind of transitioning it to Acctivate's approach. A one system to manage a multifaceted business. In other words, a centralized location to keep track of purchasing, production, inventory, sales and customer transactions. This keeps the entire company coordinated with on-demand access to data.
12:09
So here we have a purchase order. You can see here, we know who the supplier is; the date that this purchase order is being entered in; the product that we're purchasing, the green Colombian coffee beans. In this specific example, we're purchasing five 100 pound bags and then you can see the receipt related to the reconciliation of the purchase order, so we can determine exactly what the warehouse received. So we're also determining the location that's been received at, from a warehouse to a bin location.
12:42
Also we're identifying important characteristics like the lot number, the expiration date, and the exact quantity of product being received on that date. That then allows us to go directly into tracking as raw material, raw goods in your inventory, knowing exactly where it's stored, whether we're talking about the warehouse or the location, the bin location in the warehouse to the lot number, how much of the received amount for that lot number is still in your possession versus how much has been maybe used as a part of production for a finished good, which then takes us to what I believe is one of the most important aspects of this example, which is production.
13:28
Because we're talking about now, we're taking a raw good, we're going to roast it into a finished good. So we're going to be producing roasted Colombian coffee. Our estimated amount that we're producing in this example is 500 pounds and we can identify that the green Colombian, the raw green Colombian coffee, being pulled out of a specified warehouse, the specified lot it's being pulled from and the exact amount, not the estimated amount that you would see in a bill of materials, but the exact amount that we're going to or have pulled for that specific production order. That then takes us into what was produced and identifying not the estimated quantity of production, so we said we're going to estimate a 500 pound production but we actually had a yield of 485 pounds, which is of course we all understand, you know how batch to batch materials and circumstances can change and amounts of product being produced can change varying up and down, so knowing exactly what was produced allows us to very accurately track and understand what finished good is being produced and then how much you have moving forward.
14:38
Eric Thompson:

And Dakota, if I may interject something here, something that I didn't talk about is, if say it's sugar with metal shavings in it and the manufacturer can prove that they shipped you a 1000 pounds or 500 pounds and you're going to be expected to account for all 500 pounds of that ingredient and where it went. And, if you've got line loss, like falls out of a shaker or somebody drops a scooper or whatever it is when they're mixing this stuff up, these types of records would be invaluable to show that yes we got in 500 pounds of the ingredient but only 485 pounds of it actually made it where it was supposed to go the rest of it was just line loss.
15:17
Dakota May:

Right exactly, yeah, thank you for that. This is exactly what that transaction is designed to catch, so that we can then look historically back, we can run a report that can identify exactly that we pulled the five bags, which is 500 pounds of the green coffee, but only 485 pounds of the finished good was produced, so we can actually nail that down to a specific record. Then looking at finished good inventory. So this is after we've completed production. We're now restocking 485 pounds, we can obviously, we'll have you know parts of the transaction or the warehouse that it's being stocked, the bin location, the lot number associated to that specific batch and then of course here we're still tracking the received quantity of 485 from production and then you have several other statuses for that inventory, as well, which is how much is on hand versus how much has been issued and then that allows us to understand how much is still in your possession in your warehouse.
16:19
We get to that calculation and the issued is relevant to a sales order, so we are issuing inventory as we sell the product on a sales order to a customer. So you see the sales order example here, I'm selling to Adams & Company. I know not only the company, but I also know my contact there for this order. I also know the product, roasted Colombian coffee; the 25 pounds that I'm selling out of my specified warehouse and then the lot number, which is pop-up screen when you are going through fulfillment it will identify the lot number, but it is there, and that takes us to sort of finalizing as the product is going out the door you know exactly what product that customer is going to receive.
17:05
So then when we're wanting to gather this information, having the data there is important, so all of the different transactions from the time that you procured it through the time that you issued it out of your hands. So when you're wanting to report on that, yes you can go transaction-by-transaction and many systems support that, but also being able to gather that quickly in one place.
17:28
In this example we're going to look at our track and trace transaction window and Acctivate where you can manage, view and report on source, expiration date, lot and also keep track of it not just as a single trace for one instance when you wanted to search, but also keep track of it as that was requested from the investigator and that way you can keep up with notes and emails related to that, this specific trace which is going to tell you everything, from receipt of the raw goods to the production, you know you see the component of the green Colombian as a line, the assembly of the finished good, roasted Colombian, as well as every single order of that produced finished good that's going to go out your door, that's drilled down so you can actually open it directly up and start communicating with the customers as a part of your recall plan so that you can get information to them and the notice of recall. But this all kind of comes back to all you have to do is identify the product and the specific lot that you're talking about, so it's designed to be very fast and very easy to pull this data within, you know, minutes rather than you know having to gather lots of paper and come up with something that could take much longer.
18:45
Eric Thompson:

Hey, Dakota could I say something here, too.
We talked a lot about recalls, initially what happens after a recall is implemented or initiated, the agencies will send inspectors out to the field and go to where all of the product went to and let's say they go to a grocery store that's got a hundred employees and the investigator walks in and one of the questions they asked, well they look and see if there's product there to start with, and if there's product there that's bad. Then they ask an employee, they say "Did you receive notification of this recall?" Well if that person says no that's bad also, because you're supposed to notify all of your downstream customers of this recall and tell them what to do with the product and if you have on your records like this track and trace, like Dakota was talking about, where you called them, who you talked to you, when you talked to them, and if you notified them of the recall and what to do with recalled product, that is your defense against that person saying no this store did not receive notification of recall, you can say well you talked with the wrong person because it was this person that I talked to you on this date and at this time and you need to go talk to him.
19:58
Dakota May:

Right and I really appreciate that input because that takes us directly into what we call a business activity and if you notice at the top of this screenshot you see something that says new activity, now if I go to my next slide you'll see had I clicked on new activity what it would do is create something like this and it allows me to start the process as a part of my recall plan to reach out to each customer related to that recall and you can see here there are several different things that we should note: one, we've identified this type of activity as a recall activity, which our system allows a lot of configuration capability with naming things here, but recall the code of quality issue; you also can assign it to an individual person so you know exactly who is in charge of communicating this information to your downstream customers, as well as the status and of course in this example I set it up to say that the recall notice had been sent maybe it hasn't been confirmed yet and that's something that Floyd Harris would be in charge of following up to ensure that that was confirmed, but this also allows you to do two more things, one, you can attach related items so you know exactly what customer you're reaching out to, what order it's related to, what product and what trace, so you have in one place an area to sort of consolidate down so you're not having to jump across multiple systems or multiple places in a single system. You just go to this one activity and kind of know exactly what you're looking for.
21:28
Number two, gets to your point Eric, which is understanding what was done when it was done and the tabs for notes and emails there, I don't have that as an example here, but, and of course we can definitely demonstrate this for you, but at a later time. The notes and email tab keep track of, you know, if you create a note internally you can keep track of when that note was created, who created it and who it's designed to be, you know followed up on, or completed by; and then the email, we can email out of Acctivate using either your company server for the email or your personal email, but that allows you to tag when your communication is being sent out exactly, so you could actually prove, "Yes I did send this to them." It also is drag-and-drop capable where you can drag and drop communication back, so if they do confirm, "Yes I received this," we're going to follow the process outlined and you drag and drop that under there, when you have to refer to this as proof then it will all be in one place, as of course, part of this overall discussion is centralizing data for easy access and this is an example of that.

So posing that question, how can software like Acctivate help when a recall occurs, you know, first and foremost is to be prepared, you know, go through the process and practice a recall plan, but also part of that and this is where Acctivate can help is allowing you to have easy access to that important and relevant data related to that specific instance or that specific investigation. Of course, this leads it directly into minimizing the scope of that recall and most importantly it reduces your risk in, possibly reducing the financial burden that could be imposed on your company for that recall.
23:29
So, I guess that's... now what we can do is, I want to actually open this up for the Q&A session, so let me actually look at and see... let me get this open. So, it looks like Kathy asked, "I assume this would be also be very helpful after the recall to reassess the food safety plan and maybe reduce the size of potential future risks." Eric do you want to maybe answer that.
24:05
Eric Thompson:

One thing that at least the FSIS, I feel confident the FDA does too, is once you have information that could affect your hazard analysis and also your HACCP plan — your food safety program — you must reassess and to have all of the information available to you about what could have gone wrong, what did go wrong, makes it a lot easier for you to try to plan ahead and say, "This is how I... these are the actions that I intend to put into place to then prevent this from ever happening again or hopefully to prevent it from ever happening again.
24:47
Dakota May:

Fantastic. Eric, this one also would be for you. The question, "Where does the evidence come from?" I guess... maybe the question's really referring to typically where is evidence being found, and maybe you can speak to a little bit more regarding that.
25:05
Eric Thompson:

Okay, sure. Evidence of a recall is let's say you get one customer complaint for a blue plastic in chicken nuggets and then you get two, then you get three, then you get four and you start looking and you can notice that the data that you get shows that there's... that they're all from the same base production or the same lot or the same week; and then you probably go send an email out and fortunately investigations and analysis offices are out to start gathering the actual paperwork to show that all of the numbers match up, that these are valid numbers, valid data; or let's say that FSIS took a sample of product and sent that sample off and it came back positive for Listeria or Salmonella and it's a ready-to-eat product, that's all the evidence you need to then go after that product and recall it if it was shipped into commerce.
26:03
So there's no longer on that process trying to put all the consumer complaints together and then there's just a short process where you have a microbiological positive and then on the plant side they're additives is those records that show clean up to clean up or you know we found this hydraulic oil leaking and we know that it started at this time and it ended at this time, so we've got control of all of the products that were questioned. That's the plant's evidence.
26:38
Dakota May:

And, I think this is also for you, too. "How long does a recall inspection typically last?"
Eric Thompson:

Wow. If the agency has a microbiological positive, Listeria or Salmonella in pot pies, they simply need to go to the plant and have the plant deliver the information or the records to show that this is how much product you need to recall. If they can't do that then they're going to recall, like I said, one year for fresh, two years for frozen or canned or more. That could take an hour or it could take days, especially like the blue plastic consumer complaints, it could take days because you have to start tracking down lots, you have to start making sure that the blue gloves are the same, you know they may be a slightly different colors, so you start looking when did you change suppliers of your blue gloves; that one's a little tougher. A microbiological positive, it's really easy for the agency and it generally takes hours. Blue plastic glove complaint, blue plastic complaints in chicken nuggets, generally take a lot longer because of all of the, you know, because blue plastic flakes that went through the frying operation and got distorted, so then you have to determine some how, that it was or was not blue plastic gloves. I've seen them take as long as a week and I've seen them be over in as little as an hour. The 37 million pound recall at the plant for Salmonella Heidelberg took almost a week.
Dakota May:

Wow, okay.
28:15
Eric Thompson:

Because it was a lot of records involved because initially the carcasses, the poultry carcasses, were coming out with evidence that they were not contaminated with Salmonella; there were zero positive out of 51 tests and by the time you got into further processes and started getting in all of the other ingredients, if it started to develop, but that took a while. It could take a week, it could take an hour, short answer. Okay.
28:47
Dakota May:

Okay, this looks like the last question. One I can actually answer. It actually was, "How long does it take to implement Acctivate?" So Acctivate... our approach is typically based on a customer's needs, so our our sales team will walk you through, you know, what are your... what your needs' analysis is, understanding kind of an overall, you know, how Acctivate's going to fit and then help your business, so it can be anywhere, you know, an implementation of Acctivate can take anywhere from four weeks to several months, but it just does determine... or is based on really the overall scope of, you know, you know how Acctivate's going to be changing your business. Alright, I think that's it, I think that, I think we'll go ahead and wrap up.
29:43
I really appreciate your input today Eric, thank you for joining us. It was fantastic information. I know, I learned quite a lot, too. And for all of our attendees we're going to be following this, as soon as this is over, we're going to be following up with an email that will have a link to these...PDF of these slides, so that you can review it. We'll also have a link to the webinar itself, so if you want to watch it again. So definitely look out for that email and we'll be in touch. Alright, thank you.
Eric Thompson:

Thank you, everybody.
View webinar slides: 3 Things Food Inspectors Focus on During a Recall
Gain food safety and recall knowledge to ensure you can easily answer to agencies, i.e., FDA & USDA.
Book an interactive, personalized tour with an inventory expert
What to expect in a demo:
Connect with an Acctivate specialist, who will share their screen with you.
Understand what Acctivate is & what it can do for your business.
Learn about features for your specific business needs.
Deep dive into the actual software to see how it can solve your operational challenges.
Ask questions & get answers.
Up to an hour presentation that is well-prepared to maximize your time efficiently.
See Acctivate in Action
Request a live demo or call us at 817-870-1311.
Find out more!
Learn more about Acctivate Inventory Management Software by giving us a call at 817-870-1311 to talk about your specific needs or by simply completing the form and a specialist will contact you to discuss solutions.
Discover Acctivate
Start a conversation with a specialist today to learn more.
Or call us at 817-870-1311