The synchronization with QuickBooks is great. That was one of my biggest concerns: 'How is this going to work with QuickBooks?' and it's been excellent. So anyone that has QuickBooks that has inventory issues needs to get Acctivate for sure."
Andy Seligman, Vice President of Sales
Andy Seligman, vice president & controller of sales at Advanced Abrasives and Michelle DeCarr, inventory manager with Advanced Abrasives talk about their unique industry, managing inventory, and running a rapidly growing business.
Q: What industry is Advanced Abrasives in?
Seligman: "We're a manufacturing company and we actually work with industrial diamond powder for industrial purposes, not gem quality. Natural and synthetic (man-made) diamond is used for a whole bunch of industrial purposes. Our biggest customers use it on drill bits for downhole drilling for natural gas and oil."
Q: On your website, there's a section about the "Mesh to Micron process". Could you explain a little more about it?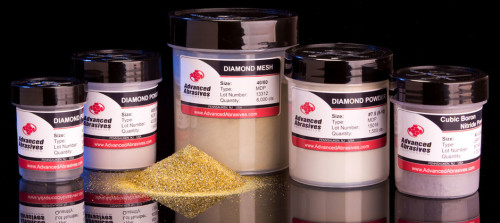 Seligman: "We take very large pieces of diamond and we mill it all the way down to very small microscopic sizes. Most companies have that done overseas. We do it ourselves and we feel we're much more consistent in quality. We do everything right here in-house so we have the ability to turn products around much quicker than others. When an order comes in, we usually can get it out within the next day."
Q: Very interesting. Well, let's talk about the growth of Advanced Abrasives. What kind of growth has the company seen since beginning operations?
Seligman: "We've been in business since 2002. Our growth has been ginormous. We're worldwide. We're all over: Taiwan, South Africa, Europe, etc."
Q: Wow, "ginormous", huh? How was Advanced Abrasives keeping track of finances and inventory at first?
DeCarr: "All Excel sheets basically. The only thing being used at all from an accounting standpoint was QuickBooks, which is limited with inventory management."
Q: That must have been quite a constraint. So now that Advanced Abrasives is managing the business through Acctivate. How did the company decide Acctivate was the solution you were looking for?
DeCarr:
Our products are very, shall we say in biology terms, 'species-specific' in that everything in here is essentially a variable build. You could have an end product and there could be upwards of ten different products that can make that end product and for each specific end product you need to be able to go back and select what's making that up.

When I was dialing around there weren't a lot of inventory programs that went that way – it was more regimented, there was no flexibility in a lot of programs I looked at.

Whereas with Acctivate, we had the opportunity to say, 'Okay, this is the product that is the end product but that doesn't mean it's all made from the same stuff.'"
Seligman: "A lot of that also comes back to lot traceability with parts from one lot creating five lots from one lot. The product is moving around very quickly to different parts of working processes. We've never been able to track it before."
Q: Okay, so Advanced Abrasives wanted a solution that provided variable build, lot traceability and was able to account for all of that correctly in inventory. What other factors were taken into consideration when choosing Acctivate?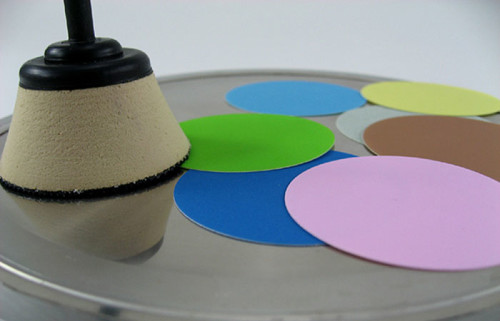 DeCarr: "Well the kitting because we sell everything in sizes, as well as the ability to track products and being able to sell them on an as-needs basis. We have different customers wanting different sizes; it's sort of a made-to-order sizing. We don't have this stuff sitting around on the shelf like an assembly."
Q: How many people at Advanced Abrasives use Acctivate?
DeCarr: "Everybody that is involved in one process or another has their hands on Acctivate."
Q: How do you use Acctivate's customizable dashboard?
DeCarr:
I'll go into Acctivate's dashboard and do a selection if I want to see about outstanding purchase orders from a certain vendor. It makes things a lot faster. It's very important because everything comes from something else and everything has a formula or a build or a kit."
Q: How has it been managing more than one warehouse with Acctivate's warehouse management capabilities?


Seligman: "Multiple warehouses are key and it was another reason we chose Acctivate in general."
DeCarr:
Also, the one thing nobody else could do was Acctivate's ability to handle the consignment inventory and being able to keep that separate."
Seligman: "Consignment inventory is a big part of what we do."
Q: How is the synchronization with QuickBooks and Acctivate?
Seligman:
The synchronization with QuickBooks is great. That was one of my biggest concerns: 'How is this going to work with QuickBooks?' and it's been excellent. So anyone that has QuickBooks that has inventory issues needs to get Acctivate for sure."
Q: We have in our records that Advanced Abrasives has called our support team with an issue. Was the issue resolved?
Seligman: "Overall, support was awesome; support jumped on the issue and helped solve it in a fast and effective manner."
Q: We're glad to hear that. Well, is there anything else you'd like to add about your experience with Acctivate in general?
DeCarr:
There is no comparison to Acctivate. We couldn't look into the computer and have any idea how much of anything we had – we would have to actually run to the back to see. In terms of tracking, inventory ins-and-outs, who bought what, where and how, it wasn't there before."
Seligman:
Acctivate is doing a good job. I really think that as we're growing, we will be able to utilize more and more from it."