Order Fulfillment Software
Built For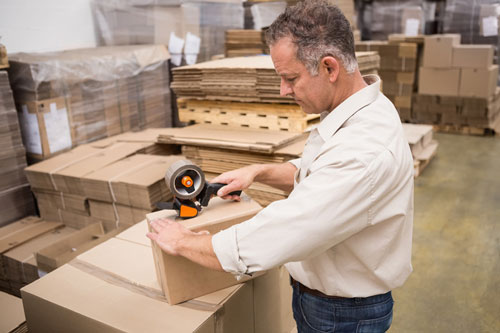 Order fulfillment software helps businesses manage and coordinate the process of picking, packing, shipping, and tracking orders.
What is order fulfillment software?
Order fulfillment software is used by businesses to manage their order processing and delivery operations, allowing companies to automate the process of receiving and processing orders, managing inventory, and shipping products to customers.
Order management and fulfillment software can significantly improve accuracy and simplify the many tasks associated with fulfilling orders and getting packages to customers.
The process of order fulfillment: where accuracy and speed must co-exist
Order fulfillment is the process of selecting or picking the item or items from inventory to fulfill a customer's order. The items are prepared and packaged for transport, then shipped to the customer. Order fulfillment software automates the order fulfillment process, reducing errors, optimizing worker productivity and eliminating bottlenecks.
It sounds simple enough, but as anyone in order fulfillment can attest, it is a point in the order process that demands both accuracy and speed – which are frequently difficult to simultaneously accomplish.
The last critical steps before the moment of truth when the customer receives the order, order fulfillment may be the most crucial in the sales and order management process. While order fulfillment is a big task, it can be simplified with order fulfillment software.
Acctivate inventory management & order fulfillment software with picking & packing your way
Maximize outbound operations
Configurable pick routines: Create tailored pick sequence paths to meet your business needs in single or multi-warehouse environments
Individual order picking: Pick each order separately from a picking document. Packing slip identifies contents for every box to be picked & shipped at the box level
Consolidated or batch picking: Combine pick lists to create a bulk picking list of items from multiple orders
Zone picking: Picking for fulfilling orders occurs by zones or sections within the warehouse
Priority order picking: Prioritize picking lists for shipments requiring immediate shipment
Paper picking: Orders are picked with customizable pick lists that are printed or reprinted.
Ticket information can include items, quantity, locations, ship date, order date, shipping carrier, terms, customer type, or other system information.
Mobile picking: Pick the product from a mobile handheld computer with barcode reader with no printed paperwork required. Capture product barcode, bin barcode, and/or lot or serial numbers.
Positive confirmation: Pickers can be required to provide positive confirmation of the product or lot by scanning the product's bar code
Lot number management: Pre-assign specific lot or serial numbers for the warehouse to pick or allow warehouse personnel the convenience of picking any number and record it when shipping. FEFO (First Entered First Out) capability for lots with expiration dates.
Substitutions: Item substitutions can be managed automatically by pre-defined, date-specific substitutions or manually at the warehouse level (with permissions)
Order specific picking instructions: Orders may include picking instructions viewable by warehouse personnel and printed on customer documentation noting specialized delivery needs or expiration dates.
Order specific special instructions: Orders may include special instructions viewable by warehouse personnel but not printed on customer documentation noting specialized delivery needs or expiration dates.
Customized packing documents: Create customized & personalized packing documentation using Crystal Reports® including bills of lading, invoices, packing slips, shipping labels, and customer thank you notes.
Custom reports using Crystal Reports® enable reporting and extensive filtering on any field containing information within Acctivate to analyze worker productivity, order completed, quantities picked or error rates, test and compare different pick route methods, analyze returns and error rate improvements over time periods and more.

Inventory & order management software that makes shipping a breeze
FedEx, UPS, USPS, StarShip & DHL integration with order fulfillment
The Acctivate Shipping Workstation integrates directly with FedEx, UPS, USPS, StarShip & DHL to provide order & address information and to collect package information.
FedEx, UPS, USPS, StarShip or DHL system requests Acctivate order number and lookup address directly from Acctivate database
FedEx, UPS, USPS, StarShip or DHL system will automatically supply package tracking and shipping cost to Acctivate
Acctivate displays package details when order is invoiced
Inventory & order management software with other shipping options
Less than Truckload (LTL) and other carriers: Print the bill of lading and shipping labels from Acctivate
Case lot shipping
Large, multi-package shipments with packages going to various shipping addresses
Scan/enter order numbers into Acctivate
Acctivate automatically pulls package information (by box) and prints a label for each box
Data is exchanged with FedEx, UPS, USPS, StarShip or DHL and tracking number and shipping cost details are supplied to Acctivate
FedEx, UPS, USPS, StarShip or DHL orders are automatically marked as shipped enabling use of the Invoicing Wizard to easily invoice all shipped orders at the end of the day
Inventory management & order fulfillment software with shipping & handling billing options
Shipping costs may be selectively added to invoice with the following options:
Standard pack: Pre-recorded product weights will calculate without weighing at time of shipment
Bill exact cost of shipping
Bill exact cost of shipping plus a handling fee
Flat fee: Bill a flat fee
Obtain shipping costs from third party (3PL provider) and add to invoice
Inventory management & order fulfillment software with tracking
Tracking information is automatically supplied to Acctivate from UPS, FedEx, USPS, StarShip or DHL
Acctivate can provide FedEx, UPS, USPS, StarShip & DHL email address information for notification
Acctivate can automatically generate customer emails to provide order status and tracking information
Single-click access to shipping & tracking information on shipper website from Acctivate CRM for customer service inquiries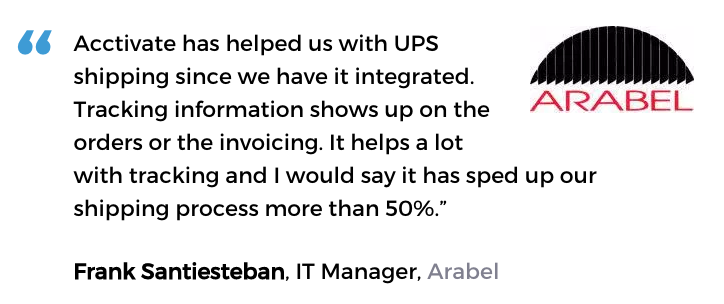 Discover Acctivate
Acctivate is packed with
features
for your entire business. Talk to our team of product experts and see if Acctivate is right for your business.
Call us at 817-870-1311