Built For



Inventory reports software with 100+ reports & documents, a customizable dashboard & the ability to create virtually any report or document with Crystal Reports®.
Inventory reports software
When you go to a really good burger joint have you noticed they'll generally have their own creations listed – combinations you might not have thought of on your own – and, they have build-your-own option.
So then, why is it that the handful of reports that come with most software many times seems like the reports were an after-thought just thrown in to satisfy a "we have reports requirement?"
The ones they've created are based on their expertise – they make a lot of burgers and think of things us "just give me a cheeseburger" types might not think of. But, if you have something you specifically want, you can customize your burger however you want it.
Expert-advice AND the options to customize – always a good thing.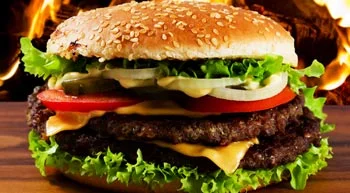 Reports and documents the Acctivate way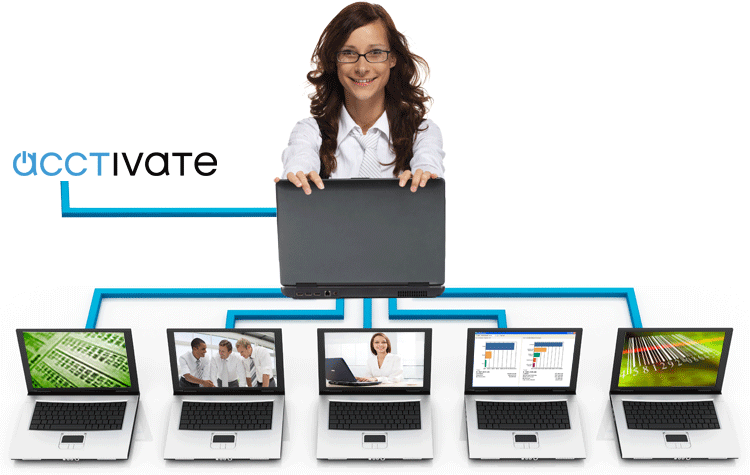 Acctivate includes over 100 reports & documents out of the box including a customizable dashboard AND the ability to create virtually any report or document with Crystal Reports® eliminating all restrictions to getting the information you need, the way you want it. Acctivate provides fully-integrated, real-time access to company-wide information.
Over 100 standard reports & documents out of the box
All reports and documents can be previewed on screen before printing
Integrated with the world's leading reporting software, Crystal Reports®
Create customized documents with rich content & professional design elements
Organize & manage all reports in the Acctivate Report Catalog
Easily distribute information in popular file formats
Print display grids by simply clicking with the right mouse button
Print any screen by clicking on the print screen button on the toolbar
---
Acctivate inventory reports software, Eclipse Aesthetics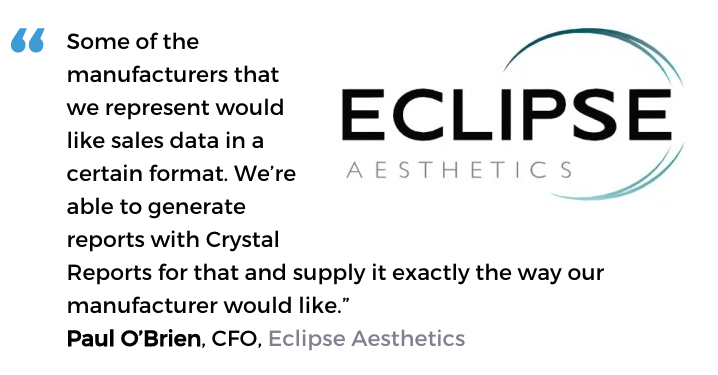 ---
Access the information you need
With over 70 standard reports & 30 standard documents, Acctivate users can easily access information from across the organization on day one.
Reports are easily accessible within each category module (sales, purchasing, etc.) and are also housed within the Report Catalog, a system library that contains all reports and documents
Report filtering: Report data can be filtered to limit what is presented to achieve a more customized user view of the information
Printer assignments define a default printer for each report
Customize with Crystal Reports®
Acctivate's reporting and document management capabilities were designed around Crystal Reports, the powerful, industry-standard business reporting software.
From barcodes for product or bin labeling to advanced, rich content reports and documents with professional design quality & branding – the data collected in Acctivate is quickly & easily converted into actionable information and interactive content.
Virtually any report or document that you can envision can be created with Crystal Reports using any data housed within Acctivate
Standard reports & documents can be modified for specific business needs & customized with branding elements, images, font type, font size and text color
Documents, such as purchase orders, sales orders and invoices can be customized and branded
Create and print barcodes for product labeling and/or bin labeling
Organize with the report catalog
The report catalog is a repository of all standard and custom reports in the system.
Reports are organized in a visual tree structure, with folders and sub-folders organized in logical groupings.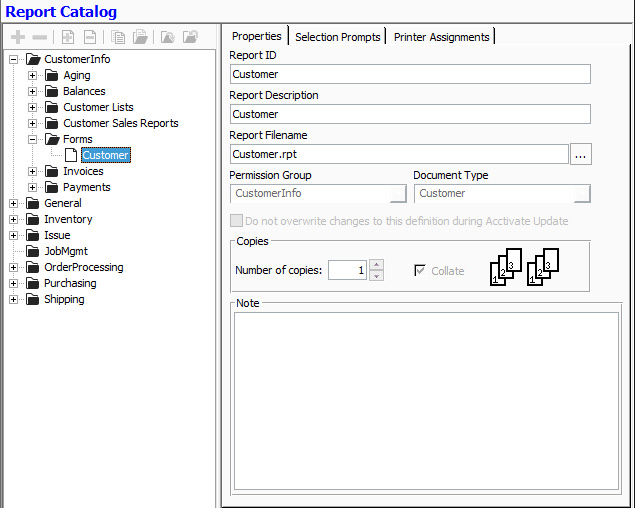 Distribution
Acctivate reports & documents can easily be converted and attached to an email, posted on an intranet or used on the web.
Reports & documents can be exported into any of the following formats:
Acrobat Format (PDF)
Crystal Reports (RPT)
HTML 3.2 and 4.0
MS Excel 97-2000
MS Excel 97-2000 (Data only)
MS Word
ODBC
Separated Values (CSV)
Tab-separated text
Text
XML
Record style (columns no spaces)
Record style (columns with spaces)
Report Definition
Rich Text Format
Discover Acctivate
Acctivate is packed with
features
for your entire business. Talk to our team of product experts and see if Acctivate is right for your business.
Call us at 817-870-1311