The biggest win is that Acctivate has enabled us to be a UPC compliant company, which just means better accuracy within our inventory."
Meghan Litchfield, Director of eCommerce and Retail
What happens when a couple of guys are in need of tough, durable messenger bags but can't find anything that meets their standards?
They get the toughest materials they can find, head to their garage and begin sewing.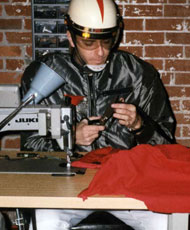 The result – fully-functional, reliable messenger bags with liners made of tough vinyl fabric salvaged from old furniture, straps fashioned from functional seatbelts collected from used car lots and other rugged, industrial materials.
A business was born from that day and from the garage Chrome Industries brought with them a valuable ethic for their business – "build functional products that people can rely on and do it well."
So to adhere to this ethic, their products are always built with the most rugged assembly of industrial materials and hardware available, and are guaranteed for life.
J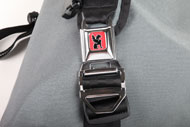 ust like the seat belt buckle found on all Chrome messenger bags, all parts of their products and the products themselves are anti-nonsense.
Their products must have purpose and if they don't, they get rid of it.
Multi-channel, multiple warehouse inventory management
Acctivate enables Chrome Industries bags and clothing to be successful in multiple channels, as well as multiple areas of their company, such as the warehouse, customer service, and eCommerce.
---
eCommerce
---
Chrome has a strong eCommerce presence, selling their messenger bags, apparel, and footwear on their website.
Acctivate's web store interface integrates with the shopping cart that powers their eCommerce site to import any online orders into Acctivate as sales orders.
From the website perspective, integrating our sales orders from the website with Acctivate was actually quite easy for us.

Before, inventory was clumped all together so it was hard to keep straight what was where,"
Meghan Litchfield, Director of eCommerce and retail said.
---
Multiple Location
---
Now with Acctivate and its multiple warehouse capabilities, which is a part of Acctivate's core functionality, they have better-organized warehouses that allow them to be more efficient and productive overall, especially in dealing with low stock situations in their retail store.
The biggest win is that Acctivate has enabled us to be a UPC compliant company, which just means better accuracy within our inventory."
---
Mobile
---
Litchfield describes how Acctivate mobile inventory management, mobile order picking and barcoding capabilities have helped them meet the standard of UPC compliance:
Our shipments are more accurate than they used to be because everything that goes out the door from our warehouse now has a UPC code on it, which gets scanned before it leaves."
In their store these capabilities are also a big help because their store employees are able to ensure that the correct item is sold.
They scan the items when they sell it, and then it leaves and deducts from our Acctivate inventory automatically."
---
Customer service
---
In addition to the benefits that Acctivate brings to the forefront for shipping, inventory control, mobile computing, barcoding, and warehousing, the system provides the customer service personnel the necessary information to effectively serve their customers.
Our customer service people use Acctivate as kind of their front-end when they make a phone call or when people call in and they're like 'where's my order, what's going on with my order'."