Coton Colors Wins Back 60 Hours Per Month with QuickBooks Integrated Solutions for Inventory Control, EDI Order Management & Fulfillment
Company Profile

Designer & manufacturer
Lifestyle products:
Kitchen/home, giftware, ornaments
Popular product line:
Happy Everything!™ featuring platters with decorative attachments for seasons, holidays and various celebrations
Integrated Solutions



Operations at a Glance
The Challenge
Systems unable to keep up with increased demand in SKUs, overall inventory and tracking in multiple warehouses
The Solution
QuickBooks integrated solutions for automated EDI order management and fulfillment
The Impact
60 hours saved per month in order processing and no more chargebacks
Key Features:
Coton Colors, a lifestyle brand defined by the motto: "never miss an opportunity to celebrate every day" reached prime demand for their kitchen/home and gift products.
They began to surpass the capacity of their small, single warehouse, and that of their accounting system, QuickBooks® as they expanded their SKUs and overall inventory.
The first matter of business for Coton Colors: A better inventory management solution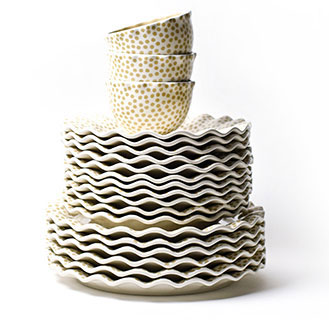 "Being able to manage demand with QuickBooks was getting a lot more complicated. We outgrew QuickBooks. The biggest limitations were inventory management. QuickBooks, overall for inventory management was a lot more manual," Lauren Davidson, Inventory Manager said.
With QuickBooks as their sole system, Coton Colors faced challenges with stocking and tracking inventory in multiple warehouses, including an "on-the-water" warehouse for shipping overseas. So, in 2015, Coton Colors enhanced the functionality of QuickBooks by integrating it with Acctivate.
"Being able to use multiple warehouses was one function we really liked with Acctivate and then also that it still uses QuickBooks for invoicing purposes so that it would sync with QuickBooks."
The addition of Acctivate lifted their previous limitations, while keeping QuickBooks intact for invoicing purposes and financial management. The simple bi-directional synchronization between the two systems now delivers one powerful, centralized solution to run their business.
The Next Matter of Business: An Integrated EDI Management Solution
Three years later, in 2018, Acctivate kept the pace with the continued growth of Coton Colors. Providing another seamless integration, Acctivate assisted Coton Colors with an automated and connected process for selling to large retailers. Acctivate, in combination with TrueCommerce as an integrated EDI provider, enabled Coton Colors to easily get their products on the virtual and physical shelves of large retailers, such as Belk®, Dillard's, Macy's®, Neiman Marcus®, and Wayfair®.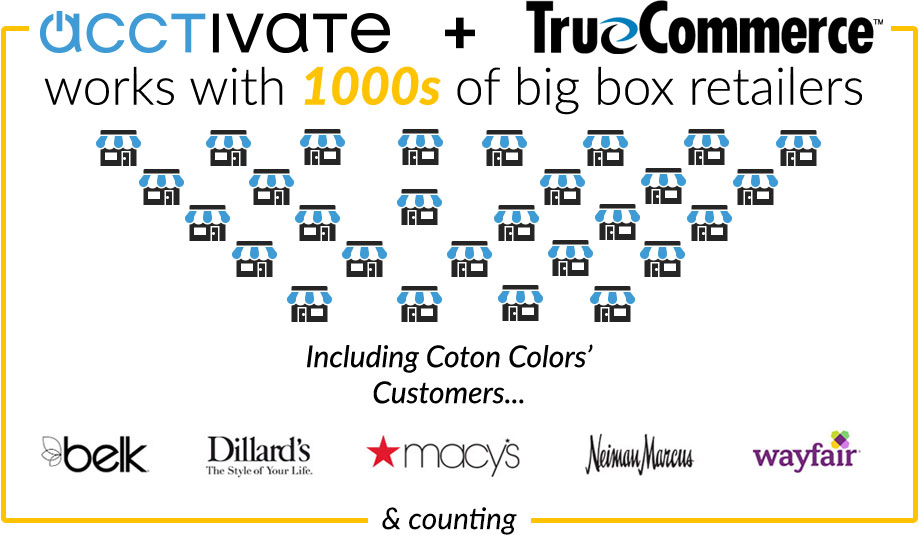 The solid relationships with retailers have opened the door for Coton Colors to have a seamless, connected EDI management solution as opposed to their former disjointed, less automated process.
When we learned that TrueCommerce could still work with our customers and Acctivate, that was the big plus to us.

With TrueCommerce, overall, we have saved significant time with it being able to connect straight to Acctivate where we used to literally hand key more than 1000 orders in a month.

Being able to import orders in one click and then export it in one click and process those orders has been so much easier and probably saved us at least two hours a day," Davidson said.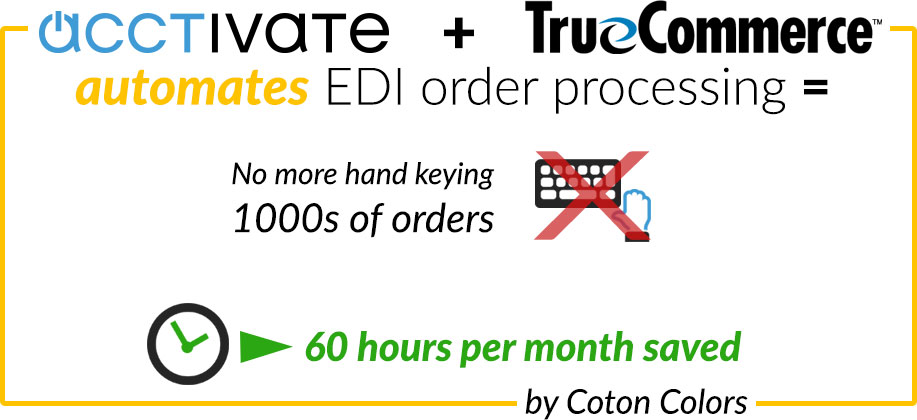 Just as Acctivate was able to help Coton Colors as they grew into the need for an integrated EDI solution, Acctivate will continue to grow with them. With the addition of TrueCommerce they will be able to handle increases in order volume and can work with virtually any big-box retailers.
Coton Colors: Taking control of the busiest quarter
Now, with optimized order management and fulfillment, Coton Colors can handle significant demand in corporate orders, manage consumer drop-ship orders for Amazon, and supply products to large retailers, as they often experience during the holidays in the fourth quarter.
The fourth quarter of 2017 was a huge Q4 with drop ship orders and corporate orders. I think that really exploding, made the need to look into something that would automate it better for us with our inventory management system, Acctivate. Being able to automate that was a huge success for us.

We were spending the entire day just entering orders, trying to get them out as fast as we could. But it was so manual that it took a lot longer to process orders than we would like. The people who wouldn't normally process orders, had to pitch in and help. With TrueCommerce, we're real excited to do batch import, export, and invoicing. I think just the batch printing pack list and all of that is going to be a huge game-changer for us," Davidson said.

Coton Colors looks forward to more efficient, upcoming fourth quarters and reaping the benefits of an expedited order fulfillment process with Acctivate and TrueCommerce.
One of our biggest initiatives was to lessen that order processing. We had someone who entered the order and then once that was entered, we were able to process, actually pick the order, and pull it, and all of that.

Basically, waiting for that to be manually entered, slowed down the whole process. Once we automated that, the order turnaround time definitely increased."

Just the accuracy of data entry has improved, as well, because information is coming straight from our customers direct to Acctivate whereas we were hand keying it in so there's room for error for that—pricing and all of that.

You could obviously incur a chargeback with any errors. Also, having to go back and fix it or trying to figure out what item code it is caused lag time. Acctivate and TrueCommerce have definitely helped with that by auto populating data," Davidson said.
EDI Trading Partner Special Requirements Achieved
With the connection between Acctivate and TrueCommerce, Coton Colors effortlessly exchanges EDI documents with their trading partners, including ASNs, invoices and an automatic inventory upload. TrueCommerce also exchanges a packing list, which was mapped in an easy plug-and-play fashion with the already established relationship between Coton Colors' retailers and TrueCommerce.
In terms of special requirements, Coton Colors also had any allowances and different fees mapped onto orders automatically.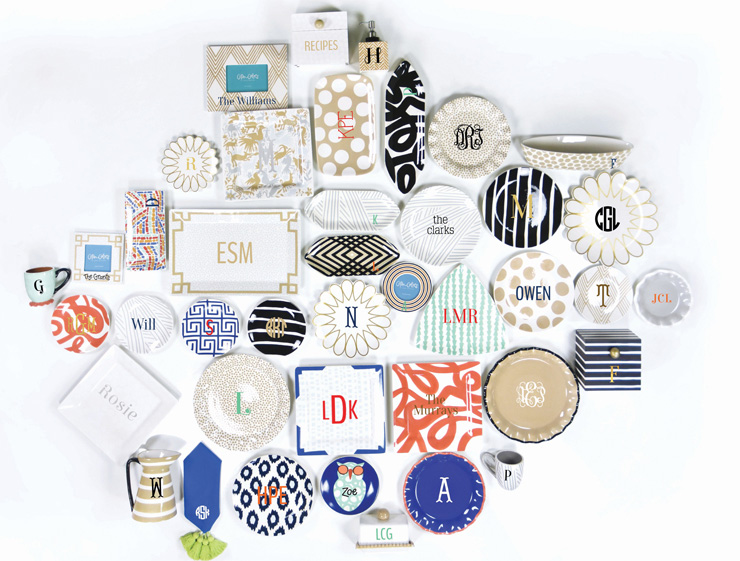 Exceptional Implementation Experience Made Better with a Solid Partner Relationship
Implementing EDI proved just as seamless for Coton Colors as the actual integration through the solid, professional relationship between Eva at Acctivate and Kristi at TrueCommerce, who assisted them with the setup.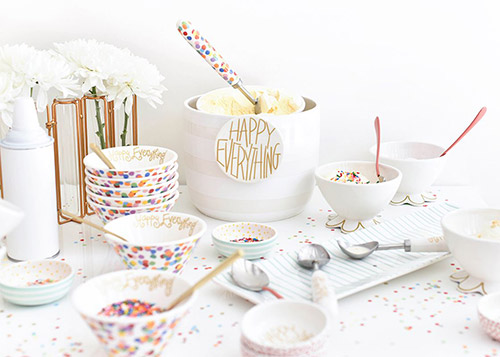 Eva has been incredible. Any question we have had, she was able to answer, and we loved when we first started with Kristi from TrueCommerce that she automatically knew Eva and just had that relationship already. She sent her an email right away and was able to connect with her immediately.

I feel like that's just excellent when the two companies know each other and really have a relationship there because they can communicate well. Where we've been in the past, where we've had two tech companies that don't like to communicate to each other and it's not a great system to implement a new process.

The relationship with TrueCommerce and Acctivate has been awesome," Davidson said.
An Absolute Recommendation
With such a successful experience in customer service, integration, and overall functionality, Coton Colors recommends the Acctivate and TrueCommerce package to other companies.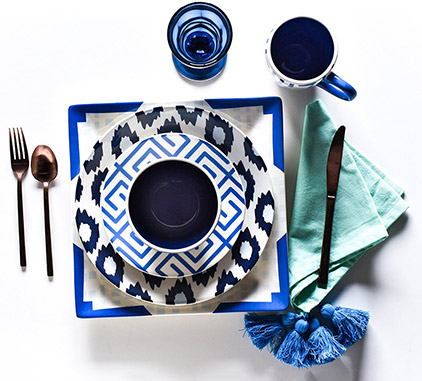 Absolutely. Acctivate and TrueCommerce has saved us so much time and room for error. We're going to be so much more efficient this way and reduce our errors and chargebacks.

Also, we'll be able to process more and more orders, and grow our business with all the new accounts that we're looking to get. Before, we kind of felt like we couldn't grow that because it was such a manual process and we didn't have the applications we needed.

I really think it is going to be a great thing and I would highly recommend Acctivate and TrueCommerce to other companies," Davidson said.