Built For

Stick with QuickBooks. Grow with Acctivate.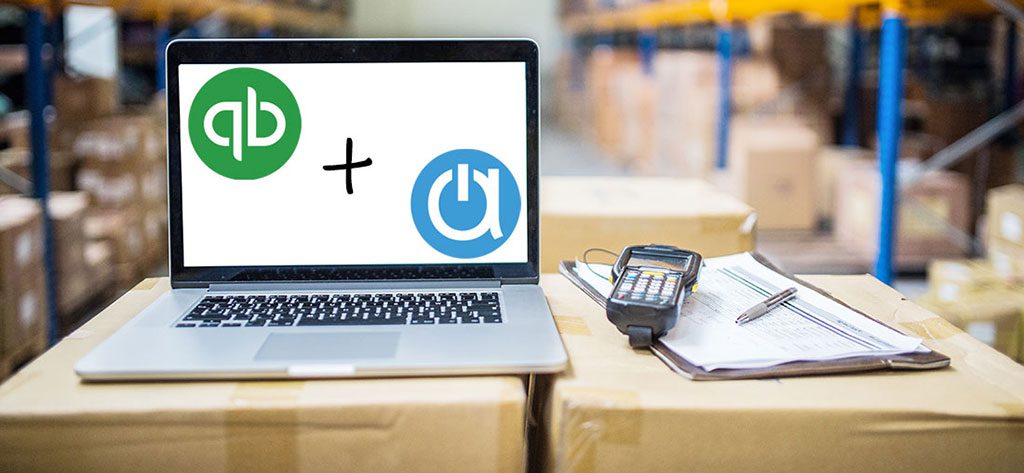 Acctivate's QuickBooks integration software is a power-packed combination for better inventory, order & business management.

---
Acctivate QuickBooks integration software
An inventory and business powerhouse

More than 80% of the small business market in the United States trust QuickBooks®.

Since 2003, Acctivate Inventory Software has integrated with QuickBooks to optimize operations for thousands of distributors, manufacturers and online retailers.

Pair the solutions for a dynamic duo—Acctivate + QuickBooks integration software—and an inventory and business powerhouse is formed to deliver a clear view of growth and success.
Learn how this powerful combo can help you run your business with confidence and finesse that will back you now & into the future.
---
Outgrowing QuickBooks? Contemplating a move to a mid-market ERP?
There's a better alternative: a QuickBooks integration software
Acctivate + QuickBooks integration software has saved thousands of SMBs (small to medium sized businesses) from committing to an ERP not designed with small businesses in mind due to complexities, overserving functionality and high expense.

Whether QuickBooks is already in place or a new system is needed to optimize inventory and overall business operations, the combination of Acctivate and QuickBooks is the perfect solution for distributors, manufacturers, and online retailers with a yearly revenue up to 10 million, who have surpassed the capacity of manual methods, i.e., spreadsheets.
SMBs can rise above their competition, especially against the larger companies using costly ERPs. An Acctivate + QuickBooks integration software accommodates smaller businesses with an affordable price tag and equivalent or better features compared to an ERP software.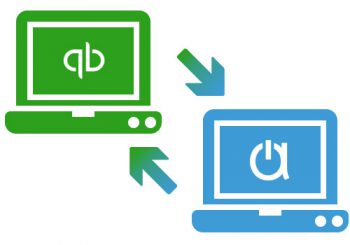 According to data from a recent G2 Crowd report on accounting solutions, QuickBooks Enterprise is more likely to be recommend, has a higher satisfaction rating, and is easier to do business with than Sage 100/300, Oracle NetSuite, Acumatica, and Microsoft Dynamics.
Don't get overwhelmed financially or by functionality overload often experienced by small businesses who adopt mid-market ERPs, let us ease your growing pains with an SMB version of an ERP that is a true end-to-end business solution.
---
Acctivate & QuickBooks have unique features united with a seamless integration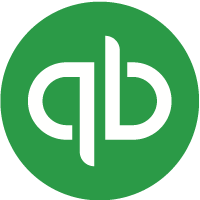 Streamlined accounting management
At-a-glance invoice status tracking
Payment management for unpaid vendor bills
Simplified 1-click customer credit transfers
Reliable sick & vacation pay
Accessibility enhancements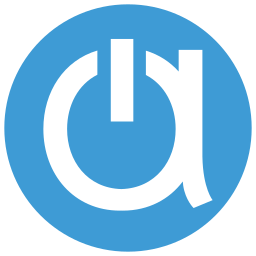 Centralized data with real-time visibility
Advanced inventory control
Omni channel order management
Warehouse intelligence
Cost management
Built-in customer relationship management

---
QuickBooks Solutions
QuickBooks integration software: A seamless collaboration with QuickBooks Accounting Software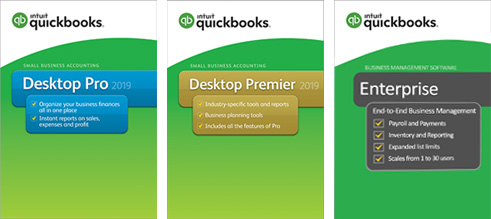 QuickBooks is the leader in the SMB market of financial management software. The Pro, Premier and Enterprise editions of the platform take distributors, manufacturers, and online retailers beyond the inconsistencies of spreadsheets and other manual, outdated or insufficient systems and place them in the driver's seat of their operations with competent, full-fledged accounting management automation.
The QuickBooks editions are desktop-based solutions that can be hosted on premise or in the cloud through third party hosting providers and fulfill the many needs of small to mid-sized companies, who accumulate annual revenue ranging up to 10 million.
Fulfilling needs with QuickBooks Desktop editions
94% of users would recommend QuickBooks Desktop to a friend or colleague



At-a-glance QuickBooks Edition comparison
---
| | Pro | Premier | Enterprise |
| --- | --- | --- | --- |
| Target Business Profile | Businesses with annual revenues up to $1 million | Nonprofit, manufacturing, wholesale, service providers, contractors or retail businesses | Small to medium businesses with more than $1 million in annual revenue |
| Max number of users | 5 | 5 | 30 |
| Available item custom fields | 5 | 5 | 15 |
| Max items in inventory assembly | N/A | 100 | 500 |
| Max number of price levels | 100 | 100 | 750 |
| Max number of customer vendors & employees combined | 14,500 | 14,500 | 100,000 |
| File size capacity | 100-150 MB | 100-150 MB | 1.2-1.5 GB |
For distributors, manufacturers and online retailers the key to optimizing inventory, warehousing, order and purchasing operations is through unifying such a powerful financial system with a robust inventory management counterpart—Acctivate. A superior QuickBooks integration software is then established, achieving a complete business solution.

---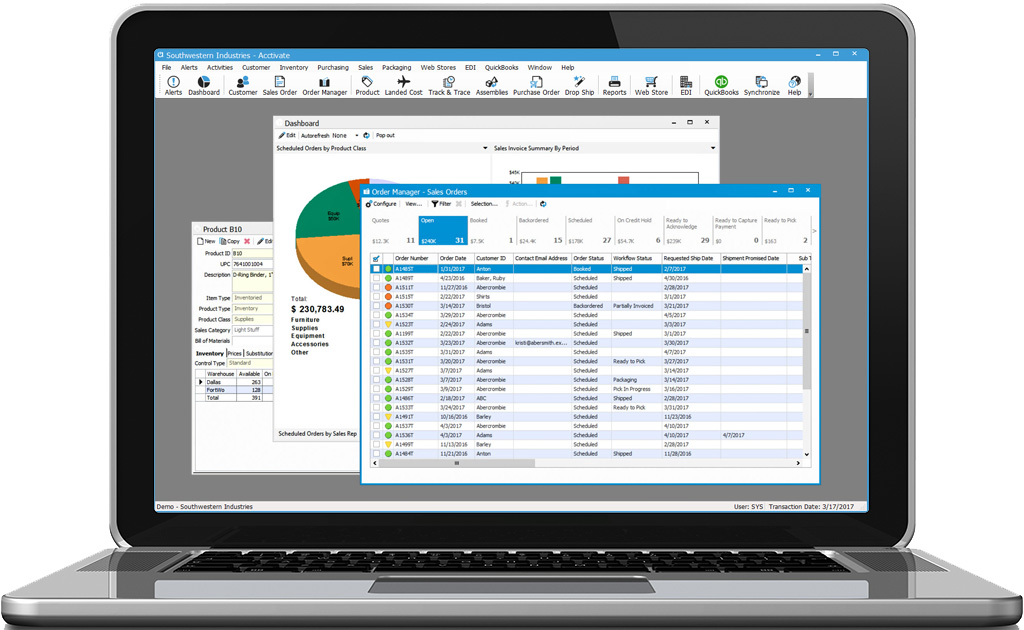 Acctivate Inventory Software
With a direct, bi-directional integration to QuickBooks, Acctivate instills confidence among businesses through robust inventory & business management tools.
29 million small businesses in the U.S. use QuickBooks. With such a commitment, building upon or adopting a reputable business solution is ideal. Acctivate enables companies to stick with QuickBooks and grow with Acctivate to achieve one solution for business success.
Extend QuickBooks with the following and more for continued growth & success:

Gain control & real-time visibility with centralized data regarding inventory, sales, order fulfillment, purchasing + more.

Exceed expectations for ALL customers with omni channel order management that connects every sales channel in Acctivate.

Maintain correct inventory levels with tools for the entire purchasing process, including specialized add-ons for drop shipping and special orders.

Gauge true costs with accurate calculations of landed cost and all other valuation and costing methods, e.g. average, standard, LIFO, FIFO, specific identity, added, management and vendor.

Boost order fulfillment and reduce costly errors with fully-functional mobile warehouse management software to receive, pick, sell, manage workflow, and transfer & count inventory.

Track an unlimited amount of BOTH serialized and lot numbered products from origination to production to fulfillment, on-demand within minutes.
QuickBooks + Acctivate, a complete business solution