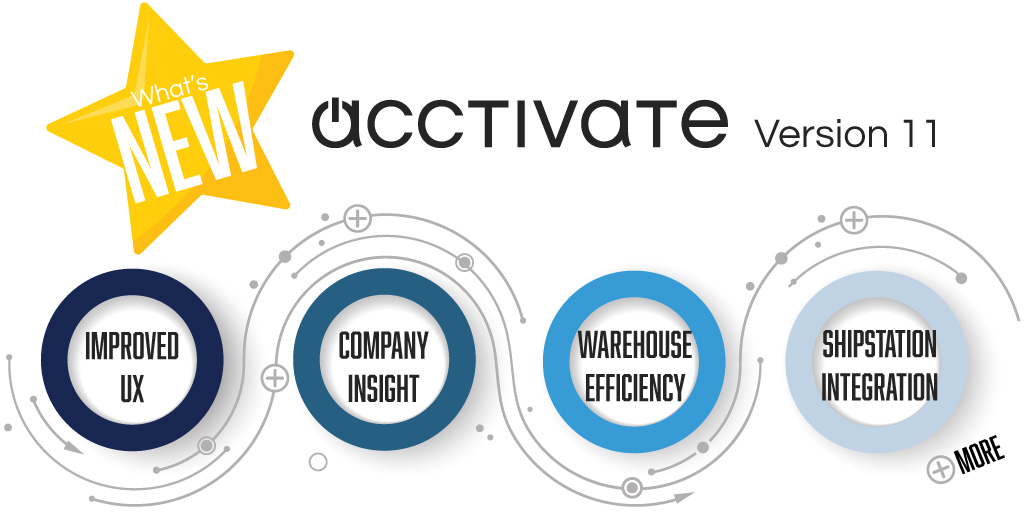 See the newest features in Acctivate…
---
New Navigation, Search and Window Tabs Strengthen the User Experience
User Experience Enhancements
At-a-Glance

Practical navigation for quick & easy access

Powerful search for instant, accurate results

Concise presentation of data with lists and tabs for quick awareness
The new Acctivate Version 11 delivers productivity boosting capabilities that enable easy access to the most important parts of your business, and prompt search and filtering of the immense data within the system — all organized into a new window with a tab approach to keep your virtual workspace organized.
New list windows, accessible within each main menu item as the first option or from the new left menu, are brand new navigational starting points within Acctivate, containing the most important information in one spot.
The lists include an intelligent search that sort through data based on multiple fields. Users can quickly filter lists and/or save their filters for later use at an individual or company level.

For the power user, accomplishing tasks across multiple departments has never been easier. With the new navigation and search gain immediate access to every part of the system, i.e., orders, inventory transactions, customers and more.
A Fresh 'View' on Company Insights
New Company Insight Features
At-a-Glance

New data views for on-demand insights

Timeline with historical & active data

Prominent placement of key information

Insights into all aspects of the company
Identify key insights regarding all company aspects with intelligent views that streamline decision-making, prompting success and positively affecting growth and profits.
The new Acctivate Version 11 introduces a simplified view of historical and active data including event timelines, key insights and more. The data is presented in a convenient and consolidated format to alert businesses to pertinent information, i.e., due dates, statuses and more concerning orders, transactions, products and business activities.
Combined with the new search, navigation and key insights, the company views are a valuable component of Acctivate Version 11 that enable your business to access the most crucial information without breaking a sweat.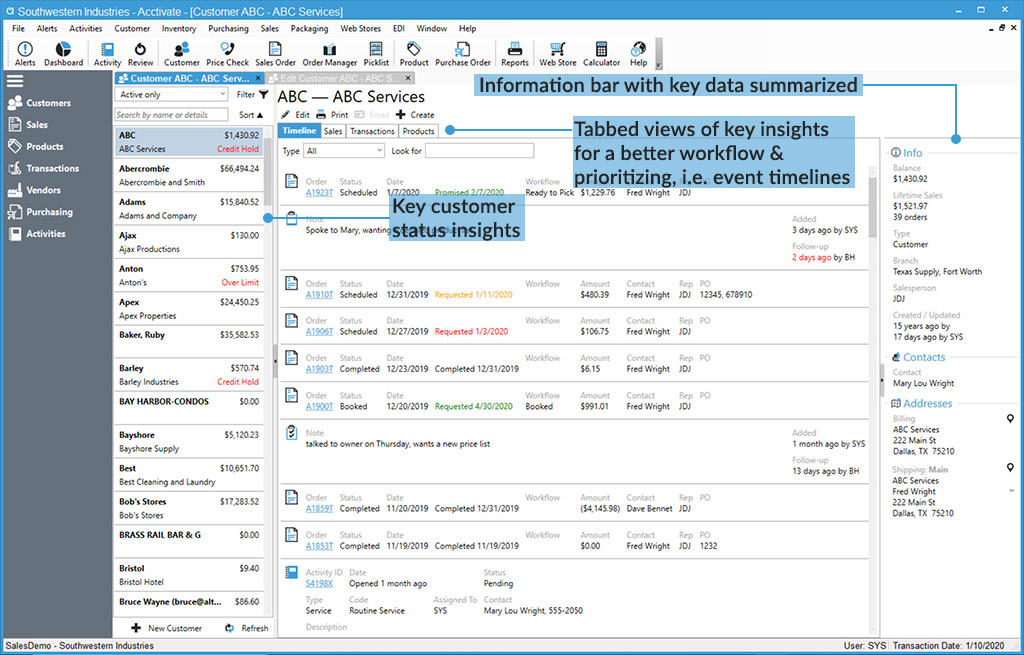 Boost Warehouse Performance & Impress Customers
Warehouse Efficiency
At-a-Glance

Order processing improvements

Warehouse layout configuration

Picking route optimization

Batch order picking
Boosting warehouse performance starts with efficient order processing and Acctivate Version 11 injects even more clarity and speed into the process. After a new quote or order is created, Acctivate guides users with visual feedback associated with advancing and processing an order.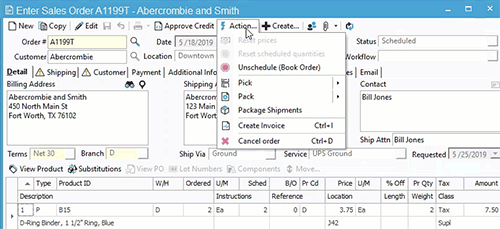 With these improvements it is easier to know what to do next with the introduction of a 'next action' button on the order toolbar, as well as a new 'actions' menu offering a clear list of potential next steps to help you complete an order. These updates will start with quotes that need to be scheduled or booked, to orders that need credit approval, a picklist created, shipments packaged, and invoices prepared.
Continuing down a path of improvements for completing the processing of an order, Acctivate Version 11 introduces enhancements that improve performance on the warehouse floor.
Is your warehouse team constantly overworked and unable to meet daily fulfillment demands? A lack of communication between the warehouse and the front office can lead to time-consuming pick patterns and dare we say, too many calories being burned…
With Acctivate Version 11, load your warehouse layout, including receiving, packing and bin locations. Once enabled, the new picking route optimization in Acctivate Version 11 intelligently maps the best routes for picking orders, in batch or one at a time, based on your company's warehouse layout.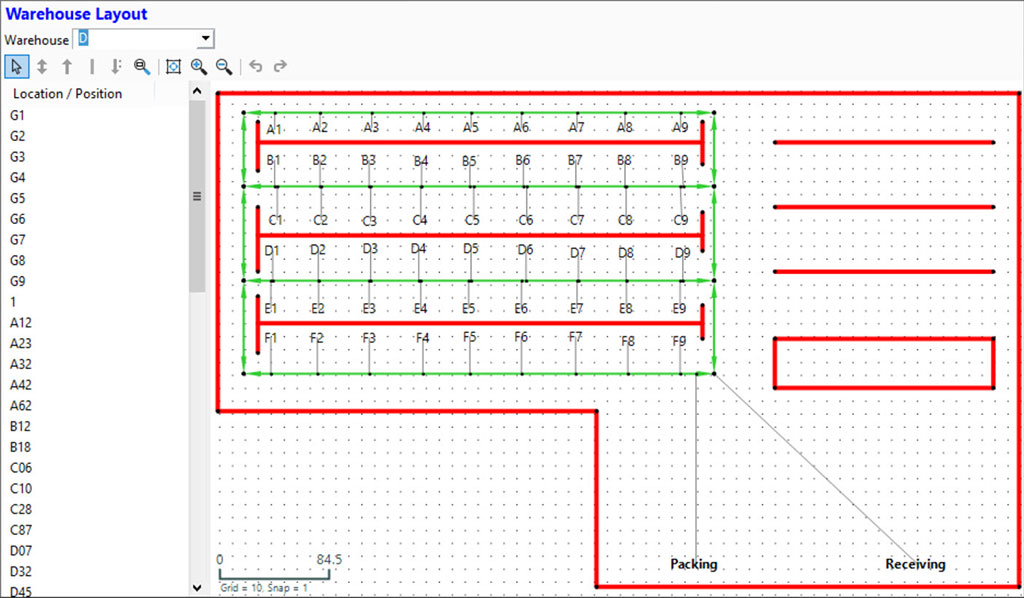 Accompanying the new warehouse configuration and automation, Version 11 unveils a new Picklist screen to track picking efforts of all products on orders and the workflow statuses of the orders as the warehouse is navigated via the optimal routes. The Picklist feature is also available for mobile barcoding devices via Mobile Warehouse Order Picking, adding even more precision to the picking process.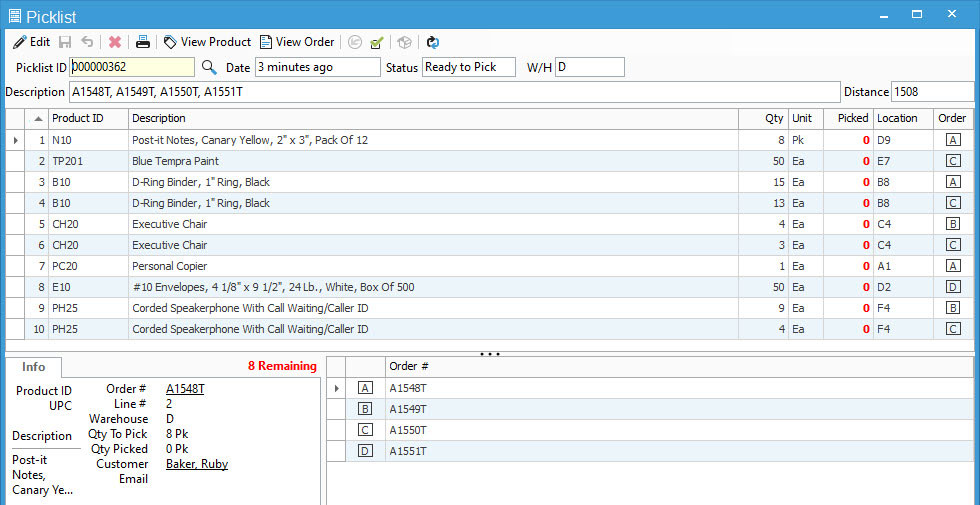 These new warehouse efficiency and order processing improvements are just some of the many ways Acctivate helps ensure businesses meet demands of growth and develop solid relationships with their customers.
Ship with UPS, FedEx, USPS, and DHL with an Integration to ShipStation® Shipping Software
The best shipping rates based on desired delivery time can differ per shipping carrier, so it is valuable to not be confined to just one carrier to deliver on customers' expectations.
Acctivate integrates with well-known shipping carriers and shipping solutions to provide a connected order fulfillment process, and now Version 11 adds another option to the mix – an integration with the popular eCommerce shipping software, ShipStation.
ShipStation enables businesses to ship via UPS, FedEx, USPS and DHL, all the while, keeping track of inventory, sales, shipments and customers in Acctivate to offer nothing but superior service.
Additional Version 11 Enhancements…

Copy an order to create a new quote

New sales order grid

Sales orders are locked when a picklist is open

Ability to edit the purchase order number

Sales order & tracking numbers are sync'd to QuickBooks

Create a new business activity from an inventory transaction

Perform market basket analysis on recent sales orders

Copy custom field data when copying quote or sales order

Prompt to post assemblies with insufficient component stock

Option for unposted inventory transfers to reduce availability

Display quantity available for components on Inventory Assembly

Void button on Customer Invoice window

Add tab bar to navigate child windows when maximized

+ more