What's New in


See V12.1 in action – Watch the overview video
Android Inventory Counts
The Acctivate Android Inventory Count module allows you to perform accurate warehouse inventory counts. You can use the desktop version of Acctivate to select which products should be included in the count session, then use your Android handheld scanner to scan products stocked within your warehouse locations. The Acctivate Android app makes ensuring accurate inventory and identifying loss easy.
Business Activity Manager
The Business Activity Manager offers the ability to manage Business Activities in a familiar, flexible, and configurable format. An improvement over the Business Activity Review, the Business Activity Manager allows you to save your filters as buttons making it easier than ever to have quick access to different Activities.
The Business Activity Manager also allows for performing actions on a group of Activities, such as:
Assign Activities to a user
Change the priority and status
Print and email Activities
Add a note to a group of Activities.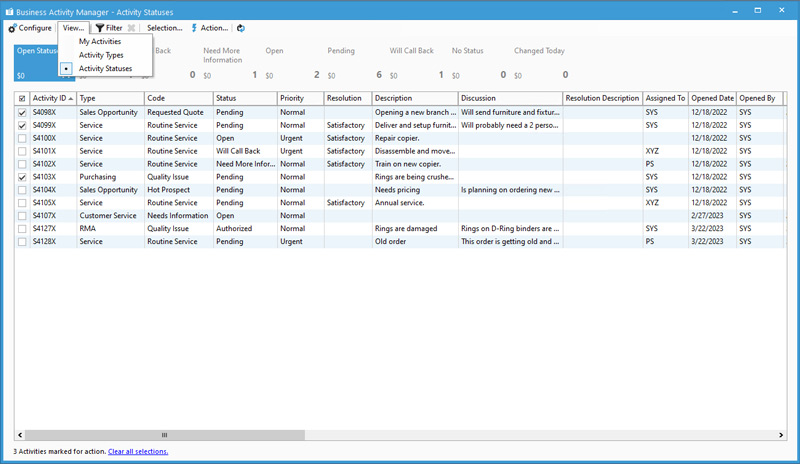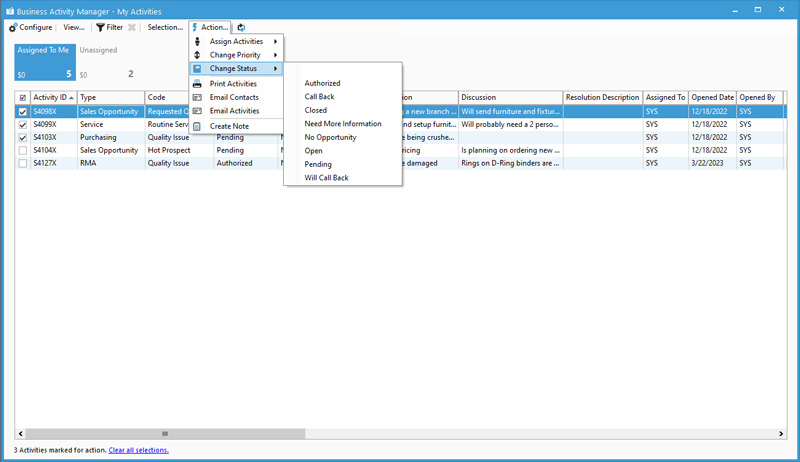 Customer Transactions Tab
The Transactions tab of the Customer List presents customer history and transactions in an intuitive and easy-to-navigate layout. The Transactions tab allows you to quickly find all open order, invoice & payment transactions, as well as a list of products purchased by the customer. Advanced filtering can be applied and saved per user, or they can be made available for all users.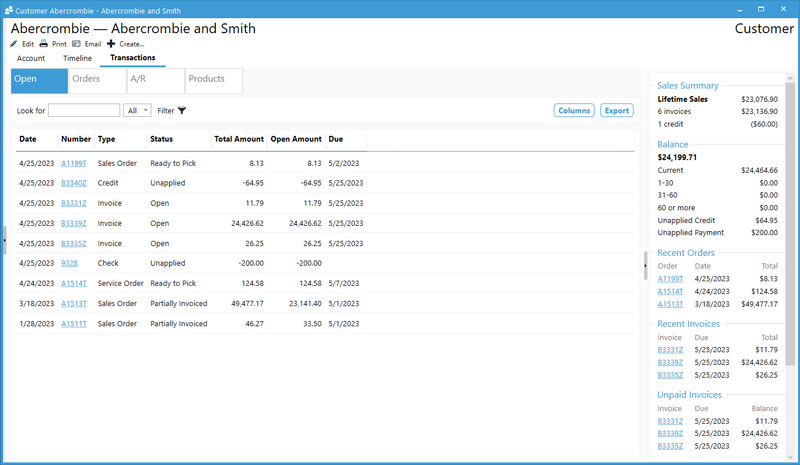 Report Management Improvements
The Report Catalog configuration window has been moved out of the Configuration Manager and is now accessible from the File menu by selecting the Manage Reports menu item. Users with Manage Reports permissions can set up and configure reports without needing access to other system configuration options.
In 12.1, custom reports will be stored in the Acctivate database. This means that custom reports are now included in database backups, ensuring your custom reports are protected from loss.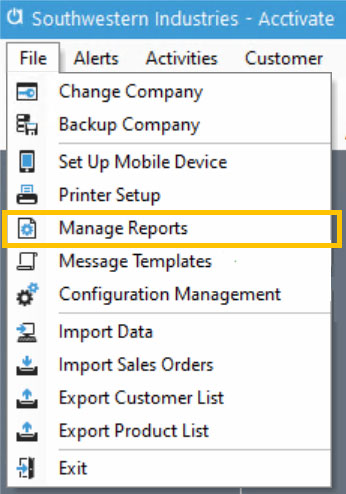 See V12 in action – Watch the overview video
Purchase Order Manager
The Purchase Order Manager offers the ability to manage vendor purchase orders in a familiar, flexible, and configurable format.
The Purchase Order manager provides many benefits:
Key information such as the receiving and invoicing status is prominently displayed.
Users can configure their own PO Manager Bars and Buttons. This allows you to group PO's in the manner that suits you best.
Batch email purchase order documents and batch receive PO's.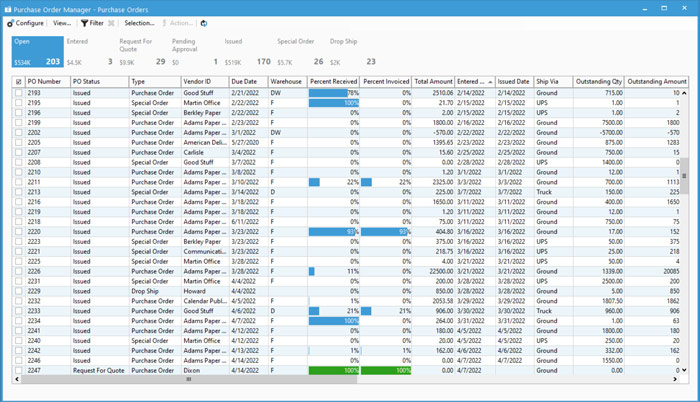 Product List Transactions Tab
The Transactions tab of the Product List presents product history and transactions in an intuitive and easy to navigate layout. The Transactions tab allows you to quickly find all open, sales, purchasing, and inventory transactions for a product. Advanced filtering can be applied and saved per user or they can be made available for all users.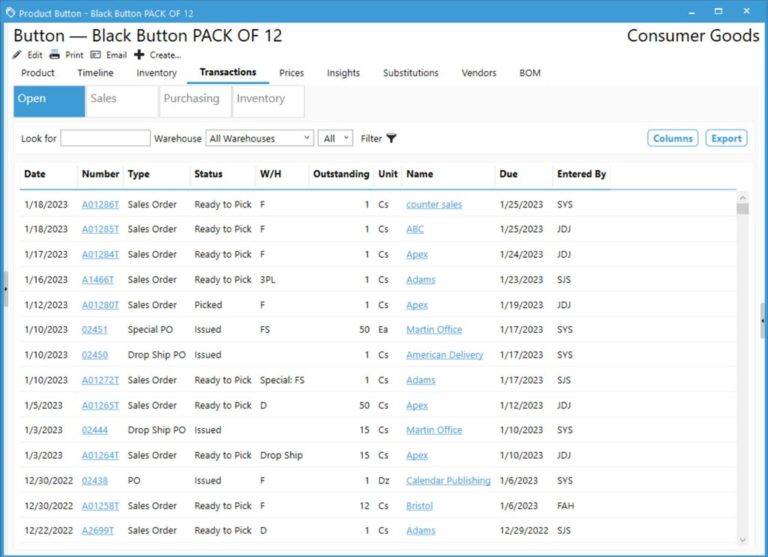 Picklist Improvements
Leverage the efficiency of warehouse picking with and warehouse location management by using the improved Picklist window.
Improvements include:
Prioritize how locations are selected. Users can choose preferred locations with the highest availability in order to minimize the number of bins the picker must visit; or, locations with the lowest availability can prioritized allowing you to pick from an overflow location first.
Non-inventoried items are now included in the picklist, ensuring that the picking process is as efficient as possible.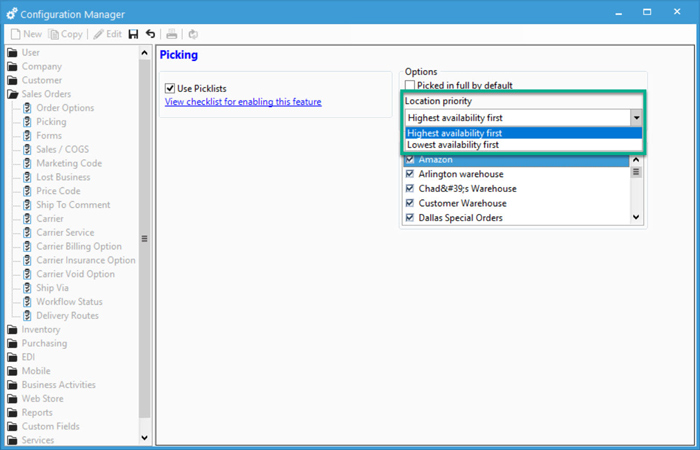 Improved Customer & Product List Windows
Acctivate 11.3 improves user interface of the Customer and Product List windows for more consumable information at a glance. Both List windows introduce a repurposed right panel that focus on recent and key activity.
Enhancements to the Customer List Window – Account tab & Product List window – Product tab include:
New customer & product summary key metrics.
Card style key account information.
More visual feedback on key decision making information.
Uncluttered presentation of fields and data.
For the Product tab, simplified layout with the product image now visible by default.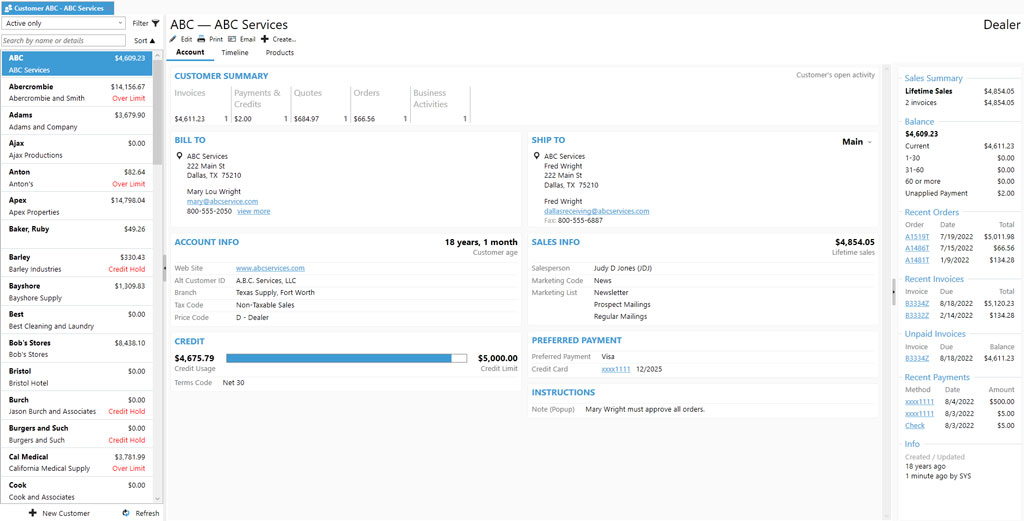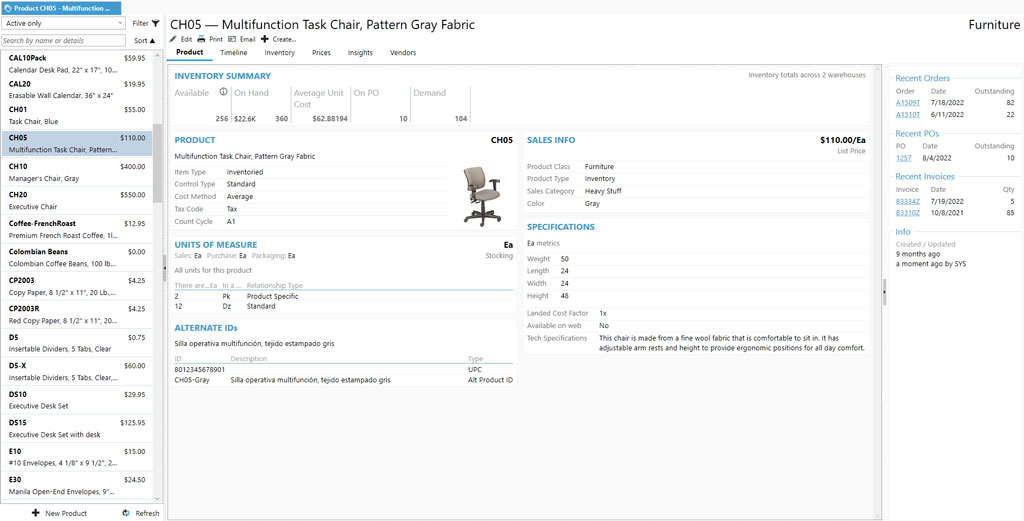 The Inventory tab of the Product List Window is refreshed with an inventory summary for key metrics, and a card style look with warehouse info and focused metrics.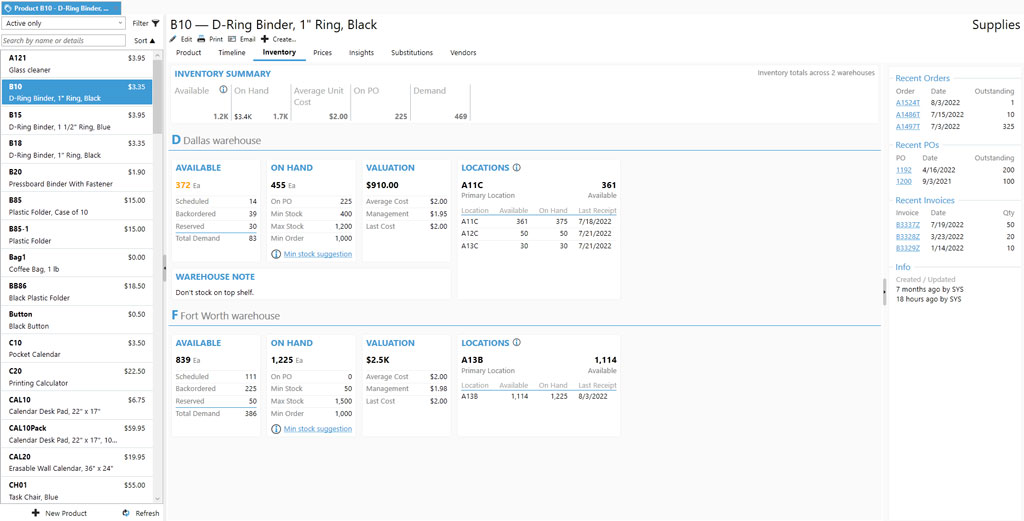 Android Inventory Transfers
Android Mobile Warehouse Management delivers simplicity throughout with:
Straightforward installation from the Google Play Store.
Streamlined process for web service connection.
Sleek, modern interface of the mobile modules.
Intuitive, user-friendly functionality to perform tasks quickly and easily.
If using Acctivate Mobile for Android, access the preview on Google Play.

Google Play and the Google Play logo are trademarks of Google LLC.
In Version 11.1, Acctivate introduced mobile receiving and picking on Android mobile devices with embedded barcode readers after solely supported certain Windows Mobile compatible devices. Version 11.3 expands the mobile functionality available on Androids further with the addition of inventory transfers.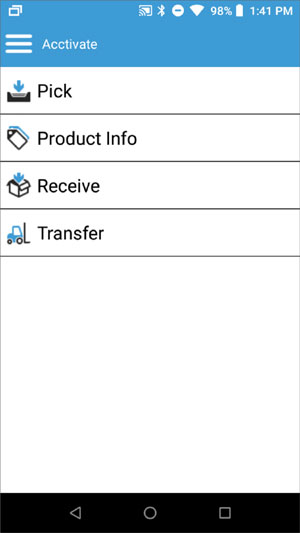 Effortlessly transfer inventory across multiple warehouses and/or multiple locations within a single warehouse:
Achieve optimal warehouse organization with streamlined transfers.
Quickly scan barcodes to transfer inventory from one warehouse and/or bin location to another.
Ensure data accuracy with scanning rather than manual entry during transfer sessions.
Replenish inventory from your bulk locations and warehouses with ease as product is depleted in your picking locations.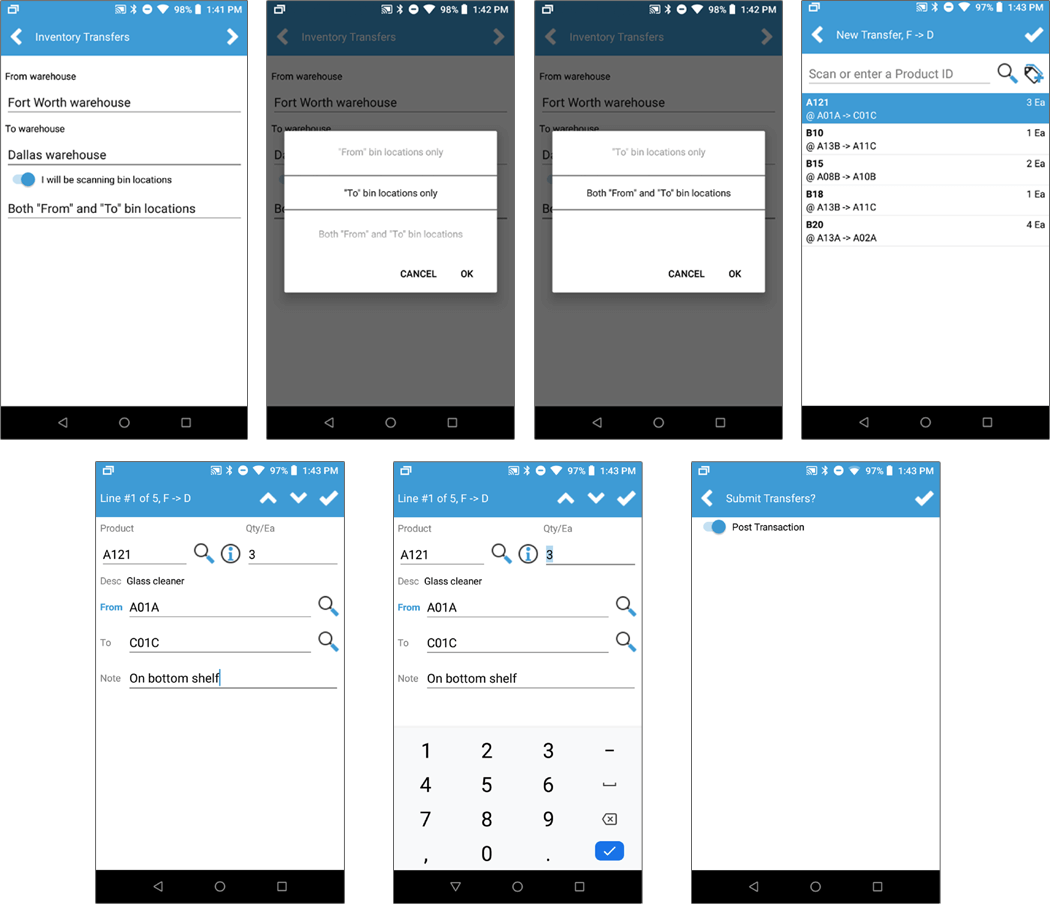 eCheck processing with QuickBooks Payments
Previously, Acctivate introduced full payment management for all methods including credit card processing through QuickBooks Payments. Acctivate 11.2 added to that feature with the ability to process eChecks using QuickBooks Payments, as well. With QuickBooks Payments being the preferred merchant of Acctivate, businesses can experience a seamless process to get paid instantly and have accurate books with bi-directional synchronization to QuickBooks.
Small to mid sized business gain competitive advantage with eCheck payment support:
Save time with electronic processing versus paper check payments.
Reduce past due payments from customers with a way to accept recurring payments.
Reliable source of payment with transactions processed via the ACH network.
Affordable processing fees via QuickBooks Payments.
Leverage data encryption for secure transactions on the merchant & customer side.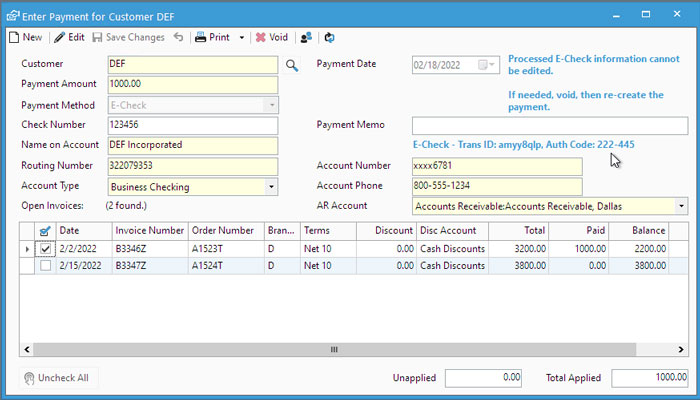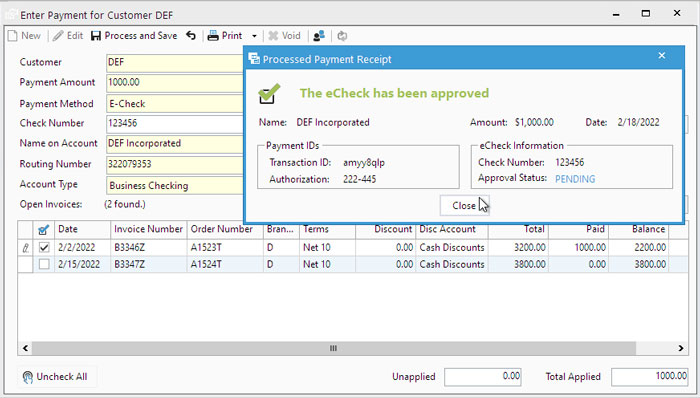 Improved timeline layouts in List windows
User feedback and usability tests have enabled the layout of timeline views within List windows to be better organized since their introduction to Acctivate in version 11.
Active and historical event timelines for customers, products, sales, vendors, purchasing, business activities, and invoices have an optimized presentation of pertinent data for users to find what they need even quicker.