Amazon inventory management software streamlines website operations
As your Amazon eCommerce business grows, many times backend operations become an administration nightmare resulting in errors, inaccuracies, employee strain, lost customers, and reduced profitability.
The solution – Amazon inventory management software with business, inventory management, order management, and fulfillment tools that are easy-to-use, increase efficiencies and improve customer satisfaction by centralizing and providing visibility for orders from Amazon and all sales channels.
Why having efficient order processing is important
With the increased complexities of order processing, businesses must remain proficient in managing and fulfilling orders from all channels. The inability to efficiently process and manage orders means incorrect and/or late order fulfillment — which means unhappy customers.
According to the UPS Pulse of the Online Shopper, when asked about receiving an order late from a retailer, almost half of those surveyed stated, "that having products delivered late decreased their likelihood to shop with that retailer again in the future."
Efficient and timely order processing and management is at the forefront of achieving customer satisfaction.
The Amazon inventory management software solution:
Amazon + inventory management software by Acctivate
Centralizes inventory & synchronizes inventory availability between offline & Amazon.com
Consolidates all orders from all channels for simplified order fulfillment & customer service management
Provides system-wide access to order, inventory, product, warehouse, credit, customer service information, history, reporting, notes, alerts & activity management
---
Amazon inventory management software user, FPC Security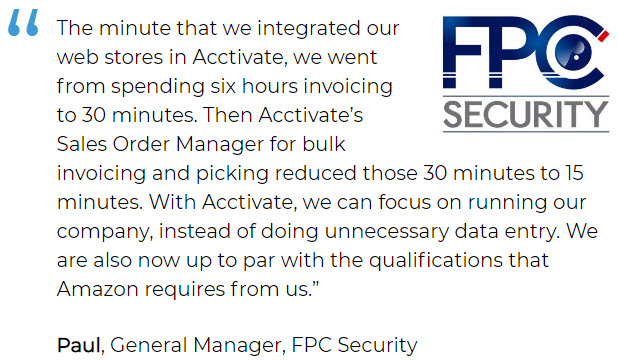 ---
Amazon and Acctivate inventory management software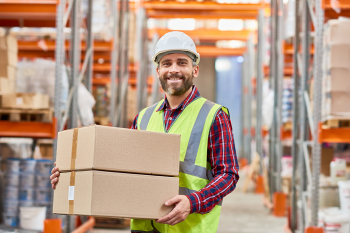 Award-winning Acctivate is the most feature-rich inventory management software available that seamlessly integrates with Amazon.com. Acctivate delivers best in class inventory, warehousing, purchasing, multi-currency, CRM, sales order management, order fulfillment & business management functionality to Amazon users.
How can your business benefit from the Acctivate + Amazon solution?
Inventory management
Acctivate is the premier solution for inventory management & warehousing, with advanced features such as multi-location warehouse management, fully integrated picking & shipping, barcoding, kitting, assemblies, lot & serial number tracking and more. Inventory availability is synchronized between Acctivate & Amazon.com automatically.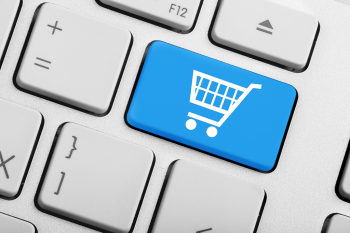 Multi-channel
Acctivate enables multi-channel order & customer management across online, offline, mobile, fax, mail order, telephone orders, or catalog channels. Orders imported from Amazon.com are handled as all other Acctivate orders with system-wide access to order, inventory, product, warehouse, credit, or customer service information, history, reporting, notes, alerts & activity management.
Option to outsource to 3PL or drop ship
Acctivate supports companies that have chosen to outsource their warehousing and distribution operations to third party logistics (3PL) providers and accommodates drop-shipments that go from your vendor directly to your customer.
Order management and fulfillment
Order fulfillment is the first step where businesses can ensure a smooth transaction process.  Processing orders in a timely manner and having items ready for shipping as soon as possible is the most integral step in making sure customers receive a product in a satisfactory manner. With an Amazon and Acctivate inventory management software solution, you can synchronize your eCommerce web store with your order management system and your offline sales. With automated synchronization, the order can be processed without having to re-key the order details – the order can be picked more efficiently and accurately, in less time and with fewer errors.
Business management
Acctivate brings your company together in a single system — management, purchasing, warehousing, sales, marketing, shipping, and customer service — increasing productivity and enabling real-time access & visibility across your entire business. Acctivate's customizable dashboards, decision support tools, custom report capabilities & business activity management tools enable managers to coordinate the resources, information, and functions across the company — locally and globally.
Customer satisfaction
With marketing, lead management, customer service, credit management, sales order management, and service management tools, Acctivate equips the entire company with CRM tools.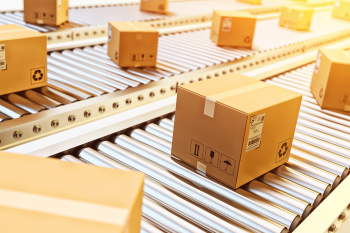 Value & flexibility
Just as your business is unique, your Acctivate & Amazon solution is designed to deliver exactly what your business needs, when and how you need it. Acctivate's standard software package is affordable & has the most inventory and business management capabilities available in the small business inventory management software market.
Works with QuickBooks
Just as Acctivate integrates with Amazon, Acctivate also integrates with QuickBooks, enabling Amazon users to gain advanced inventory & business management tools without leaving QuickBooks.