"Acctivate is a good system. It's very reasonably priced. Compared to some of the aggravations I went through on the other two competitors, I would definitely tell people to look at Acctivate first."
Bruce Werber, COO
Company Profile

Biopharmaceutical Manufacturer
Products:
Regenerative therapeutic products for treating various illnesses & conditions
Integrated Solutions


Operations at a Glance
The Challenge
Finding an inventory solution to meet their requirement for comprehensive inventory tracking as a start-up with FDA regulated products.
The Solution
Solid inventory tracking with lot number management to track & trace from the birth of a product to the administration of regenerative therapeutics into a patient.
The Impact
Proactive functionality to ensure quality assurance and peace-of-mind with traceability information accessible on-demand.
Key Features:
Thrivell produces regenerative therapeutic products that rise to their motto, "Thrive for Life", as they treat a wide range of human diseases and conditions. They process placental tissue from the healthy elective caesarian section birth consented by the mother.
"We collect all the goodness that helped develop that beautiful baby, and we re-purpose it. We use different proteins and components of the amniotic fluid on the placental sac and the umbilical cord to make what are called allografts," Bruce Werber, COO explained.
Thrivell is a fully FDA-registered laboratory that upholds high quality standards for biopharmaceutical production.
"We are developing incredible science to understand how these components can form a baby, but also, how we can repurpose them to treat a variety of conditions such as COVID, and the follow-up complications associated with COVID, just to name one area of interest," Werber continued.
Comprehensive inventory tracking was a must for Thrivell starting out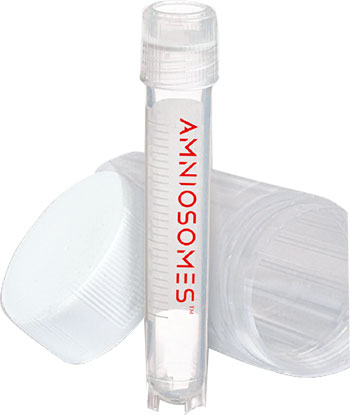 As a start-up and manufacturer of FDA regulated products, Thrivell sought out an inventory management software with thorough product tracking.
When we were starting up, I really needed tracking from every piece that comes in that we use. We must follow from birth of a product as part of our quality system through the administration of any of these regenerative therapeutics into a patient. So, we must have all the tracking information.

I thought Acctivate had a very nice, solid tracking format that we could use that fits well into our quality system."

With their primary requirement addressed by Acctivate, they also discovered a significant benefit in the software's ease of use.

I've used Fishbowl and NetSuite, and they were very cumbersome. Whereas I found when I had the presentation on Acctivate, it seemed less of a learning and setup curve. Even though there was a good amount of setup, it was not as complex as those two competitors.

I did bring on a new executive admin, and she was able to pick up on Acctivate very easily. Whereas, when I've done this in the past with Fishbowl or NetSuite, it was not quite so easy to train new staff," Werber said.

Thrivell chooses Acctivate to manage the inventory of their start-up

With inventory tracking and usability covered with Acctivate during their software search, Thrivell began the onboarding process with Acctivate and it became operational in their business in September of 2020.

---

QuickBooks Integration

---

Acctivate's bi-directional integration to QuickBooks is advantageous being that the financial software is well-known and an industry-standard within the SMB community.

QuickBooks is pretty much a standard these days for integrating our payments, general ledger, and all of the appropriate finance needs for the CFO, and to fulfill all of the regulatory components around running a business.

The functionality of Acctivate is fantastic working in conjunction with QuickBooks Pro. The integration is very good and has really been pretty much seamless," Werber said.

---

Lot Traceability

---

Acctivate's lot number management and control with full track and trace functionality delivers peace-of-mind and enables businesses to be proactive with on-demand traceability information.

I'm very comfortable with the lot number feature. We have the warehouse pieces down—everything moves to where it needs to move, so it can be tracked appropriately, and we can generate the appropriate report should a regulatory body come in and ask for a report."

Thrivell recommends Acctivate

Acctivate is a good system. It's very reasonably priced. The setup was fairly intuitive and straightforward, and the staff has been excellent with support.

Compared to some of the aggravations I went through on the other two competitors, I would definitely tell people to look at Acctivate first," Werber concluded.