Amazon Seller Inventory Management Software
Built For


Amazon Seller Inventory Management Software offers 3rd party sellers using QuickBooks powerful multi-channel inventory, order, fulfillment, and business management tools to optimize, streamline, and grow operations.
Amazon Sellers' Need for Inventory Management Software
Amazon, the world's largest online retailer, offers more than 353 million products to customers around the globe. However, according to Marketplace Pulse, 58% of products sold on Amazon marketplaces come from 3rd party sellers, with 3rd party sales growing from $.1 billion in 1999 to $160 billion in 2018. At least 25,000 sellers hit over $1 million in sales, and 200,000 sellers hit $100,000 in sales in 2018, numbers sure to grow higher by the end of Q4 2019.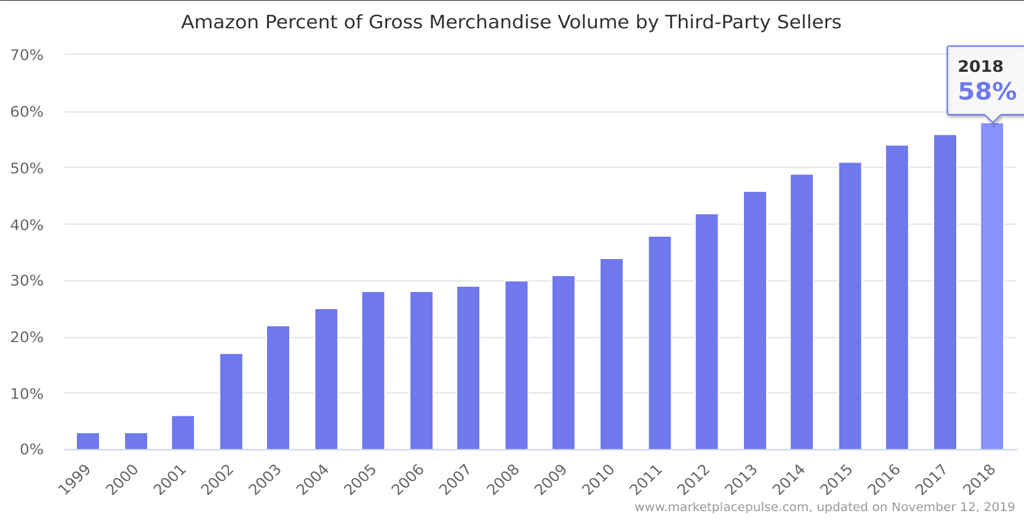 For small and mid-sized multi-channel merchants operating as Amazon marketplace 3rd party sellers, this presents no shortage of sales opportunities – at least when the proper strategies are employed.
Amazon Seller Inventory Management Software: FBM vs FBA
There are two types of 3rd party selling on Amazon: Fulfillment by Merchant (FBM) and Fulfillment by Amazon (FBA). The main difference between an FBM and FBA seller is easy to spot – an FBM seller handles their own inventory, order processes, and fulfillment.
While FBA is an increasingly popular option for 3rd party sellers due to the obvious benefits of outsourced fulfillment, there is plenty of opportunity available to FBM sellers. Typically, FBA sellers and FBM sellers are not selling similar products. FBA sellers tend to sell products that are smaller, lighter, expensive to make, with a high turnover rate.
FBM sellers typically deal in either unique, one-off products, or exclusive products; or larger, cheaper to produce products like self-assembly furniture, lawn and garden equipment, durable goods, etcetera. When a seller opts for the FBM avenue, the benefits can be numerous depending on the style and sophistication of a seller's operations.
With FBM, a seller loses no control over how their business operates, maintains greater control over their inventory, is never surprised with unexpected costs, and can even experience greater profit margins than FBA sellers. In fact, the ease of operating Amazon simply as an additional sales channel independent of Amazon's control, can be enough to convince many small and mid-sized multi-channel merchants to stick with FBM.
Amazon Seller Inventory Management Software: Acctivate
Acctivate's Amazon Seller Inventory Management Software is designed for small and mid-sized multi-channel retailers using QuickBooks seeking operational optimization via more advanced inventory, fulfillment, and business capabilities.
For an Amazon FBM seller as opposed to an FBA seller, there are typically no drastic operational changes to experience. But staying on-top of incoming orders and available inventory is key to long term success as an FBM seller.
Acctivate as an Amazon Seller Inventory Management Software provides FBM sellers with powerful order and fulfillment management, providing more visibility and control across all active sales channels. With Acctivate, an FBM seller also has access to robust business intelligence, allowing for accurate demand planning and inventory forecasting, perfect for competing against Amazon private label and FBA 3rd party sellers.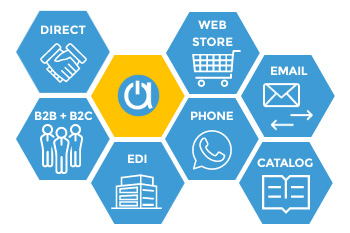 Amazon Seller Inventory Management Software: How it Works
When an Amazon FBM seller is seeking more control over multi-channel inventory and fulfillment operations, Acctivate provides the necessary tools.
There are a few options to bring in Amazon orders, either connect Amazon to an existing webstore that Acctivate syncs with or import Amazon orders directly from the Amazon Seller Central Export file. Once orders are in Acctivate, product inventory will be allocated and removed from your availability in the warehouse.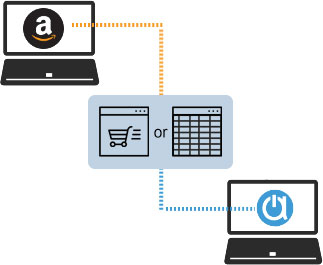 The power of Acctivate for order management is the merging and sharing of information from different sales channels in one central hub (Acctivate) for quick viewing. For the FBM seller active across a variety of sales channels, Acctivate's Order Manager makes order processing simple. Acctivate treats all orders, regardless of channel, equally, and allows a user to easily filter, sort, prioritize, and process.
Order Manager allows an FBM seller to monitor and assess current fulfillment actions per channel, allowing a user to prioritize fulfillment based on channel, inventory, or customer needs and requirements.
Acctivate as an Amazon Seller Inventory Management Software helps an FBM seller gain and maintain those five-star reviews that are inherent to success on Amazon's marketplace.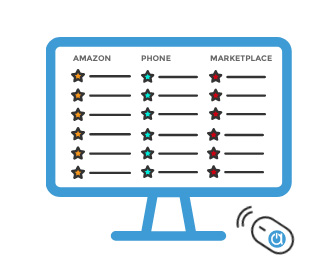 With Amazon Seller Inventory Management Software + Acctivate:
Experience a seamless, bi-directional QuickBooks integration.
Easily manage inventory across various physical and virtual warehouse locations.
Introduce barcoding & mobile software into fulfillment operations for faster processing, picking, and packing.
Integrate with preferred shipping carrier(s)/solution (FedEx, UPS, USPS, ShipStation, StarShip, DHL).
Drop Ship with a click of a button.
Access to 3PL support.
Utilize Acctivate's Business Intelligence to improve and strengthen future planning, forecasting, and decision making.
Discover Acctivate
Acctivate is packed with
features
for your entire business. Talk to our team of product experts and see if Acctivate is right for your business.
Call us at 817-870-1311