Order Management Software for BigCommerce
Built For



Order management software for BigCommerce offers BigCommerce store owners advanced inventory, purchasing, fulfillment, and business capabilities.
The need for order management software for BigCommerce
According to the latest Global B2B eCommerce Market report, B2B eCommerce is a multi-trillion dollar market with further growth expected over the next several years. In 2018, eCommerce accounted for 50.7% of U.S. B2B transactions, with B2B eCommerce sales increasing 11% to $1.082 trillion. By 2020, B2B eCommerce sales will rise more than two times higher than global online B2C sales.
Thanks to eCommerce, online wholesalers, distributors, and manufacturers enjoy the same 24/7 access, convenience, accuracy, and efficiency as their B2C counterparts. Any B2B merchant not accessing online sales channels is at a great disadvantage to its competitors. So much of a disadvantage that 75% of surveyed B2B merchants not selling online report plans to do so by 2021.
However, whether a business is purely B2B or a little of both, proper eCommerce order management is critical for lasting online success.
Order Management Software for BigCommerce
BigCommerce is a versatile SaaS solution for SMBs seeking high-powered performance and high levels of customization. Representing well-known brands like Ben & Jerry's® and Skullcandy®, BigCommerce offers powerful eCommerce tools and a dynamic platform to build a webstore on.
BigCommerce offers established SMBs a short platform relaunch window, a massive developer and technology partner community, speed, security, and control.
Unique Features:
B2B & B2C capabilities
Cross-channel commerce
Fully-customizable themes
Checkout customization
Cross-border fulfillment
Fast, flexible APIs
Order Management Software for BigCommerce & Acctivate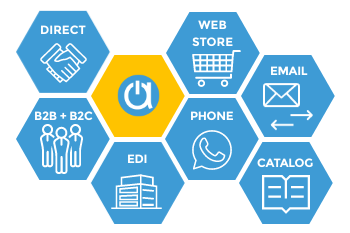 Acctivate is a powerful multi-channel order management software for BigCommerce. Acctivate streamlines all active sales channels (traditional, eCommerce, EDI) into one central hub. Acctivate is most valuable when used in coordination with multi-channel sales operations.
Acctivate provides BigCommerce store owners flexible and reliable inventory, order, and business management tools, perfect for optimizing and growing small to mid-sized distribution, manufacturing, and online retailing ventures.
Order Management Software for BigCommerce: How it Works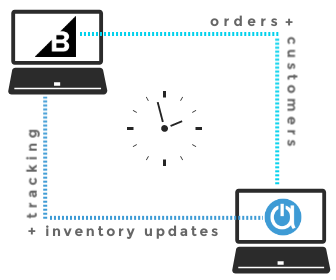 For SMBs seeking more advanced inventory and order management capabilities without diminishing their web store processes, Acctivate acts as a companion solution to BigCommerce.
At set intervals, Acctivate automatically syncs with BigCommerce, pulling orders, tracking, and customer information while updating web store inventory availability. Regular web store inventory updates prevent customers from selecting unavailable items to purchase, which in turn reduces lost sales and fortifies bottom lines.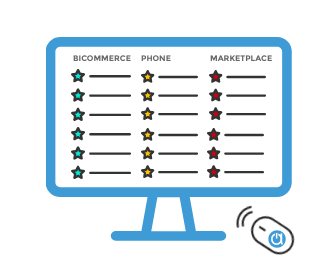 A multi-channel SMB is likely nurturing traditional sales channels, i.e., over-the-phone, face-to-face, and catalog ordering, as well as modern channels such as EDI and eCommerce. Without the right system in place, order management requires a heavy helping of manpower to prevent mismanaged orders, inaccuracies, and slow processing. Acctivate Order Manager alleviates the need to hire more staff or spend more hours manually re-entering data. Instead, the use of Acctivate as an order management software for BigCommerce, merges data and shares information from all active sales channels for users to access easily and quickly.
Order processing begins at the time the online purchase is made. From a user perspective, online orders can be processed in batches with just a couple of clicks, quickening fulfillment. Back/pending orders can be released at any time for a future shipment date.
Order Manager allows a business to independently assess fulfillment actions per channel, providing users the option to prioritize fulfillment based on requirement, team, and availability needs. Ensuring eCommerce orders don't get lost in a sea of multi-channel orders is critical to boosting and bolstering online success.
With Order Management Software for BigCommerce + Acctivate
Experience a bi-directional integration with QuickBooks
Manage inventory across multiple physical and virtual warehouse locations
Schedule web store sync at intervals of 5, 15, 30, or 60 minutes
Apply Acctivate's Business Intelligence to improve future planning, better inform decision making, improve forecasting accuracy, and more
Integrate with preferred shipping carrier(s)/solution (FedEx, UPS, USPS, ShipStation, StarShip, DHL)
Drop ship with a click of a button
Access 3PL support if needed
Order Management Software for BigCommerce + QuickBooks
Acctivate Inventory Software is an order management software for BigCommerce, designed for small and mid-sized multi-channel retailers using QuickBooks. Acctivate provides a business advanced inventory, order, and business management while maintaining financials within QuickBooks.
Discover Acctivate
Acctivate is packed with
features
for your entire business. Talk to our team of product experts and see if Acctivate is right for your business.
Call us at 817-870-1311