Grow Your Business with Fruit and Vegetable ERP Software for QuickBooks
Built For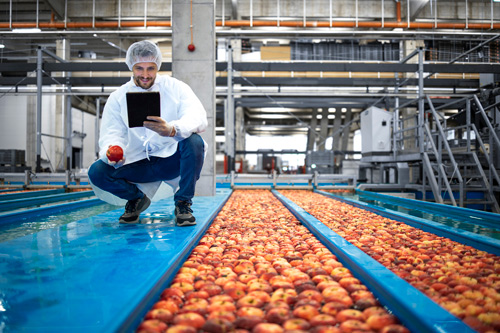 Fruit and vegetable ERP software that allows businesses to continue using QuickBooks while gaining inventory, order & business management, and traceability.
The need for more than QuickBooks by fruit and vegetable businesses
While QuickBooks excels as a financial tool for small to medium-sized businesses, its capabilities can fall short when applied to the specialized demands of the fruit and vegetable processing industry. From the intricacies of batch tracking and spoilage management to the complexities of regulatory compliance, businesses in the produce sector require a nuanced approach that accounting software like QuickBooks often can only partially accommodate. As a result, many companies find themselves cobbling together multiple systems or manual processes and spreadsheets to fill in these gaps, leading to inefficiencies and increased room for error.
Recognizing the unique challenges of the fruit and vegetable processing industry, ERP (Enterprise Resource Planning) software that integrates seamlessly with QuickBooks offers a comprehensive solution that allows businesses to continue using QuickBooks for financial management while gaining inventory, order, and business management functionality and the tools to tackle industry-specific needs such as traceability, quality control, and regulatory compliance. Fruit and vegetable ERP software simplifies complex processes, automates routine tasks, and enables real-time analytics, allowing you to maintain a high level of operational efficiency while still enjoying the familiarity and financial features of QuickBooks.
What is fruit and vegetable ERP software?
Fruit and vegetable ERP software is a specialized, integrated system designed to manage and optimize the operations of businesses in the fruit and vegetable processing industry. The software is designed to handle the unique complexities of fruit and vegetable supply chains, with tools to manage:
Inventory management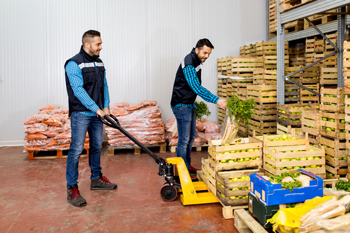 Inventory management in a specialized ERP system for the fruit and vegetable industry goes beyond simple stock tracking. The software monitors perishable items, optimizes stock levels to reduce waste, and facilitates FIFO (First-In, First-Out) processes to ensure product quality. Real-time visibility into inventory levels also aids in making swift, data-driven decisions, ultimately reducing costs and improving operational efficiency.
Warehouse management
Warehouse management capabilities in the software offer visibility into storage facilities, enabling optimal space utilization and efficient order fulfillment. Fruit and vegetable ERP software with barcode readers optimizes receiving, picking, packing, and shipping processes.
Order management
Regardless of how and where orders are placed – eCommerce sites, direct sales, telephone orders, EDI, marketplaces, fax, or phone – fruit and vegetable ERP software consolidates orders into one system and ensures orders are efficiently processed and fulfilled, streamlining procurement and reducing lead times, improving order accuracy and speed, and enhancing customer satisfaction and retention.
Traceability and regulatory compliance
The critical function of compliance with food safety standards and regulations is simplified by the fruit and vegetable ERP software's traceability features, with each supply chain step documented, providing transparency and making recall procedures straightforward. In the event of a recall, the software automates the generation of compliance reports, saving time and reducing the risk of human error.
Demand planning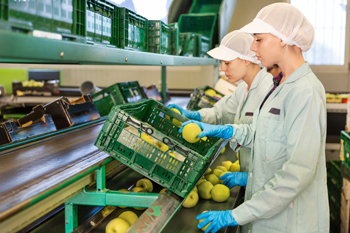 Demand planning tools in the fruit and vegetable ERP software use historical data and real-time insights to forecast future product demand. These analytics help businesses make informed decisions regarding production levels, staffing, and inventory procurement. By aligning supply with anticipated demand, companies minimize costs and avoid stockouts or overstock situations.
Customer service
A fruit and vegetable ERP software is only complete with robust customer service features, providing tracking of customer interactions, orders, and feedback. This centralized data hub enables a more personalized and responsive customer service.
Reporting and analytics
The reporting and analytics functionality in a fruit and vegetable ERP system provides businesses with actionable insights developed from a wide range of data points. These tools generate comprehensive reports that facilitate strategic decision-making, from inventory turnover rates to sales metrics. Dashboards can be customized to highlight key performance indicators (KPIs) relevant to various organizational roles, enabling real-time tracking and long-term planning. Advanced analytics can also identify trends or anomalies in the supply chain, quality control, or customer behavior, offering opportunities for continuous improvement and competitive advantage.
Benefits of fruit and vegetable ERP software
Streamlined operations
Centralized business processes for more efficient management
Reduced manual tasks through automation
Real-time tracking of perishable goods to minimize waste
Optimized space utilization for efficient storage
Automated sorting, packing, and shipping processes
Centralized orders with inventory for simplified order management
Improved order accuracy and customer satisfaction
Complete visibility for auditing and compliance
Simplified recall procedures and risk management
Use historical and real-time data for accurate forecasting
Alignment of supply with demand to avoid stockouts and overstocking
Improved customer service tools for tracking customer interactions and orders
Personalized customer service to improve retention
Customizable dashboards providing quick access to relevant KPIs
Advanced analytics offer insights for strategic decision-making
Case Study: Summertime Potato Company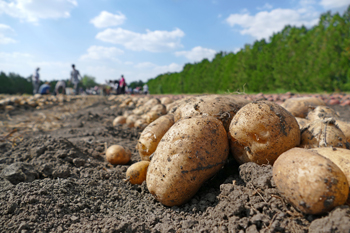 Summertime Potato Company, a family-owned business in Idaho, specializes in processing and distributing a wide range of potato products. As they expanded their business operations, they faced challenges managing inventory, tracking orders, and maintaining data consistency.
The need for an ERP solution integrated with QuickBooks
Summertime Potato Company's previous solution for managing business operations had limitations and needed critical features like batch process manufacturing capabilities, leading to manual workarounds, inefficiencies, and inventory and order management inaccuracies.
The solution: Acctivate ERP for QuickBooks
Summertime Potato Company chose Acctivate's ERP software to manage their increasing business complexity. The ERP solution offered integrated tools for inventory control, batch process manufacturing, and business analytics. With seamless QuickBooks integration, the transition was smooth, ensuring no disruption to existing accounting processes.
Results:
Inventory accuracy: Implementing Acctivate's ERP helped eliminate guesswork, resulting in a more accurate inventory system.
Streamlined processes: The batch process manufacturing capabilities automated various tasks, making the workflow more efficient.
Data consistency: The integrated system ensured consistency in data across different business functions.
Enhanced reporting: The company can now access customized reports, providing actionable insights for better decision-making.
Acctivate's ERP software proved to be a scalable and robust solution for Summertime Potato Company, effectively addressing their pain points in inventory management, batch processing, and data analysis. With improved efficiencies and accurate reporting, they are well-positioned for continued growth and success.
Get Started Today!
Discover how Acctivate can transform your business. One of our Acctivate specialists would love to talk to you and discuss your specific business needs.
Call us at 817-870-1311