Aircraft Spare Parts Inventory Management
Built For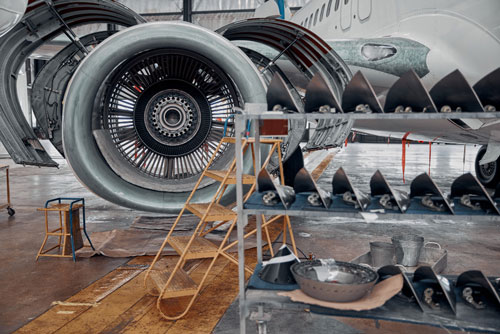 Aircraft spare parts inventory management is the systematic and efficient control of spare parts required for aircraft maintenance, repair, and operation.
Aircraft spare parts inventory management and the aircraft industry supply chain
The aircraft parts industry supply chain encompasses a network of organizations and processes involved in procuring, producing, and distributing aircraft parts and components. Complex and interconnected, the aircraft industry supply chain includes organizations working together to ensure the safe and efficient operation of aircraft. Effective aircraft spare parts inventory management and coordination within the supply chain are vital to meet the industry's stringent requirements for safety, reliability, and timely delivery of products and services.
Aircraft spare parts inventory management is utilized by organizations throughout the supply chain involved in aviation maintenance and operations, including aircraft part distributors and suppliers, aircraft part manufacturers, aircraft MRO (Maintenance, Repair, and Overhaul) facilities, aircraft OEMs (Original Equipment Manufacturers), aircraft parts distributors, general aviation maintenance facilities, and other organizations within and supplying the aviation supply chain.
Aircraft spare parts inventory management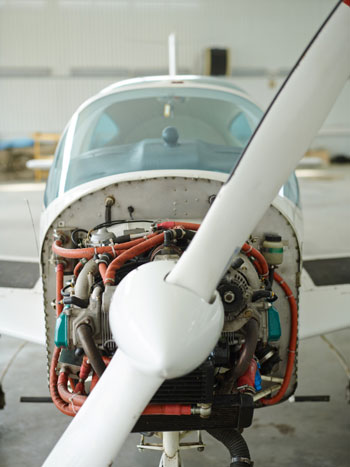 Successful aircraft spare parts inventory management requires careful planning, efficient procurement processes, compliance management, and aircraft spare parts inventory management software to ensure parts availability and safety while minimizing inventory costs and optimizing aircraft operations.
Key elements of aircraft spare parts inventory management include:
Inventory planning includes forecasting the demand for spare parts based on historical data, maintenance schedules, and anticipated operational requirements, with a goal of achieving a balance between having sufficient inventory to meet demand and avoiding excessive stock levels.
Aircraft spare parts inventory management software, such as Acctivate, aids inventory planning by leveraging demand forecasting capabilities to predict future spare parts requirements while also optimizing inventory levels by considering factors such as lead times, demand variability, and cost considerations. Additionally, real-time monitoring of stock levels enables proactive replenishment actions to prevent stockouts or excessive inventory buildup.
Procurement. Once the inventory requirements are determined, the procurement process involves sourcing and acquiring the necessary spare parts, which consists of purchasing parts from original equipment manufacturers (OEMs) and authorized distributors or engaging with repair and overhaul (R&O) services for component refurbishment.
Acctivate aircraft spare parts inventory management software assists with procurement by:
Streamlining and automating the procurement process.
Facilitating supplier management by maintaining a centralized database of suppliers, their contact information, pricing agreements, and performance metrics.
Enabling efficient creation and management of purchase orders.
Tracking the status of orders.
Providing visibility into inventory levels and demand forecasts, helping with informed procurement decisions, optimizing order quantities, and negotiating favorable terms with suppliers.
Overall, aircraft spare parts inventory management software enhances the efficiency, transparency, and control of the procurement process, ensuring the timely availability of spare parts while minimizing costs.
Inventory tracking and control. Accurate record-keeping is essential for tracking aircraft spare parts' availability, location, and usage.
Acctivate aircraft spare parts inventory management software:
Maintains a centralized database of spare parts, including detailed information such as part numbers, descriptions, stock levels, and usage history.
Enables real-time tracking of inventory movements, including stock receipts, issuances, transfers, and returns.
Utilizes barcode technology to accurately identify and track individual parts within the inventory.
Assists in implementing stock and cycle counting processes, allowing for regular and accurate inventory audits.
Provides comprehensive visibility into inventory status, locations, and usage patterns.
With Acctivate, inventory managers have better control over stock levels, identify potential issues such as stock discrepancies or slow-moving items, and make informed decisions to optimize inventory levels and minimize carrying costs.
Order management and fulfillment. Aircraft spare parts inventory management software streamlines order management from order creation, through processing and shipment, to tracking orders.
Acctivate aircraft spare parts inventory management software:
Centralizes orders from multiple channels, including EDI, eCommerce, web marketplaces, direct sales, telephone, and fax.
Allows for efficient order entry, ensuring accurate and complete order information.
Facilitates order accuracy by providing real-time visibility into inventory availability and location.
Automates order fulfillment processes, including picking, packing, and shipping, ensuring timely and accurate order deliveries.
Generates order status updates and notifications, informing customers about their order progress.
Acctivate enhances the efficiency and accuracy of order management, improving customer satisfaction by ensuring timely and accurate order fulfillment.
Obsolescence and life cycle management. Aircraft spare parts have a limited lifespan due to technological advancements, regulatory changes, and the retirement of aircraft models. Acctivate aircraft spare parts inventory management software assists with monitoring the life cycle of parts, identifying obsolete items, and establishing strategies for their disposition or replacement.
Regulatory compliance: Acctivate helps organizations adhere to regulatory requirements by ensuring accurate documentation, traceability, and compliance with aviation standards. Acctivate's advanced traceability capabilities track parts by lot or serial number and assist with complying with regulatory documentation.
The benefits of implementing aircraft spare parts inventory management software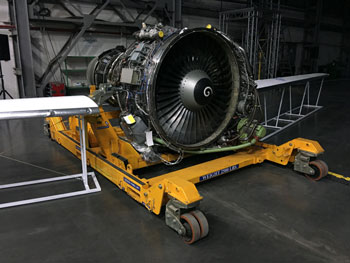 Implementing aircraft spare parts inventory management software helps organizations optimize inventory levels, streamline operations, reduce costs, and improve operational efficiency and customer service.
Improved inventory accuracy reduces errors, stock discrepancies, and the risk of stockouts or overstocking.
Enhanced operational efficiency is achieved through improved inventory management processes, workflow streamlining, reduced manual effort, and optimized order management, procurement, and fulfillment processes leading to faster order processing, reduced lead times, and improved productivity.
Cost savings are realized by reducing carrying costs, obsolescence, and emergency procurement expenses.
Accurate demand forecasting aids in proactive planning, better budgeting, and aligning inventory levels with anticipated demand.
Building stronger customer relationships by providing timely delivery and reliable spare parts support.
Gaining valuable insights into inventory performance, demand trends, and supplier metrics, enables data-driven decision-making, process improvements, and identifying cost-saving opportunities.
Get Started Today!
Discover how Acctivate can transform your business. One of our Acctivate specialists would love to talk to you and discuss your specific business needs.
Call us at 817-870-1311