Multi Channel Order Manager
Built For


A multichannel order manager addresses challenges businesses face when entering, processing, and fulfilling orders captured through offline and online channels.
The need for a multi channel order manager
Multi-channel order management delivers a seamless experience to customers regardless of what channel they use to communicate or purchase by providing real-time access to the same data across all channels. In other words, one system provides one source of information, ensuring consistent information.
Acctivate streamlines multi channel order management with features that accommodate virtually every way a business can sell products, whether it's in-store, B2B, B2C, phone/email, webstore, online marketplace or through EDI to big box retailers. Acctivate centralizes all orders, empowering businesses to overcome common challenges:
Handle any order volume
Ship on-time
Operate with full inventory & order visibility
Meet rising customer expectations
Multi channel order management for any order volume
When peak periods hit or demand just increases, businesses often need additional labor, but with the automation and connected data Acctivate delivers, that need can be eliminated or minimized with multi-channel order management capabilities.
Simplified handling of complex orders, i.e., future orders, blanket orders, backorders, etc.
Automated two-way sync of orders, tracking info, product availability and customers with time interval settings for web stores & online marketplaces.
Full visibility of incoming/outgoing EDI transactions for each trading partner and alerts to quickly & flawlessly process the transactions.
Guided actions intelligently generated on quotes and orders to easily advance and complete orders.
Workflow management to track order progress (i.e., Ready to Pick, Pick in Progress, Picked, Packaging, Shipped, etc.).
Order Manager with a snapshot of all orders, plus batch order processing & fulfillment actions (i.e., scheduling, changing workflow status, printing/emailing documents, creating picklists, invoicing, creating shipments, etc.).
Mobile warehouse management with barcoding for quick & accurate order entry, picking and more.
Warehouse Layout Editor that intelligently maps optimal picking routes for use on picklists to batch pick timely and logically.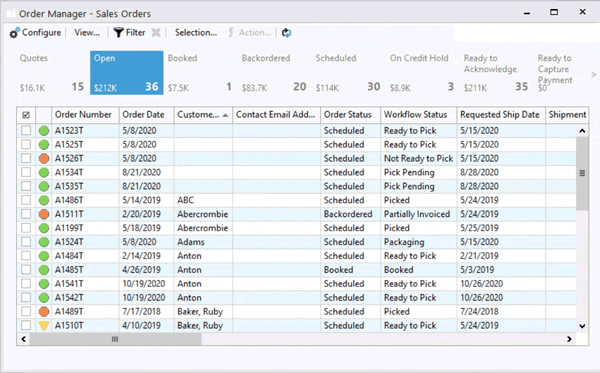 Multi channel order management to ship on-time
With multi channel order management tools in Acctivate, like demand planning and replenishment alerts to keep inventory levels accurate and comprehensive order transparency, businesses can adhere to delivery timelines and requirements that help nurture customer relationships.
Sales List view identifies priority orders at-a-glance with smart date insight.
Automatic workflow status updates keep orders on schedule through the entire fulfillment process.
Integration with shipping carriers (FedEx, UPS, USPS, DHL) & third-party shipping solutions (ShipStation, StarShip) maintains shipping info, i.e., package tracking in Acctivate.
Reports and other strategic planning tools help provide free or inexpensive shipping (a common competitive advantage with eCommerce).
Direct access to shipment tracking and order history enables responsiveness, such as with addressing shipping delays.
Packaging Manager for bulk & EDI shipping guarantees delivery to the correct stores and distribution centers via easy grouping of sales order products into cartons and supports label printing required by EDI trading partners (e.g., UCC 128 shipment labels).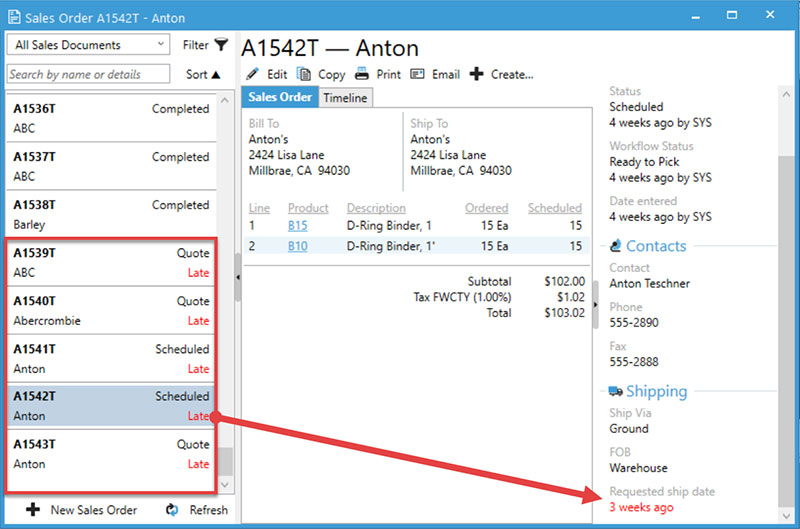 Multi channel order management with full inventory & order visibility
Businesses can operate confidently with 24/7 insight of inventory quantities and full operational data across all warehouses, bin-locations, and sales channels. With the global view of operations in Acctivate, businesses can dominate within their marketplace while competitors fail to meet customer needs.
Overselling and underselling are eliminated as Acctivate provides proactive tools to forecast customer trends & demand, reorder promptly, count inventory accurately, receive inventory quickly, and stock shelves without tying up capital in slow-moving, excess, or obsolete inventory.
Multi channel order management to meet rising customer expectations
The aforementioned benefits of Acctivate are essential in delivering superior customer experiences from quote to order to fulfillment to delivery to ongoing service. With Acctivate all orders are treated equally, and the customer journey is a uniform experience regardless of the sales channel.
Customers can easily turn to competitors when a business doesn't have their product, charges more for shipping, fails to ship on time, and ships the incorrect product. Acctivate strengthens multi-channel order management with built-in checks and balances to keep all operations running smoothly.
Multi channel order management tightly integrated with QuickBooks
Acctivate connects with QuickBooks for financials through a bi-directional integration, forming a complete business management system that small to mid-sized distributors, manufacturers, and online retailers rely on to drive long-lasting success.
Discover Acctivate
Acctivate is packed with
features
for your entire business. Talk to our team of product experts and see if Acctivate is right for your business.
Call us at 817-870-1311