Foodservice Distribution Software
Built For


Foodservice distribution software offers foodservice distribution companies advanced inventory, fulfillment, and supply chain management tools perfect for streamlining, centralizing, and growing.
Foodservice distributors are afforded staying power, even in economic downturns, as they serve a wide variety of clients including nursing homes, hospitals, industrial caterers, restaurants, and cafeterias. The need for food and beverage delivery to these facilities is inevitable, an inevitability many other industry sectors can't depend on.
In 2016, the foodservice distribution industry generated $280 billion in revenue with 8 major distributors dominating 41% of the market. The remaining market share is divvied up amongst thousands of small, independent distributors. Fortunately, many smaller foodservice distributors are able to avoid acquisition and consolidation because by and large, many of their customers depend on and prefer access to locally sourced and artisanal goods, last mile fulfillment options, and more intimate pricing negotiations.
In order to weather future economic impacts, combat the mounting challenges global supply chains are facing, and continue to grow, it is crucial for foodservice distributors to employ innovative business strategies and embrace newer technologies like foodservice distribution software as the overall F&B industry continues to shift and modernize globally.
Foodservice distribution software with powerful inventory control, mobile warehouse management, traceability, omni channel fulfillment, and advanced purchasing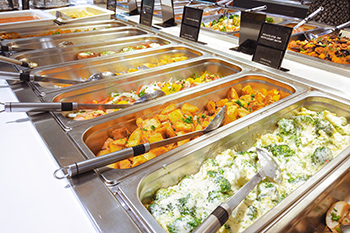 Many foodservice distributors work with a variety of manufacturers and suppliers which creates diversified inventory for a versatile customer base. Foodservice distributors usually sell in bulk, with a few exceptions, and must efficiently and accurately manage potentially thousands of different lot and serial numbers to deal with on any given day. Proper inventory control enhances visibility, prevents lost and dying inventory on the floor, simplifies day to day inventory tasks, and injects accuracy and integrity into overall operations.
With Inventory Control:
Store/track an unlimited number of inventory items in real-time.
Enter multiple alternate product IDs and description per product (SKU, UPC, industry-specific, vendor-specific, etc.).
Easily view inventory (per location) on hand, available, committed, on order, on reserve.
Control substitutions, bill of materials, costing, and multi-tiered pricing.
Implement barcoding and mobile tools for more efficient inventory processing & fulfillment.
Always know true costs with landed cost and multi-currency.
Acctivate Foodservice Distribution Software with mobile warehouse management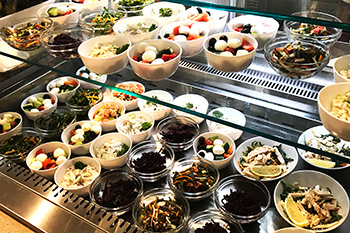 While much of the industry is still relying on manual inventory tracking, a move to barcode and mobile software for inventory, as well as warehouse management, can save hours upon hours during counts, receiving, transfers, picking and packing. Going mobile optimizes warehouse operations, physically and virtually, and dramatically reduces human errors and omits various time-consuming daily task work. Whether implemented in one or multiple warehouses, mobile warehouse management allows a distributor to streamline and centralize warehouse operations company-wide while allowing for specific workflows, priorities, etc. to take place on a location to location basis as needed.
With Mobile Warehouse Management:
Increase warehouse & inventory transaction accuracy.
Improve picking, packing, shipping accuracy.
Optimize warehouse square footage.
Easily track inventory availability and warehouse location.
Minimize labor with mobile order picking.
Perform swift inventory transfers and counts.
Adjust inventory quantities with ease.
Set alerts for pre-committed inventory.
Receive orders quickly into warehouse.
Enjoy dynamic workflow management.
Foodservice Distribution Software with best-in-class traceability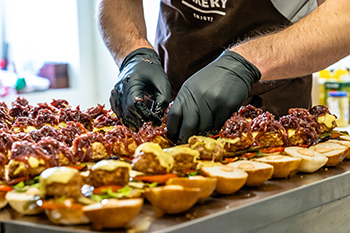 Maintaining a thorough account of all raw and finished goods within and outside of a foodservice distributor's warehouse is critical for complying with industry regulations and promoting supply chain visibility. As more consumers and businesses call for greater transparency in supply chains, outfitting inventory with traceable lot and serial numbers is a key step in addressing their requirements. In the face of a recall, a distributor has very little time to identify and work to remove potentially adulterated items from warehouse shelves and customer hands. Being able to identify and locate potentially adulterated products in seconds helps foodservice distributors and their clients prevent the disastrous financial consequences that come along with the distribution of tainted products.
With Traceability:
Comply with industry regulations and always be recall ready.
Track an unlimited number of raw and finished goods by lot or serial numbers end-to-end, including lot numbers for ingredients used in products if needed.
Track assembled products.
Manage and track quality-control issues, expiry dates, lot, inspection, and quarantine information.
Acctivate Foodservice Distribution Software for QuickBooks
Acctivate is a powerful solution for small and mid-sized multi-channel foodservice distributors seeking advanced inventory and business management tools while maintaining financials within QuickBooks.
Foodservice Distribution Software with robust omni channel fulfillment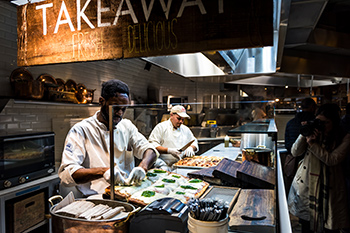 Foodservice distribution is no longer conducted purely over-the-phone or through face-to-face negotiations, but via webstore and ecommerce marketplaces as well. Being able to easily manage orders coming in from a variety of streams allows inventory to move from warehouses to the doorsteps of foodservice operators seamlessly. The foodservice distribution industry doesn't come with a lot of forgiveness for late, lost, or inaccurate orders, so ensuring the accurate, fast fulfillment is key for a foodservice distributor to find success and protect their bottom lines. Being able to sort, filter, prioritize and process orders quickly means quicker picking and packing, and in turn, satisfied foodservice operators and stronger partnerships.
Acctivate's Omni Channel Fulfillment:
Easily manages omni channel orders (eCommerce, EDI, counter sales, phone, catalog, email).
Orders can include products, service fees, shipping fees, handling charges and any other chargeable item or activity.
Sort, filter, prioritize, and process orders quickly.
Promotes picking/packing accuracy with the help of barcoding and mobile tools.
Removes most manual data re-entry through automation, helping to gain accuracy, time savings, and lower costs.
Allows direct integration with shipping carriers/solutions of your choice.
With eCommerce:
Integrate with one or more well-known eCommerce platforms including Shopify, WooCommerce, eBay, and BigCommerce.
All product attributes available online including images and descriptions.
Configure web store order sync to run automatically at set time intervals.
Handle online orders as any other order within Acctivate.
Batch process online orders with a few clicks.
Allow promo codes.
Process credit card payments in real-time.
Drop ship & 3PL support.
Acctivate Foodservice Distribution Software with advanced purchasing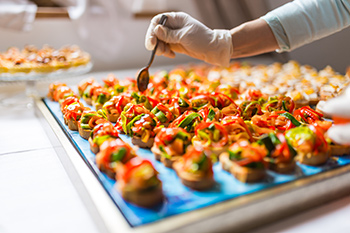 Foodservice distributors and their clients rely on vendors to provide consistent, high-quality, fair priced goods in order to conduct their businesses successfully. Most establishments cannot change their menus at the drop of a hat because items can't be procured or risk tarnishing their reputation from serving meals with low-quality goods. A foodservice distributor trying to build a popular, long-lasting brand needs to be able to guarantee customers with the reliability of their products and fulfillment times. With advanced purchasing management, foodservice distributors can more easily monitor vendors in order to continue to find the best products at the best prices to be supplied at the best times.
With Advanced Purchasing:
Access full supplier historical data (ex. published price, last cost paid, lead time) to evaluate and set vendor expectations.
Easily monitor supplier performance based on objective performance reporting.
Manually or auto-generate purchase orders.
Monitor purchase order status within Acctivate in real-time with auto-generated purchase order numbers.
Prevent unauthorized purchases.
Promote better spend management & budget control.
Get Started Today!
Discover how Acctivate can transform your business. One of our Acctivate specialists would love to talk to you and discuss your specific business needs.
Call us at 817-870-1311