Built For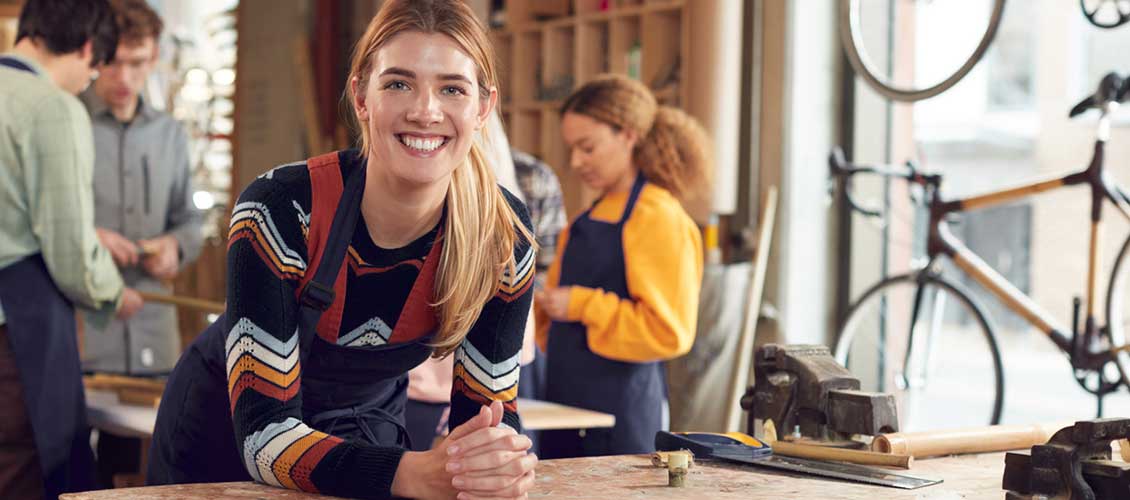 Finding the right-sized software for a small to mid-sized business can be challenging.

SMBs outgrow tools they began with initially, like spreadsheets or QuickBooks®. They then tend to look towards NetSuite® or similar mid-market ERP systems, which are too large and expensive for their needs.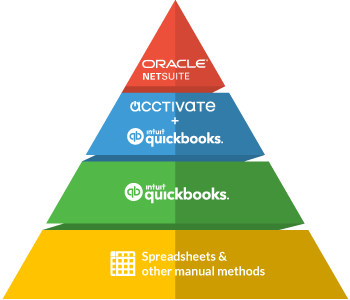 Where is the middle ground?
It's found in a NetSuite alternative solution, like Acctivate Inventory Software, which is built for growing SMBs with consideration of their size, budget, operational needs, and future growth.
---
NetSuite alternative: Ideal for growing SMBs
QuickBooks is a SMB-suited solution, as is Acctivate, which extends the functionality of QuickBooks. This combination forms a NetSuite alternative solution with cost-effective tools to handle all operational needs, including inventory management and multi-channel sales.
NetSuite and other ERP systems inundate SMBs with many disadvantages. A NetSuite alternative keeps SMBs from having to deal with ERP system drawbacks by:
Eliminating budget overruns
Streamlining the software onboarding process
Reducing business disruption
Providing easier to use interface and features
Being a better fit for smaller businesses
---
NetSuite alternative competitive advantages for SMBs
Eliminate budget Overruns
In a survey by QuickBooks, 47% of the small and mid-sized business owners reported not using all their ERP system capabilities, therefore feeling they overpaid.1 In such cases, the financial burden is not a result of only the ERP system license, but that of startup costs, ongoing operating costs, and unexpected costs (i.e., consulting services and staff resources). Additionally, 41% of businesses cite the financial costs of operating an ERP system as a cause for exceeding project budgets.2
Total cost of ownership (TCO) of mid-market to large scale ERP systems can drain companies of thousands to millions of dollars. For example, an approximate estimation of NetSuite TCO over five years for a 15-user system equates to $242K (on-premise) and $173K (SaaS). The TCO factors in the software license, maintenance, hardware infrastructure, implementation, and consulting (a common need to successfully implement, support, and customize due to the complex nature of ERP systems), plus some fees are recurring on a monthly and annual basis.3
Just the right size
Of the businesses in the QuickBooks study, 84% found their current ERP system to be too large to satisfy their specific business needs.4 With such a gargantuan system, complexities emerge, such as with the onboarding process, use of the system, and business disruptions. SMBs do not typically have the time, resources, manpower, or budget that a mid-market to large enterprise system demands.
Acctivate is designed for SMBs in every aspect making it an ideal NetSuite alternative with:
90-day, remotely guided onboarding experience
Online training resources to follow as a model company is used to learn the software prior to going live
Streamlined user experience with company-wide, real-time visibility of business data coupled with easy to navigate processes and straightforward feature windows
Less time spent overall on onboarding and training to start seeing return on investment sooner and to a greater degree with less overall cost involved
A NetSuite alternative prioritizes SMB needs and enables them to also support growth, gain greater functionality, and increase efficiency—the top three reasons businesses implement an ERP system, but with Acctivate + QuickBooks they do not overpay, and things are not overcomplicated. Acctivate's integration to QuickBooks gives SMBs an easy transition to a complete business management solution by adding more capabilities for production, purchasing, inventory control, warehousing, multi-channel sales, fulfillment, and CRM.
Small to mid-sized businesses may think that an ERP software is the only way to go as they grow, but question if that is what is truly needed. Download the following infographic to help decide…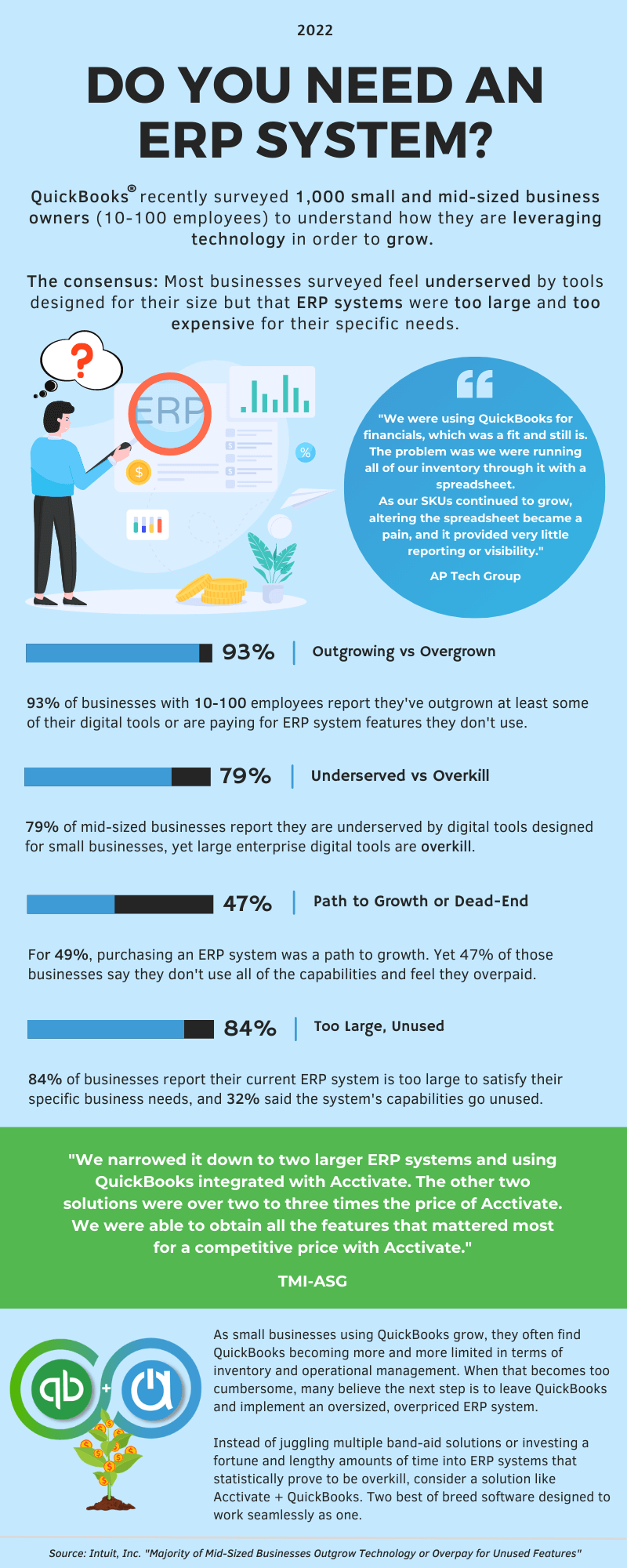 ---
Acctivate—trusted by thousands of small and medium business users for 20 years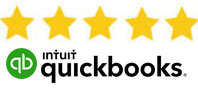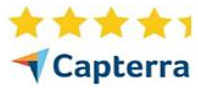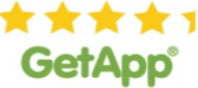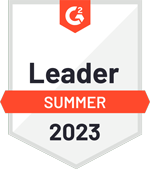 Who uses a NetSuite alternative solution?
A NetSuite alternative software solution is often utilized by businesses across various industries, ranging from small and medium-sized enterprises (SMEs) to large corporations. Organizations opt for alternatives to NetSuite for several reasons. Firstly, cost considerations play a significant role, as NetSuite can be relatively expensive, especially for smaller businesses with budget constraints. Secondly, some businesses may require a software solution that offers more specialized features tailored to their specific industry needs. Flexibility is essential for businesses seeking software that aligns precisely with their unique workflows and processes. Furthermore, some organizations prefer alternative solutions that are easier to implement and integrate with their existing systems, such as QuickBooks. Ultimately, the decision to use a NetSuite alternative software solution is driven by a desire for cost-effectiveness, industry-specific functionalities, customization capabilities, and seamless integration, enabling businesses to streamline operations and boost productivity efficiently.
---
Sources:
1Growing pains: Mid-sized businesses are challenged to find right-sized digital tools
2 Ibid.
3Amzur Technologies: TCO Calculator
4 Growing pains: Mid-sized businesses are challenged to find right-sized digital tools
5Software Path, 2022 ERP Report
Grow your business with the right-sized software