Pick, Pack and Ship Software
Built For


Pick, Pack, and Ship software provides multi-channel distributors and manufacturers with tools for streamlining and perfecting order fulfillment operations.
The need for Pick, Pack, and Ship software
For distributors of all shapes and sizes, regardless of industry, a solid, positive reputation usually relies heavily on the stages of order fulfillment: Pick, Pack, and Ship.
The performance of fulfillment directly affects customers, B2B and B2C, receiving shipments. Issues with order fulfillment, when unaddressed, quickly pile up and surface in less-than-desirable ways, such as negative online reviews, drops in sales, and the loss of trading partners. How efficiently a distributor can get an order picked, packed, and shipped matters.
Acctivate provides small and mid-sized multi-channel distributors and manufacturers with powerful, intelligent order fulfillment tools perfect for optimizing warehouses and streamlining picking, packing, and shipping.
Pick, Pack and Ship: Order Processing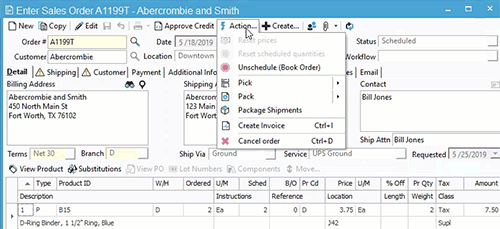 Order processing in Acctivate is straightforward and intuitive. Once a sales order or quote is created, Acctivate's "next action" button populates with the recommended next step, allowing a user to click the button and begin. Alongside the "next action" button is the "actions" menu, providing a dropdown of all available actions and allowing a user to bypass or alter the typical order processing steps to suit situational needs. The action menu options vary depending on whether the sale is in quote or order form.
With Multi-Channel Order Management:
Simultaneously handle multiple sales channels, including EDI and eCommerce
Orders can include products, service fees, shipping fees, handling charges, any chargeable items or activities
Create on-the-go sales orders in real-time with mobile devices
Accept multiple payment options
Set "don't ship" before and after dates
Book orders in advance of shipments without inventory commitment
View credit status during order entry, utilize permission-based override capability if needed
Pick, Pack and Ship: Warehouse Layout & Pick Route Optimization
Whether a distributor operates one or multiple warehouses, organization is key to maintaining a steady, efficient workflow during fulfillment. Poorly designed picking routes and patterns lead to time-consuming, frustrating pick sessions for warehouse employees. Inefficient routes also lengthen fulfillment times, making it harder to get orders picked, packed, and shipped in a desirable and timely manner.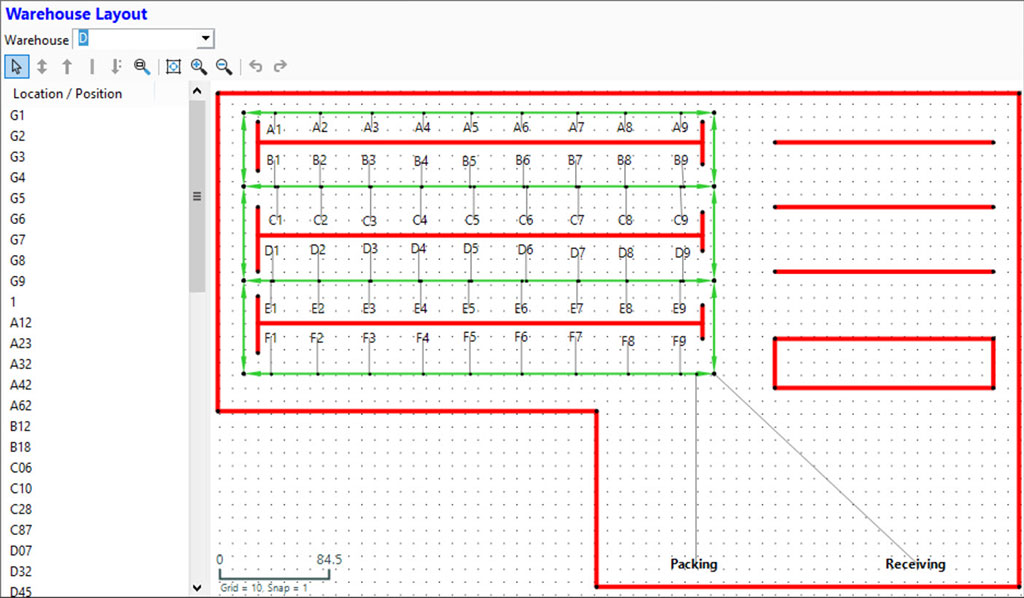 Acctivate's Warehouse Layout Editor provides users the ability to input the exact design of their warehouse floor and generate intelligent picking maps for single and batch picking orders. The Warehouse Layout Editor eliminates zigzagging between aisles and bin locations, and instead provides the picker with the least time-consuming and most efficient path.
Pick, Pack and Ship: Pick List & Batch Order Picking
Acctivate Pick Lists can be viewed and printed via Acctivate and also accessed on mobile barcoding devices. Pick Lists are optimized to reflect and track picking efforts and workflow statuses on all open orders, while also providing the most optimal picking paths.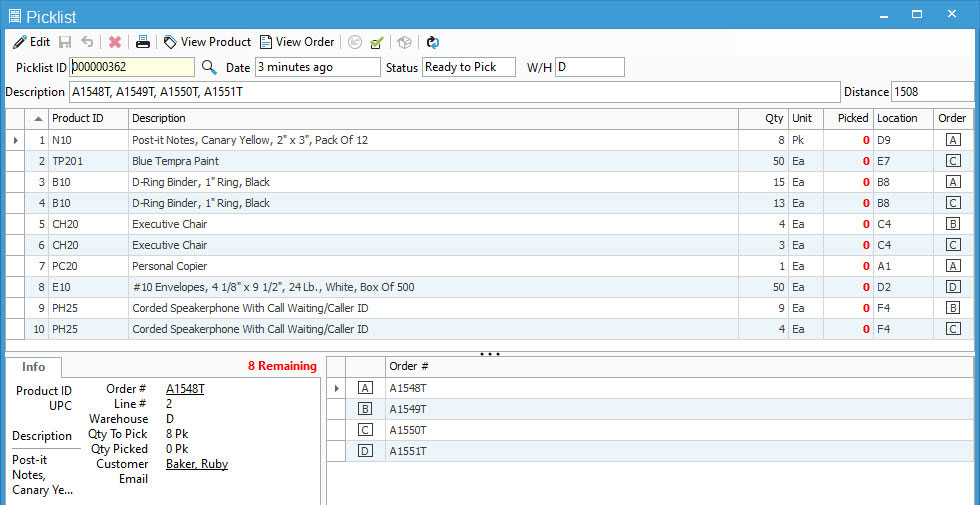 Batch Order Picking lets a user pick items for several orders in one go through the warehouse as opposed to picking for a single order at a time. For high-volume warehouses, being able to batch pick several orders can save hours while significantly reducing unnecessary labor.
Pick, Pack and Ship: Shipping Workstation
Once order processing and picking are complete, it is time for packing and shipping. Acctivate is designed to handle large, multi-package shipments going to various locations with ease. During packing, Acctivate automatically pulls package information (by box) and prints labels. Shipping Workstation allows a business to integrate with shipping carrier(s)/solution of their choice, including FedEx, UPS, USPS, DHL, ShipStation, and StarShip. Once packages are ready for shipment, Acctivate receives tracking numbers and shipping cost details. At the end of the day, invoices are available for all shipped orders.
Shipping with Acctivate:
Create customized & personalized packing documentation including bills of lading, invoices, packing slips, shipping labels, and thank you notes
Selectively add shipping costs to invoice as desired
Automatically generate customer emails to provide shipping and tracking information
Access customer shipping & tracking information with 1-click for customer inquiries
View package details easily upon order invoicing
Pick, Pack and Ship for QuickBooks
Acctivate Inventory Software offers small and mid-sized multi-channel distributors and manufacturers using QuickBooks seeking advanced inventory and order fulfillment tools a powerful bi-directional integration perfect for growing while maintaining financials securely within QuickBooks
Discover Acctivate
Acctivate is packed with
features
for your entire business. Talk to our team of product experts and see if Acctivate is right for your business.
Call us at 817-870-1311