QuickBooks Stock Control Software
Built For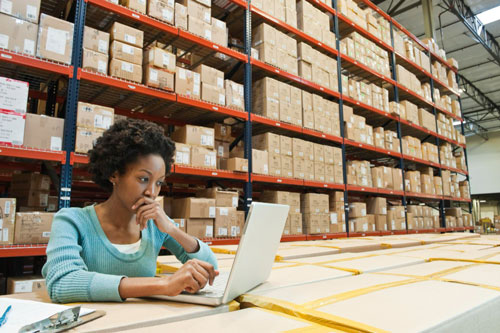 Acctivate for QuickBooks stock control software provides advanced inventory, purchasing, order, and customer relationship management tools.
The need for QuickBooks stock control software
While inventory's purpose is to be sold, the amount of profit a business achieves is primarily based on how well a company manages its stock – from the purchasing of inventory to stock control to the shipping of goods and, finally, the post-sales activities, such as customer service and returns management.
QuickBooks is the most common software choice for small businesses with low or no inventory. It's easy to use, is far more efficient than tracking financial data with spreadsheets, and can handle invoicing and payroll. However, growing product-centric businesses soon wonder if they've outgrown QuickBooks. Fortunately, stock control software for QuickBooks allows companies to remain using QuickBooks while gaining the tools they need for managing operations.
Essential for businesses that carry inventory as part of their business operations, QuickBooks stock control software helps companies to manage their inventory more effectively, improve accuracy, streamline processes, increase efficiency, and make better-informed decisions. Acctivate stock control software for QuickBooks was specifically built and designed to handle advanced inventory, purchasing, and order management needs, making it an excellent complement to using QuickBooks and its robust accounting features.
discover Acctivate + QuickBooks
Core elements of Acctivate for QuickBooks stock control software
Acctivate for QuickBooks stock control software was created for businesses of all sizes to manage inventory, orders, purchasing, and customer relationships in one centralized platform. Acctivate integrates seamlessly with QuickBooks, meaning businesses can continue using QuickBooks for their accounting needs while using Acctivate for their stock, purchasing, and order management requirements.
Inventory management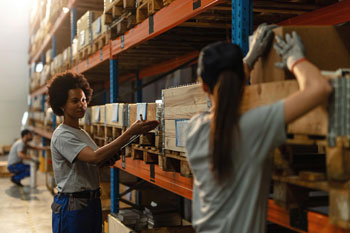 Inventory management involves a range of tasks related to monitoring and controlling the stock levels of a business. Acctivate for QuickBooks stock control software's advanced inventory capabilities include:
Stock control and stock tracking. Critical to business profitability, Acctivate monitors inventory levels and their movement to ensure enough stock is available to meet customer demand but not so much that it leads to waste or excess storage costs.
Multi-warehouse and location management. Acctivate easily monitors and manages stock across one or many physical or virtual warehouses, locations, or bins.
Lot and serial number tracking. Acctivate's lot number management tracks the movement of products from the manufacturer to the end customer, allowing businesses to track the activity of each batch of products. Companies can quickly identify and isolate the affected products if any issues or recalls arise. With serial number tracking, a unique serial number allows businesses to track the movement and history of each unit.
Purchasing management
Gaining control of the process of acquiring the products and materials needed to operate can save a business both dollars and hours. Acctivate for QuickBooks stock control software's purchasing management capabilities include:
Forecasting demand. Acctivate's replenishment forecasting tools allow accurate forecasting at the product SKU level and enable quickly adapting to fluctuating customer demand, varying requirements, or changing market conditions.
Purchase order management. Acctivate streamlines the complexities of purchasing management with tools to quickly and easily manage purchase orders, reorders, special orders, receiving, and payment.
Supplier performance monitoring. Supplier management involves evaluating supplier capabilities, assessing pricing and terms, and considering factors like quality, delivery times, and supplier reliability. Acctivate's tools assist with determining how and when spending occurs, understanding true product costs, and ultimately, making better buying decisions.
Multiple channel order management and fulfillment
Multiple channel order management and fulfillment handles orders from different sales channels, such as online marketplaces, eCommerce websites, and orders received by phone, fax, or in person. With Acctivate for QuickBooks stock control software, orders are accurately received, centralized, and processed promptly, regardless of where they originated.
The next step in the process, order fulfillment, is an essential aspect of customer satisfaction and can significantly impact a business's reputation. Order fulfillment aims to ensure that customers receive their orders quickly, accurately, and in good condition. Acctivate facilitates order fulfillment with fully integrated picking, shipping, and shipment tracking capabilities.
Customer relationship management and returns
Acctivate for QuickBooks stock control software helps businesses manage and maximize customer interactions, providing a centralized database for accessing real-time customer information, including order history across all channels, customer contact information, and more.

Returns management is also essential to the customer experience, as it can significantly impact a customer's perception of a business. Businesses can increase customer loyalty and satisfaction by providing an efficient and hassle-free returns process. Returns are handled efficiently with an Acctivate system-generated RMA activity number, allowing easy follow-up access to all RMA information.
Discover Acctivate
Acctivate is packed with
features
for your entire business. Talk to our team of product experts and see if Acctivate is right for your business.
Call us at 817-870-1311