Built For


Office Depot EDI solutions are essential for businesses interested in being suppliers and selling their products to the business products retail giant.
Office Depot maintains approximately 1,100 retail stores and a strong eCommerce presence. SMBs have a huge opportunity for growth by doing business with Office Depot. Without Electronic Data Interchange (EDI) compliance and adherence to Office Depot EDI vendor requirements, a potential supplier will most likely be overlooked.
With EDI, the communication between a supplier, Office Depot (the trading partner) and any other involved partners (i.e., 3PL service providers) becomes streamlined with electronic and automated transaction processing.
Office Depot EDI Compliance
Office Depot EDI compliance is initially dependent upon the supplier forming a business relationship with a reliable EDI VAN (Value-Added Network). The VAN ensures the EDI process adheres to Office Depot EDI specifications and establishes the B2B connection for the secure exchange, translation, and mapping of EDI documents (i.e., retailer POs, supplier invoices, packaging/shipping instructions, shipping notices). Establishing EDI compliance maintains a solid supplier-buyer alliance through streamlined processing that delivers greater order accuracy, faster shipments, and time/money savings by eliminating manual data entry and errors that cause issues, like chargebacks.

Office Depot EDI & Acctivate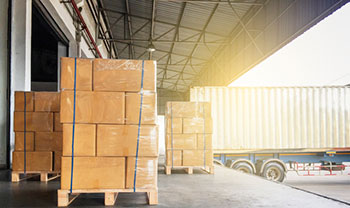 Office Depot EDI trading boosts order volume and sets expectations of punctual fulfillment and delivery. Acctivate, an inventory and business management software, helps SMBs manage, track, process, and fulfill all orders, including EDI sales for one or more trading partners, online sales, and offline sales.
Acctivate integrates with popular EDI VANs—TrueCommerce, SPS Commerce, and B2BGateway—making it possible to successfully work with thousands of big-box retailers. Initially, the VAN translates the raw data of purchase orders (EDI 850 transactions) from Office Depot into a legible format that is instantly imported and mapped into Acctivate as sales orders.
Various Office Depot EDI transactions are also easily handled in Acctivate:
Warehouse Shipping Orders (EDI 940) to send orders to 3PL providers, if used for fulfillment.
Warehouse Shipping Advices (EDI 945) received by supplier from 3PL providers to confirm order shipment.
Advanced Shipment Notices (EDI 856) to notify Office Depot of pending deliveries.
Invoices (EDI 810) to efficiently collect payments from Office Depot.
Functional Acknowledgements (EDI 997) to confirm receipt of every EDI transactional document exchanged.
Acctivate delivers a consolidated view of the influx and outflux of EDI transactions for Office Depot and other trading partners. This keeps SMBs informed to immediately fix any erroneous transactions and process those that are ready to go in one fell swoop.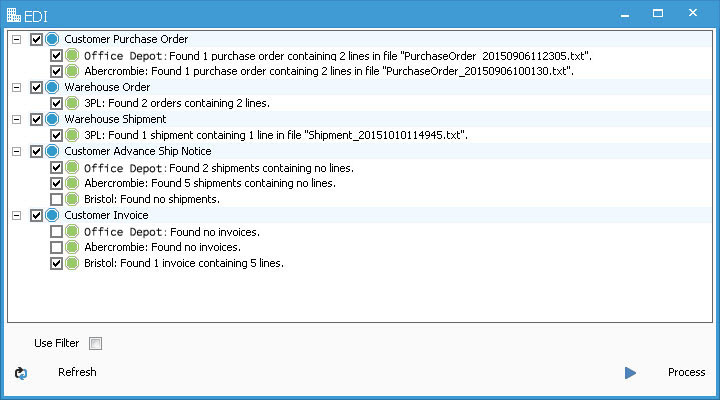 Office Depot EDI Order Management
Acctivate's ability to connect operations for all sales channels and provide live inventory visibility across all warehouses, significantly reduces the chances of SMBs experiencing out-of-stocks, overstocking, understocking and other inventory distortions that compromise profitability and customer satisfaction. Therefore, SMBs can serve their EDI customers efficiently by always allocating the correct inventory quantities to EDI sales orders.
SMBs gain total control from sales to delivery with Acctivate's comprehensive capabilities:
Quick and accurate batch order picking through desktop and mobile picklists that efficiently navigate workers to the products as the routes are pre-calculated based on their defined warehouse layout.
Progress orders to complete fulfillment as scheduled with automatic updates of workflow statuses from Pick in Progress, Picked, Packaging, Shipped, etc.
Handle high-volume orders through a central hub to perform batch order processing and fulfillment actions.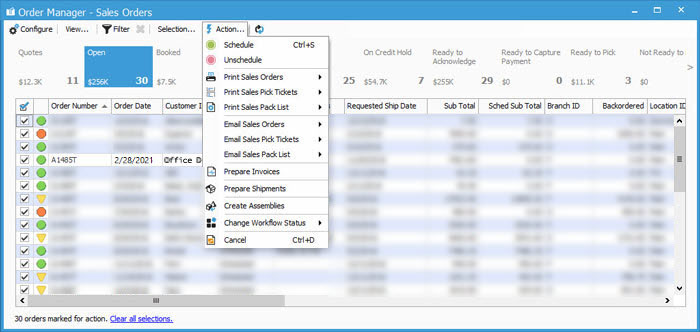 Ensure optimal delivery to Office Depot distribution centers by grouping sales order contents into cartons for shipment and printing carton labels (UCC-128) containing shipping data and SSCC-18 Serial Container Shipping Code.
Obtain the best shipping rates and shipment tracking with integration to various carriers (FedEx, DHL, UPS, USPS) and 3rd party shipping solutions (StarShip, ShipStation).
Office Depot EDI & Complete Business Management
Acctivate is designed with the tools SMBs need to secure shelf space on the physical and virtual shelves of Office Depot and other large retailers. Acctivate drives EDI success for companies as it speeds up transactions, minimizes inventory/ fulfillment inaccuracies, enhances shipping, and cuts processing expenses.
Acctivate is a complete business solution integrated to QuickBooks that manages EDI and more, including inventory, procurement, production, multi-channel sales, CRM, and business intelligence.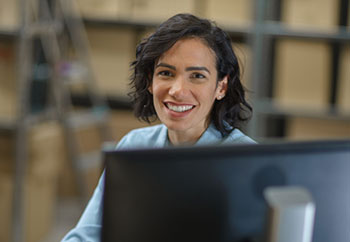 Discover Acctivate
Acctivate is packed with
features
for your entire business. Talk to our team of product experts and see if Acctivate is right for your business.
Call us at 817-870-1311