Optical Frame Inventory Software
Built For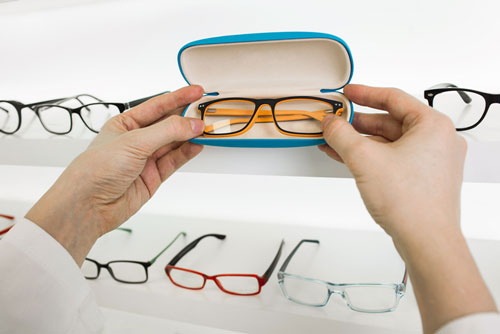 Optical frame inventory software helps optical frame manufacturers, wholesalers, and distributors manage their inventory, purchasing, and order management.
Optical frame inventory software simplifies purchasing, inventory, order, and business management
Optical frame manufacturers, wholesalers, and distributors produce and distribute eyewear products sold to optometrists, ophthalmologists, optical retail stores, and other eyewear professionals. Operating in a highly competitive and rapidly changing market, optical frame businesses face challenges ranging from procurement of products or raw materials to managing complex inventories to ensuring orders are fulfilled efficiently and accurately.
To combat these challenges and gain a competitive advantage, growing optical frame businesses turn to optical frame inventory software to gain tools to manage purchasing, inventory, and orders, resulting in increased profitability, accuracy, and customer satisfaction.
Purchasing and forecasting optical inventory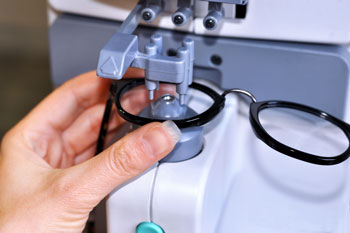 Optical frame manufacturers, wholesalers, and distributors handle the purchasing and forecasting of inventory through a combination of data analysis, market research, and supply chain management. Optical frame inventory software assists with these essential inventory and procurement tasks, including:
Analyzing trends and sales data to forecast demand
Optical frame inventory software provides eyewear manufacturers and distributors with historical sales data to identify trends and patterns in customer demand, helping to forecast future demand for particular products and make purchasing decisions accordingly.
Monitoring eyewear product lifecycles and factors like style, material, and price point enables optical frame businesses to track these trends and adjust their inventory strategies accordingly to avoid excess inventory or stockouts.
Working with suppliers and ensuring quality control
Optical frame manufacturers, wholesalers, and distributors must work closely with their suppliers to ensure they have quality raw materials or products when required. Vendor management involves placing timely purchase orders, negotiating pricing and terms, and working collaboratively to manage inventory levels.
Additionally, eyewear products must meet various quality standards, and optical frame manufacturers, wholesalers, and distributors must ensure the frames they carry meet these standards, and that inspections, testing, and other quality control measures are tracked throughout that quality control process.
Optical frame inventory software with matrix inventory
Managing inventory in the eyewear industry is complex and challenging, requiring careful planning, forecasting, and execution to ensure products are available when customers need them while avoiding excess inventory and obsolescence, particularly for optical frame wholesalers and distributors who may need to maintain extensive inventories of frames from multiple manufacturers.
Matrix inventory is an inventory management technique commonly used in the eyewear industry to manage products that come in different sizes, colors, or other variations. Matrix inventory systems allow optical frame companies to track inventory levels for each unique combination of attributes rather than just tracking total inventory levels for a particular product.
Matrix inventory systems help optical frame companies manage their inventory more efficiently, as they provide greater visibility into the availability of specific product variations, reduce stockouts, and ensure that they have the right mix of products available to meet customer demand.
Handling orders and fulfillment with optical frame inventory software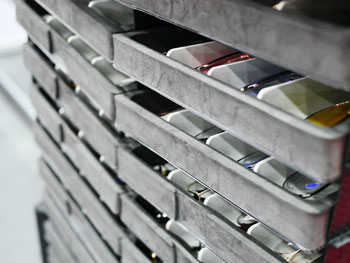 Optical frame inventory software streamlines and automates eyewear manufacturers' and distributors' order management and fulfillment processes.
Multi-channel order management
Multi-channel order management allows customers, such as eyewear retailers, to place orders with the optical frame manufacturer or distributor through various channels, including eCommerce websites, EDI, phone calls, email, fax, or a direct sales team.
Regardless of how or where the order was received, with centralized order management, all orders are centralized and processed in one system, with real-time inventory, order, shipping, and customer information available.
Order fulfillment
Following receipt of the order, the frames are typically inspected, cleaned, and packaged for shipment. The optical frame manufacturer or distributor arranges for shipping the frames to the customer's desired location(s), working with shipping companies or logistics partners to ensure reliable and timely delivery. Tracking information is provided by the optical frame inventory software to the customer so that they can monitor the shipment's progress.
Acctivate optical frame inventory software
Acctivate is a comprehensive inventory management software designed to streamline and enhance business operations for optical frame manufacturers and distributors. Acctivate offers a range of features to help businesses effectively manage their inventory, sales, purchasing, and order fulfillment processes.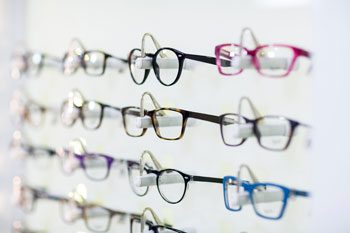 With Acctivate, optical frame manufacturers and distributors track inventory levels, monitor product movements, manage vendors and suppliers, generate sales and purchase orders, and gain real-time visibility into their supply chain. Acctivate also provides robust reporting and analytics capabilities, allowing businesses to analyze data, make informed decisions, and optimize inventory management strategies. As a result, Acctivate assists with improving efficiency, accuracy, and profitability for optical frame businesses by providing a centralized platform for real-time inventory control and order management.
Acctivate inventory software's matrix inventory functionality allows businesses to define and track product variations within their centralized inventory, order, and business management system. For example, a frame manufacturer may produce a particular frame style in multiple sizes and colors. With Acctivate, the company can track inventory levels for each individual combination of size, color, or lens type rather than just tracking the total number of frames produced. Each variation is associated with a specific SKU (Stock Keeping Unit) and may have its own pricing, stock levels, and other attributes.
Built for QuickBooks, Acctivate's seamless integration with QuickBooks ensures consistency and accuracy across both platforms. When transactions such as sales orders, purchase orders, and inventory adjustments are made in Acctivate, the data is automatically synced with QuickBooks, helping businesses streamline their operations by eliminating manual data entry and reducing the risk of errors.
Get Started Today!
Discover how Acctivate can transform your business. One of our Acctivate specialists would love to talk to you and discuss your specific business needs.
Call us at 817-870-1311