Built For


How to track inventory… five easy ways when getting started with your inventory management software.
How to track inventory with software
For businesses trying to determine ways to track inventory, many affordable resources exist. One such resource is inventory management software. Most inventory solutions tailored for SMBs are quite affordable and practical investments. Even though inventory management software is affordable, it can actually be quite powerful and efficient, especially in comparison to pen and paper or spreadsheets.
When getting started with inventory software, here are five easy ways to track inventory…
Discover Inventory tracking
1. Ways to track inventory with multiple Product IDs and descriptions
Using inventory software, it becomes efficient and easy to keep multiple product IDs and descriptions organized. All product information, including alternate IDs and descriptions, are available on each product's individual window.
Having unique product IDs and descriptions becomes a powerful way to distinguish each item. This enables users to search multiple fields for an item, making it easier and more efficient to find what they're looking for.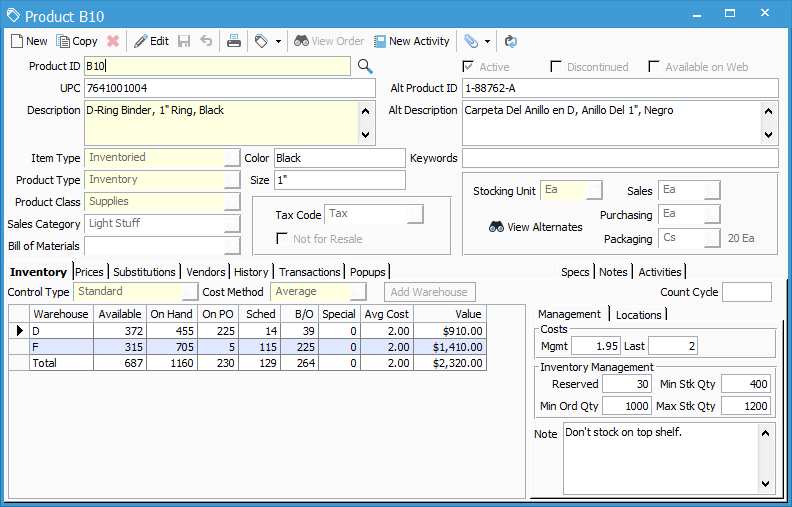 Additionally, a vendor or customer may have another product ID or SKU for a specific item than your business does. By not storing this information, searching for products, issuing purchase orders, or issuing sales order may get complicated or result in duplication of items when tracking multiple vendor or customer IDs.
However, you can keep track of vendors' and/or customers' SKU numbers and product IDs linked to each unique record on either the vendor information listed on the item or on the customer window. This allows your business to keep product information organized and coordinated, therefore eliminating confusion.
2. Set minimum and maximum quantity levels for products
In order to guarantee certain staple product levels at all times, your business can set up reorder information using minimum quantity levels per warehouse.
Say Product A is your best-selling item and a buffer stock of 100 of those items is kept on-hand at all times. You can set up a minimum quantity level of 100 for that product in your inventory system. When the product reaches the specified minimum quantity level, you can have an alert tell you it's time to reorder the product. This enables the ability to keep track of inventory levels without having to manually check each item individually in the system or running constant inventory counts.
3. Ways to track inventory with location(s) for each product
If your business has products distributed in various locations within your store, or across multiple stores and/or warehouses, an inventory system is excellent for managing everything in one place.
By storing multiple warehouses and/or location information, you are able to see where all of your inventory is at a glance on one window. This can come in handy if you are responsible for the value of your items before they land in your physical warehouse.
For example, receiving into a warehouse in another country for processing, transferring stock into an On The Water warehouse while it ships to you, and then transferring into your physical warehouse once it actually arrives. Tracking each location as a warehouse gives you true visibility on where your items are located.
Additionally, if your business keeps products in various locations even within the same store or warehouse, you can use a multiple location feature to keep track of each sublocation.
4. How to track inventory with lot and/or serial number tracking
There are many reasons where lot or serial number tracking is necessary including:
Federal regulations
Quality control
Advanced product identification and tracking
An inventory system is great for tracking lot and serial numbers because the system will show you the flow of each lot and/or serial number from receiving to selling for each item that requires a unique identifier. Even after a product is sold, by using lot and serial number information, you can keep track of any pertinent product or inventory data.
5. Integrate with shipping carriers' systems
When working with major shipping providers such as UPS, FedEx, DHL, and USPS, you can use inventory software that integrates with the shipping providers' software to keep track of shipment information. Because the inventory software and the shipping software synchronize information with each other, shipping information from the shipping carrier is automatically updated in your inventory system.
Putting it all together with reporting
An additional mechanism for business optimization and visibility is through the use of business reports. Business reports are generated using the data in your inventory system. Depending on the inventory software itself, there are many types of reports available. The preset reports that are generated by and available in an inventory system are considered standard reports. Additional reports exist called custom reports, which are tailor-made for a business and/or are a modification/variation of a standard report.
Some examples of reports used to keep track of inventory include:
Sales and monthly demand reports
Lot or serial number reports with expiration information
Valuation reports
Inventory count sheets
Location reports
However, virtually any report can be created using customized reports. With custom reports, your business can track inventory in whichever way needed, tracking whatever information necessary. Custom reports can be created using reporting software such as Crystal Reports®. Reporting software utilizes the integration between its own software and the inventory software to pull data to create the custom reports.
For instance, Crystal Reports and Acctivate both use a Structured Query Language (SQL) database server. Because they share a common database language, Crystal Reports is capable of pulling information straight from Acctivate's database in order to create custom reports.
Below you will find customized reports using Crystal Reports:
Find Out More!
Learn more about Acctivate Inventory Software by connecting with our product experts.
Call us at 817-870-1311