Welcome to Acctivate Inventory Management Software
You're looking for a business management tool to help you get control of your business. You've come to the right place, we can help and the Tour Guide can show you how.
Acctivate is used by hundreds of companies with thousands of users, coast to coast and internationally. Take a look and see what they've discovered. An affordable and powerful system designed just for small and mid-sized companies really does exist!
Take your time and go through this guide.
Use the Navigation at the top of this page to view additional topics.
We invite you to spend some time going through the tour guide. It will show you the basic features and functions as you're taken through some of the system processes step-by-step.
After you're done, you should have a solid grasp of how the system works and the benefits that it can bring to your business. Feel free to experiment on your own as well.
Overview
If you have been a QuickBooks® user for any length of time, by no doubt you are aware that it is an outstanding tool for financial management and control. However, everyday business activity can tax the functionality of QuickBooks and leave business managers forming a patchwork of solutions to help manage their operation. Don't settle for a patchwork solution.
While patchwork solutions may be fine for a short-term fix, businesses that wish to achieve long-term success in the modern technological world need a modern technological solution. If you have developed a system of patchwork solutions to help you keep track of inventory, sales orders, purchase orders or customers then you may think you have outgrown QuickBooks.
Quite simply, when your business grows, it can outgrow QuickBooks as a stand alone solution.
Acctivate is fully integrated into QuickBooks
Acctivate has been designed to work in conjunction with QuickBooks to help your business operate efficiently. When used together, QuickBooks handles financial management, and Acctivate takes care of operational controls and day-to-day functions that make your business work.
Why do customers outgrow QuickBooks?
Many businesses discover they need more functionality in controlling their operations than QuickBooks provides alone.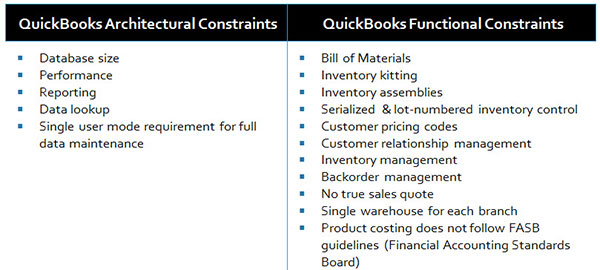 Use the Navigation at the top of this page to view additional topics.