Now that you have a good understanding of how to find customers, enter orders, and purchase product from your vendors, let's look at the inventory control functions of Acctivate.
Open the Product Information window:
From the Acctivate desktop: Select Inventory from the main menu and Product Information from the drop-down menu.

From the Icon Bar: Click the Product button.
The Product Information window automatically opens into a blank form. From here you can enter a new product or lookup information on an existing product.
The Product Information window is also segmented into a series of tabs.
The tabs are located lower on the window than in the previous two windows, and additional tabs will appear based on information selected or entered (i.e. bill of materials, lot or serial numbers, cost methods, etc.).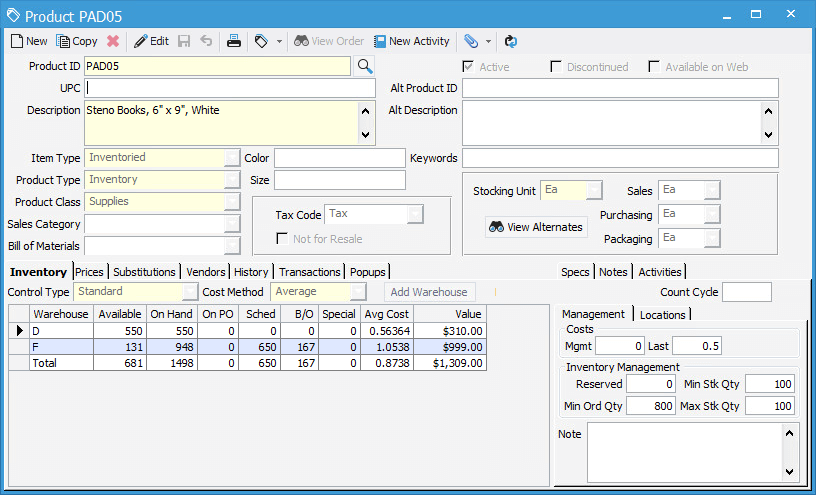 Using the Product Information Window
The following steps will lead you through the inquiry of product information.
Click the Product Lookup button to the right of the Product ID field. The same Product Selection list you used in Order Entry will appear.
Set the Find Product Where fields to Description, Contains, and start typing plastic. Select Black Plastic Folder.

Locate the Stocking Unit field near the right side of the window, above the tabs, which is set to Ea. This means the product is stocked by the each.

On the right, you'll see Sales, Purchasing and Packaging, which are all set to Cs and have 10 Ea next to them. This means by default this product is sold, purchased and packaged by the case, which is an alternate unit than the unit by which it's stocked and a case is equivalent to 10 eaches.
A product can be defined with multiple alternate units of measure for selling, purchasing and packaging. In this same section, click View Alternates. Notice the Unit of Measure section grows to show you all options. This product just has one alternate unit, which is Cs (Case), but if it had more they could be defined (when in edit mode) and would display here. Click Hide Alternates, to close this view.

Let's look at pricing for this item. To do so, click the Prices tab. The list price is $18.50 each. Also, notice there are three special prices listed for this product with the price codes D, R, and V.

Products can be priced in multiple alternate units. Look at price code V, it is priced at $135 per case rather than in eaches like the other price codes.
It's a good idea to look at each tab to get an idea of what each one can do for you. Overall, information is gathered and manipulated in the Product Information window in a way similar to each window in Acctivate.