It's nice that when we enter an order, there are options in Acctivate in addition to catch weight and net weight because sometimes our pricing is based off of market price."

Jim Stockland, President


Ask A&D Sales and Marketing what makes their company stand out, their answer is simple and straightforward – integrity
A&D Sales and Marketing is a buyer and seller of processed meats. Their customers include restaurants, food service distributors, and schools.
Jim Stockland, President of A&D Sales and Marketing, described the vital factor to succeeding in their industry over the years…
"In particular, the poultry industry is a very close-knit industry nationwide so basically all you have is your integrity and your word. That's how different companies get judged and if you don't have integrity and if you're not honest in the way you conduct your business, then no one is going to want to do business with you."
With integrity, outstanding employees, and strong leadership, A&D Sales and Marketing has been able to succeed in the poultry industry.
Finding a customizable and flexible solution
A&D Sales and Marketing had found themselves searching for a software solution that would help them conduct business operations – the way they needed it to. Jim outlined the unique needs of the company that led them to search for a solution that was capable of doing more than their previous system could…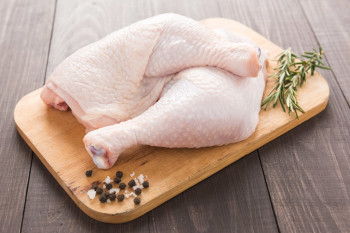 "We needed a software that would fit our specific needs. Sales companies are not all the same. Because of the industry we're in, we deal with different weights – we can have boxes that are net weight, whereas some boxes might be catch weight. The product we sell can be fresh, frozen, ready-to-cook, fully cooked, raw, etc. It's totally different than if you were going to sell bottled water or if you were to sell a hard-lined item – so we needed the software that could be specific for the items that we sold."
He continued…
"We were also looking for a software program where we could go back in and change anything if needed. A lot of times, we don't know exactly what shipped or when it ships until we get a bill of lading. Sometimes it'll take enough time to get a bill of lading that we've already invoiced our customer by then. This means we need to have the flexibility to go back in and change things we've already put into our software system."
A&D Sales and Marketing came across Acctivate and saw how the system's flexibility most closely matched the needs of their company than any other software system. Since then, they have found Acctivate and QuickBooks to be a powerful duo capable of handling both their operational and accounting needs.
Pam Stockland, CPA and Treasurer of A&D Sales and Marketing, said of the integration between Acctivate and QuickBooks…
Using Acctivate and QuickBooks has worked well. They're both user-friendly."
Capability, flexibility, and visibility with Acctivate and QuickBooks
---
Drop shipping
---
"When the company first opened, the goal was not to have inventory. So we already have the sale complete when we buy product, and almost all of our products are sold on a drop ship basis," said Pam of the unique sales model of the company.
She went on to explain how Acctivate easily accommodates drop shipments.
After we create a sales order in Acctivate, we can go into the drop ship wizard and automatically create that purchase order at the same time unless it's an inventoried item, which is rare in our case. Every time a sales person enters an order, we have the product purchased and the sales price right there all together – so we have a paper trail and it's all in our system."
Jim added…
Once you have your sales order in Acctivate, to drop ship and generate a purchase order, it's just a matter of minutes."
---
Order management
---
Pam explained how Acctivate helps the company manage orders…
I would say Acctivate is helpful with order management because with the software we had before, we did not have a good way to track sales orders that had not been completed.

From a purchasing and a sales standpoint, we can go back and look at old open sales orders and old open purchase orders and get those out of our system. We check that probably every six weeks or so. We did not have that capability before Acctivate."
Jim added…
I think it holds a sales person more accountable for what they're doing. They've got to get the correct information like any other program but Acctivate allows us as sales people to be able to pull up these orders by customer, by product, by sales order number, etc., instead of having to run back to the file room to look at old orders."
He continued…
There are a lot of different ways for us to pull up the orders once they're in Acctivate. It's much more efficient than what we had before and it saves a lot of time. Sales people need to be selling; they don't need to be looking for information that may or may not be there and Acctivate keeps it all in one spot – and it's easily accessed."
Acctivate's comprehensive data and history helps A&D Sales and Marketing keep track of any changes made to orders after they've been entered.
Acctivate helps us trace our steps. Instead of having to rely on memory, Acctivate keeps a good record of anyone who went in and made changes to specific orders or products and anything that was done after the initial order was placed," Pam explained.
---
Catch weight
---
It's nice that when we enter an order, there are options in Acctivate in addition to catch weight and net weight because sometimes our pricing is based off of market price.

If I were to buy something and it shipped a week later, I wouldn't know what the actual price is until the day it ships. There are a lot of variables, such as catch weight, so we really don't know what the weight of a box is going to be until it ships and we get a bill of lading in it and a shipping report that shows the weights of each box.

It's nice that Acctivate will show if it's a catch weight so when our customer service people look at the order, they'll know that the weight entered is not going to be the exact weight because it's a catch weight box and that they need to be looking for weight documents for that order," Jim said.
---
Custom reporting
---
Pam described the benefits of custom reporting using the data from Acctivate and QuickBooks…
From my perspective, it's also been beneficial to go back because we have three sales people on commission and we've been able to generate custom reports from both Acctivate and QuickBooks to track their sales. We also use a custom report on a daily basis that tells us once an invoice is paid the profit by sales person."
---
Acctivate's been a good product for us. There are always going to be things that we'd like to see perform a little differently or a report that we'd wish we'd have in a different format. Unless you have software specifically written for you, software is not going to hit every button you need pushed the way you want it to. However, I think it's fair to say that Alterity, Inc. has worked with us on generating some of those functions and capabilities," Jim concluded.
---