How to ship EDI orders effortlessly
Built For



EDI (Electronic Data Interchange) is becoming more prevalent across small businesses as they broaden their reach to compete in an omni channel world.
Beyond direct or in-store sales, small business are bringing their products to market with ecommerce and EDI channels. When small businesses supply their products to big box retailers, such as Target®, Walmart®, and Office Depot®, EDI becomes the means of exchanging transactions electronically to fulfill orders from the retailers.
There are affordable, easy-to-use solutions designed for small to mid-sized businesses that streamline each step of EDI order processing and fulfillment. Acctivate Inventory Software helps manage inventory, orders, purchasing, and customers for all sales channels and when combined with a direct integration to EDI providers, i.e., TrueCommerce™ and SPS Commerce, EDI orders are managed with automation and meet expectations that big box retailers desire and typically require.
Throughout the EDI order process, Acctivate delivers the tools needed for efficient picking, packing and shipping. Meanwhile, the EDI provider is working behind the scenes to keep the process running smoothly with the transmission of transactional documents, like purchase orders, shipment notices, sales invoices and acknowledgements between the retailers' system and the supplier's system (Acctivate).
---


---
As shipping approaches, more efficiency can be inserted into this final step with integration between Acctivate and a shipping software, such as StarShip.

StarShip serves businesses needing a multi-carrier, multi-mode platform for shipping and the real-time integration keeps all shipping information (e.g., tracking and costs) up-to-date in Acctivate.
Acctivate customer, JS Royal Home, one of the largest bedding manufacturers globally, brings their products to market among large retailers, including Amazon, Wayfair®, Walmart®, Belk® and more. They sell to retailers and fulfill their orders using Acctivate combined with the power of TrueCommerce EDI and StarShip. The integrated solution facilitates refined operations for JS Royal Home, enabling them to satisfy 500+ orders per week and conquer some common challenges.
Using an integration between Acctivate and StarShip to ship EDI orders delivers 5 common advantages:
1.) Automate data entry to ship EDI orders accurately
Manual data entry is susceptible to human error. Many businesses manually enter tracking and other shipment information into an EDI portal after shipping, which can result in incorrect, delayed or lost shipments, potentially causing friction between suppliers and retailers.
Acctivate ties inventory, order management, EDI and shipping together, enabling most data to be entered automatically. Precision is guaranteed from the EDI purchase orders that are imported into Acctivate, as sales orders are updated with all the corresponding data from the exchange of EDI documents thereafter and the shipping information from StarShip.
StarShip sends the shipping data to Acctivate automatically, which also is systematically transmitted as an Advanced Shipping Notice (EDI 856) to the retailer, so they know exactly what to expect for delivery. Knowing the details, including what order is shipping, the quantity of boxes, and the contents is necessary for LTL and international shipments, as well as a requirement that most retailers expect from their suppliers.
JS Royal Home has gained automation on many fronts with Acctivate as they manage EDI orders: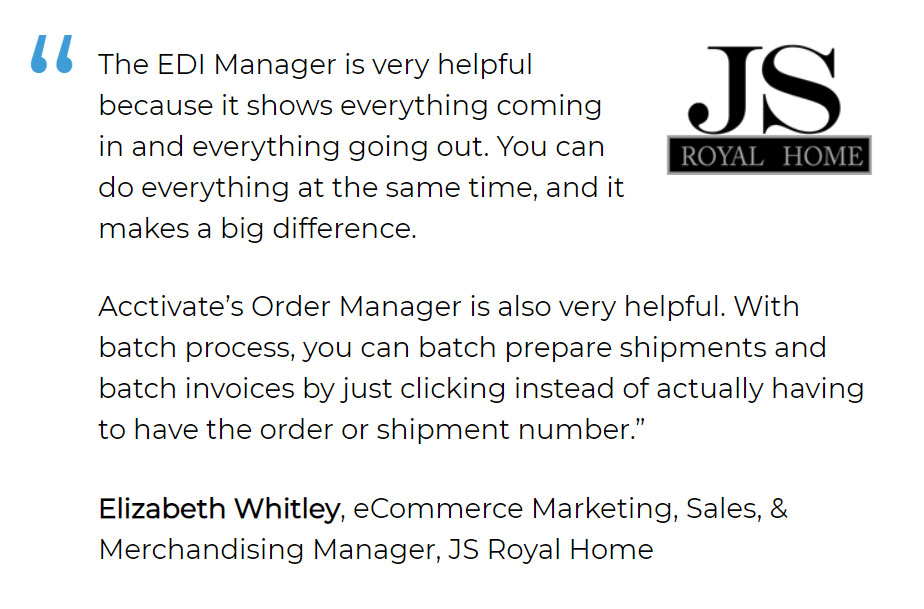 2.) Simultaneously print all labels needed to ship EDI orders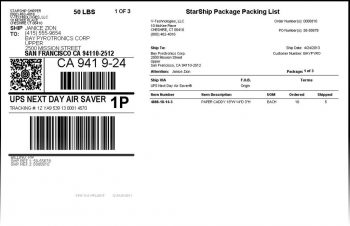 Acctivate's cohesive solution increases productivity and eliminates confusion with the option to print a combo sheet with carrier labels, EDI specific labels (e.g., UCC-128 label) and packing slips per shipment.
The absence of this functionality would require manual matching of the documents as they are printed separately after order processing, creating chaos with the high volume of cartons and boxes generally shipped via EDI.
JS Royal Home's Elizabeth Whitley experienced this struggle prior to Acctivate EDI + StarShip: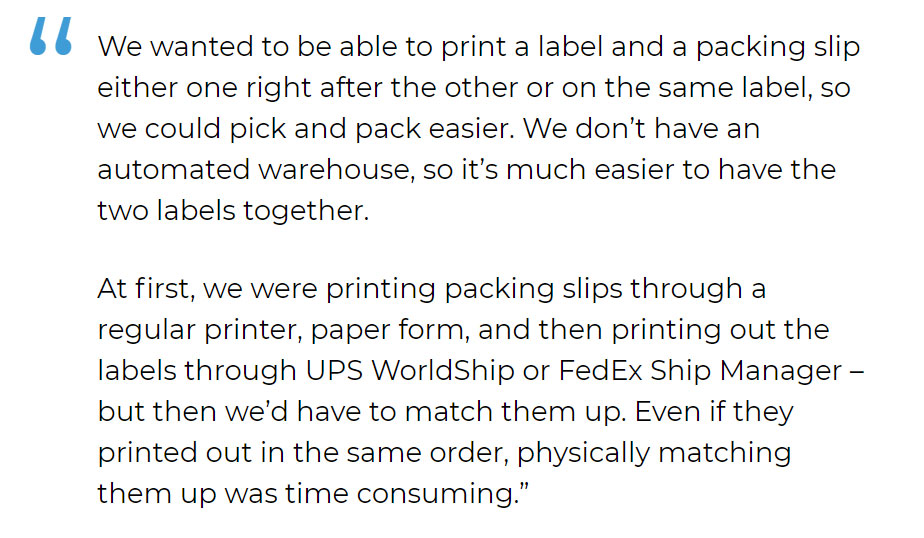 3.) Manage all LTL and small parcel shipments in one interface to ship EDI orders easily
While Acctivate integrates directly with all major shipping carriers, many businesses find StarShip's ability to consolidate all carrier shipments more manageable, especially with high order volume. This enables businesses to ship EDI orders using UPS, DHL, FedEx, USPS and 24+ LTL carriers within the same workflow and write back all the shipping information regardless of the carrier to Acctivate in real-time.
JS Royal Home handles UPS and FedEx orders together with Acctivate EDI + StarShip. Whitley described their previous, less efficient process without StarShip's multi-carrier, multi-mode platform:

The single interface for all carriers adds a layer of efficiency to JS Royal Home's shipping operations:

4.) Instant rate checking to ship EDI orders more cost effectively
StarShip has the added functionality to instantly get rate quotes per licensed carrier based on the specs of the specific shipments.

JS Royal Home compares rates between FedEx and UPS when shipping product for the hospitality sector of their business.
5.) Connect all operations in one software to better ship EDI (any) orders
Acctivate works with many best-in-class solutions to deliver a complete business management software that is tailor-made to the specifics of small to mid-sized companies. Acctivate is the primary, front-end system, with QuickBooks® on the back-end handling accounting. Shipping is optimized with carrier integrations and shipping solutions, i.e., StarShip, and collaborations with EDI providers and eCommerce platforms enables multi-channel order management and fulfillment.
Find Out More!
Learn more about Acctivate Inventory Software by connecting with our product experts.
Call us at 817-870-1311