Supply chain management is a critical component of product-driven businesses. For successful supply chain management, understanding the four stages: purchasing, inventory control, order fulfillment, and customer satisfaction is key. An optimized supply chain can lead to better purchasing practices, stronger inventory control, and accelerated order fulfillment – yielding happier, loyal customers.
Watch the following short video to understand the stages of supply chain management and why its optimization is key.
Discover Inventory Control
Navigate the tabs below to get an overview of the inputs and outputs of supply chain and inventory management, read the video transcript, view slides and see how Acctivate can help your supply chain.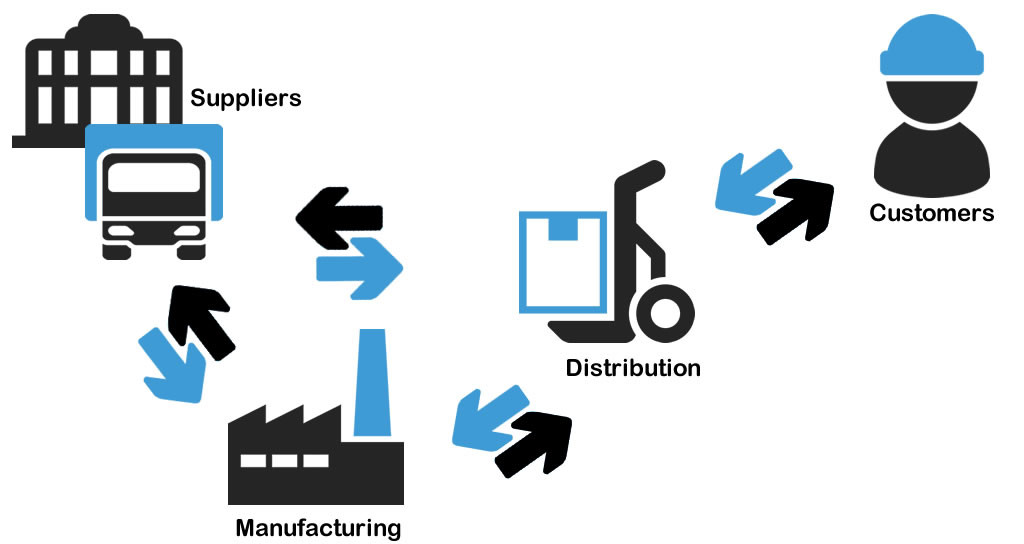 Supply chain and inventory management can be a complicated subject and managing it can be a big task.
From suppliers to manufacturers to distributors to customers, products and information constantly flow throughout the chain and getting a handle on it all can sometimes seem overwhelming.
So, today – we're just going to look at the arrows – the inputs and outputs between the major links in the chain – and how those arrows represent areas that can be optimized to lower costs, increase accuracy, improve delivery times, and increase customer satisfaction.
Supply chain and inventory management input & output flow: To & from suppliers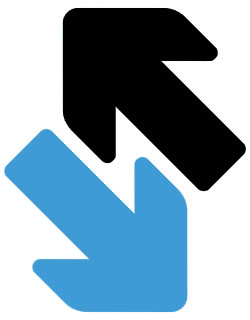 Whether you're a manufacturer or distributor, you need supplies and, regardless if the supplies are raw materials or finished goods, someone must manage the acquisition process.
The purchasing manager is at the center of of it all, with countless activities to manage to keep materials and products flowing into the business.
The role of the purchasing manager in the supply chain and inventory management process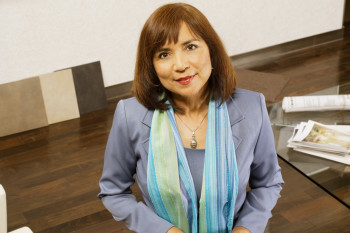 Purchasing managers are responsible for acquiring the best products or materials at the best prices and ensuring that the products are in stock when they are needed.

Since inventory can amount to a large percentage of a business' investment, the purchasing manager plays an important role in ensuring the profitability of a business.
In addition to forecasting demand, they must also manage purchasing activities across multiple buying channels and monitor internal activities to safeguard unauthorized buying.
Fortunately, supply chain and inventory management tools are available to assist with management of the process.
Here's how Acctivate can help:
Forecasting levels of demand for products & materials to maintain appropriate stocking levels
Whether you have a few dozen products to purchase or thousands, once you add attributes such as size or color to the mix, then take into consideration trends, seasonality, promotions & changing marketing conditions, the potential variations requiring a buying decision quickly become a monumental task.
Acctivate's demand forecasting tools help you gain a more accurate view of future demand with product-level sales trend analysis. The result is the ability to better predict buying and production needs, reduce out of stock and overstock situations, and minimize inventory investment.
And, once you establish the desired minimum stocking quantity, Acctivate will alert you that it is time to reorder.
Sourcing and supplier management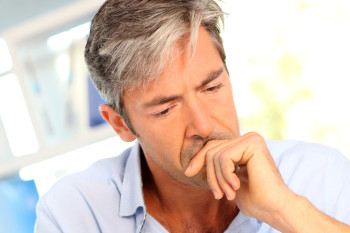 Buying products for the organization to use involves supplier research, negotiation, evaluation and monitoring of service and product quality.
Suppliers are a key component of every company. At the most simplistic view, without their products and materials, sales doesn't have anything to sell and business comes to halt over time.
Supplier selection and performance directly relates to the profitability and viability of the business.
Acctivate places proactive supplier management tools a the fingertips of purchasing managers to assist with the process from supplier evaluation to ongoing management and assessment.
Evaluate and set expectations. Easy access to full supplier historical data including vendor's published price, last cost paid, and lead time provides the information required for ongoing supplier evaluation & establishing new vendor expectations.
Monitor supplier performance. Are your suppliers meeting the required performance service levels or is there room for improvement? Supplier meetings based on factual, objective performance reporting with regard to lead times, on-time deliveries, and product issues simplifies the process and provides a starting point for guidance and establishing an improvement plan.
Control internal spending. Stop unauthorized spending internally with systematic purchase orders controls and approval routing.
Purchase with ease. Create purchase orders manually, automatically or easily create purchase orders using the Reorder Function, Special Order Wizard or Drop Ship Wizard.
Uncover savings opportunities. Landed cost analysis enables purchasing managers to discover the true cost of each product. Once shipping, taxes, duties and overhead are added to the cost, it is much easier to evaluate if your current supplier is really the least cost provider.
Supply chain and inventory management input & output flow: Inside your business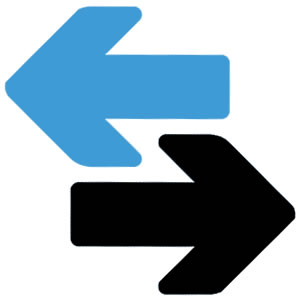 Once products are purchased and arrive at the designated warehouse, inventory begins to flow inside the company.
Receiving inventory
Upon receipt of the shipment by the warehouse, Acctivate allows for items to be received into inventory either manually or directly through use of a wireless device. Three way matching ensures the purchase order details, the invoice details and the receiving details match and changes are made as appropriate.
Transferring inventory
Not all inputs and outputs occur outside the company. Internal inventory transfers are recorded by Acctivate when inventory moves to a new location within a warehouse or from a warehouse to another location, such as a delivery truck, or between warehouses within a company.
Supply chain and inventory management input & output flow: To & from customers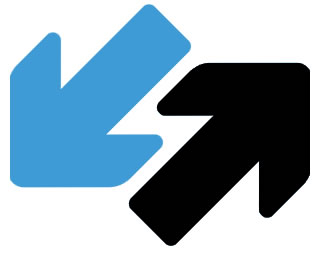 High customer satisfaction begins with selling to them via their preferred channel, which requires a supply chain and inventory management system that can seamlessly accommodate multiple sales channels.
Upon purchasing, customers expect to receive their packages quickly, in good condition, and to be able to track them along the way.
Once they receive their shipment, if they have a question or concern or want to return an item, they expect fast, accurate answers.
Acctivate QuickBooks inventory management handles orders from all sales channels, order fulfillment, customer service and returns all in one place.
eCommerce and the supply chain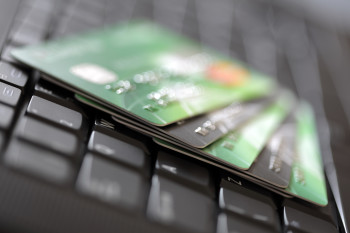 eCommerce usually becomes an issue when the inputs exceed the capacity for a business to handle them effectively.
Time after time, we hear from customers searching for a solution to consolidate their online sales with their offline operations.
Acctivate does just that – automatically. Integrated with many major web store software platforms, such as Magento, Amazon Services, Acctivate brings orders, tracking information, product availability and customers into Acctivate and synchronizes between Acctivate & your web store to keep information accurate in both locations.
Learn more about web store integration »
EDI and the supply chain
Acctivate's fully-compliant EDI solutions deliver an end-to-end, seamlessly integrated and automated EDI solution that connects to hundreds of EDI trading partners.
Transactions are automated eliminating re-keying, reducing errors, and complying with customer EDI requirements.
Acctivate EDI customers connect to thousands of EDI trading partners through leading EDI strategic partner solutions including big box & major retailers such as Walmart®, Target®, Sam's Club®, Macy's®, Kroger®, Walgreens®, Home Depot®, Lowe's®, Bed Bath & Beyond®, Officemax®, Best Buy®, and Costco®.
Learn more about EDI solutions »
Direct sales and the supply chain
Acctivate's sales order management capabilities cover the direct sale process from quote to sales order – inside the office, at the retail counter and in the field.
Quick Quote allows the sales team to quickly check inventory availability, customer pricing details, and credit status, then create a quick quote for a customer and email it to them.
Convert to an order with 1 click. When the customer wants to order, the quote is converted to a sales order with one click, eliminating the need for re-keying the order, which improves accuracy and gets the order placed immediately.
Go mobile. The sales team can check inventory and submit sales orders in real-time from a wireless device at a customer location, at a tradeshow or from your showroom.
Handle retail counter sales transactions. Take orders with real-time access to inventory availability, process credit card payments and handle returns and exchanges.
Learn more about sales order management »
Order fulfillment and customer service
Many customers are struggling to support the customer service associated with multiple sales channels since order and inventory information can become out of sync or is simply unavailable causing the customer service associate to move from one system to another searching for order information.
The key to consistent, fast communication is consolidating all orders into one system, where order fulfillment and customer service across the organization can be handled
Acctivate places customer service at the center of your business, ensuring high-quality, consistent customer interactions across all business channels.
Video Transcript: How to Take Control of Your Supply Chain
Hi, I'm Dakota from Acctivate. Let's discuss the importance of supply chain management and why it's one of the most important keys to a successful business strategy. Whether you sell B2B or B2C, the efficiency of your supply chain not only directly effects your business, but also your customers.
The supply chain typically revolves around 4 main stages: Purchasing, Inventory Control, Fulfillment, and Customer Satisfaction.
To understand how to optimize your supply chain, you must look beyond your business.
Before we go any further, let's remind ourselves of what "supply chain" really means.
A supply chain is a system of people, activities, information, and organizations involved in moving a product from suppliers to customers.
As a manufacturer or distributor, you typically don't produce or distribute products on your own, which is why a solid understanding of your supply chain is so critical.
Understanding how to make a supply chain work to your advantage ensures greater business success and customer satisfaction.
While managing a supply chain can be challenging, it is a lot easier when you break it down and focus on four main stages and how they relate.
Best purchasing practices are about finding the best suppliers, with the best product at the best prices.
When you strengthen inventory control, managing, receiving, and transferring inventory becomes quick and accurate.
Order fulfillment is more than just speedy delivery. It is utilizing multi-channel sales to their fullest to guarantee order access, availability, and accuracy.
Customer satisfaction and loyalty are important aspects of a healthy business.
So, how well do you know your business's supply chain?
Do you readily know the people and organizations you work with every day?
Do you have a good pulse on the activities your teams perform and if they are optimized?
Do you have easy access to supply chain information to make informed decisions on the future of your business?
This is where a solution like Acctivate Inventory Software helps optimize every stage of your supply chain and gives you more insight into the people, activities, information and organizations that you work with every day.
Use Acctivate to predict purchasing & production needs, gain valuable insight to suppliers, products, and prices, optimize inventory investment, and lower costs.
Take your current processes and streamline important bottlenecks like receiving, transferring, batch processing, drop ship, and more.
Easily manage and enhance multi-channel sales, orders, deliveries, and returns by analyzing past data and trends.
With Acctivate helping you manage your supply chain, you can offer your customers the best experience, helping them find the right products at the best price. To see how Acctivate can help you with your supply chain management challenges, visit acctivate.com.
View slides: The inputs and outputs of supply chain and inventory management
Book an interactive, personalized tour with an inventory expert
What to expect in a demo:
Connect with an Acctivate specialist, who will share their screen with you.
Understand what Acctivate is & what it can do for your business.
Learn about features for your specific business needs.
Deep dive into the actual software to see how it can solve your operational challenges.
Ask questions & get answers.
Up to an hour presentation that is well-prepared to maximize your time efficiently.
See Acctivate in Action
We will walk you through a demo of Acctivate Inventory Software
---
Or call us at 817-870-1311
Find Out More!
Learn more about Acctivate Inventory Software by connecting with our product experts.
Call us at 817-870-1311