Supply Chain Software for Wholesale Distribution
Built For


Supply chain software for wholesale distribution enables wholesalers to be proactive and agile within their operations to attract retail partners, remain as intermediaries for manufacturers, and be strategic.
Wholesalers traditionally have been essential as the center of the supply chain flow as many retailers rely on them to supply products sourced from manufacturers or distributors.
But the modern supply chain has become multi-directional and wholesalers must contend among non-traditional competitors, such as online marketplaces and manufacturers adopting a D2C (direct-to-consumer) model.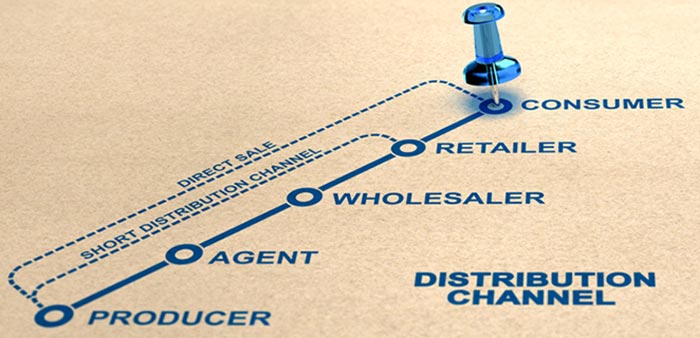 On all levels, including business-to-business (B2B) and business-to-customer (B2C), the global ecommerce market reached a value of US$ 13 trillion in 2021 and is projected to reach 55.6 trillion by 2027—a CAGR of 27.4% during 2022-2027. 1 Additionally, D2C ecommerce sales in the U.S. are forecasted at $175 billion by 2023 from $77 billion in 2019. 2
As non-traditional competitors try to bypass the wholesaler, wholesale businesses can compete and succeed with the right resources by their side. Acctivate wholesale ERP software centralizes and streamlines business operations for wholesalers through robust capabilities for purchasing, inventory control, warehousing, sales, fulfillment, and CRM. With QuickBooks managing finances on the back-end and bi-directionally synchronizing data with Acctivate, a complete business management solution is available to small to mid-sized wholesalers.
Acctivate helps wholesalers transform into versatile businesses with tools to pursue and capitalize on growth opportunities, including B2B and B2C ecommerce sales, EDI integration, and being a drop ship supplier. Such opportunities are supported by Acctivate's real-time visibility across all operations with data housed in one system and employed across automated processes.
Inventory management—the heart of supply chain software for wholesale distribution
As product availability fluctuates within the supply chain, it is critical for wholesalers to always have a live, full picture of their inventory as it moves, is in the warehouse, and as demands shift.
Acctivate brings full visibility into inventory operations when it works as a wholesale ERP software. Acctivate alerts you to low stocks, automates re-orders, and presents real-time inventory data. Powerful inventory control is critical for responding to retail partners and customer demands. Acctivate also provides tools for calculating landed costs and COGS, managing multiple warehouse locations, and analyzing trends and data for future forecasts.
More control lies in the hands of wholesalers with Acctivate's lot and serial number traceability to monitor inventory bi-directionally within the supply chain and ensure trusted products; and features to expand business globally with imports and exports.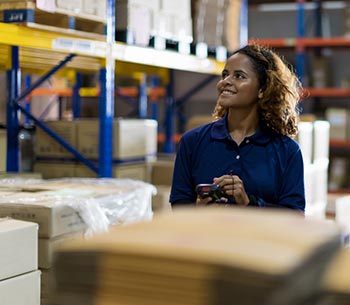 ---
Wholesaler of high-end kitchen appliances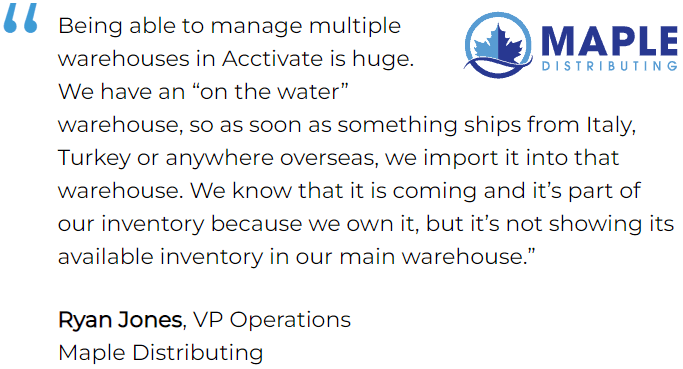 ---
Supply chain software for wholesale distribution boosts wholesaler potential
Wholesalers need to look outside the traditional realm of their business model to remain relevant within the supply chain. Supply chain software for wholesale provides a competitive advantage, first by optimizing inventory management to give wholesalers precedence as trusted partners to their customers; and providing tools to successfully engage in evolving business opportunities.
As manufacturers and retailers are reaching a broader market by selling online, wholesalers can utilize Acctivate to sell B2B and/or B2C through a webstore. Acctivate integrates with many major ecommerce platforms, such as Shopify, WooCommerce, BigCommerce, as well as online marketplaces, i.e., eBay. Automatically—orders, tracking information, product availability and customers are synchronized between Acctivate & a web store. Web orders are managed along with all other orders in Acctivate, empowering wholesalers to sell within multiple channels. Wholesalers can also gain more retail partnerships by utilizing EDI to sell to big box stores—yet another sales channel that is managed in Acctivate.
Wholesalers can also offer value-added services to manufacturers and retailers, showing them why keeping them involved is beneficial. Acctivate's controls for inventory within multiple warehouses and locations within warehouses along with order fulfillment tools to expedite deliveries puts wholesalers in a position to be drop-shippers. They can handle the warehousing of goods for manufacturers and retailers, who may not have the capabilities or space for warehousing and fulfillment.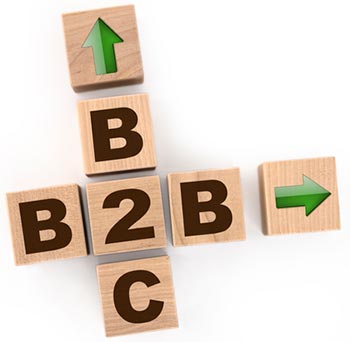 Wholesale ERP software also establishes the means for wholesalers to deliver first-class customer service and exceed expectations through all data being connected and instantly accessible among permitted users company-wide; as well as providing offerings, i.e., personalized pricing.
---
Sources:
1 E-Commerce Market: Global Industry Trends, Share, Size, Growth, Opportunity and Forecast 2022-2027
2 Direct-to-consumer (D2C) e-commerce sales in the United States from 2019 to 2023
Discover Acctivate
Acctivate is packed with
features
for your entire business. Talk to our team of product experts and see if Acctivate is right for your business.
Call us at 817-870-1311