Navigate the onboarding guide…
Registering your Acctivate system is a multi-step process. After you purchase Acctivate, our office will send you the Acctivate Software License Agreement. Please verify the Company information and address are correct, sign/initial each page and either fax or email it back to Alterity as instructed on Page 1. The License Agreement contains information dealing with your company and will be used by Alterity to register your software, when you email or fax it.
Completing the registration process indicates that you accept the Acctivate License on behalf of your company and agree to the terms and conditions therein.
Registering Acctivate for the first time
After the sending the Acctivate Software License Agreement, you will need to register your product. You will have received an email from Acctivate including your Acctivate ID and Password.
When you open Acctivate you will see the splash screen, click Register Acctivate.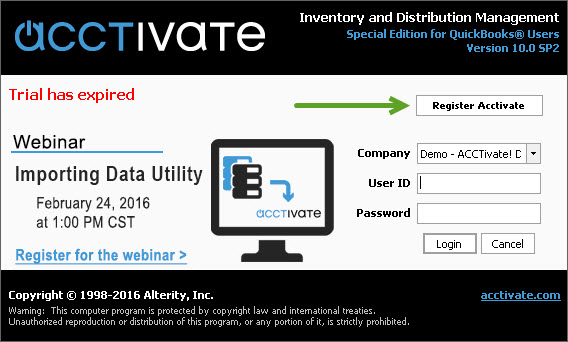 Then you will enter the Acctivate ID and Password you have received from your representative at Acctivate.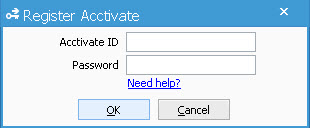 This will complete your registration.