What is a barcode?
Barcodes are simply vertical lines or "bars" that represent numbers. The width of the bar and the space between the bars identify which number is being identified. Barcode software then translates that information for practical use such as identifying a specific product.
The barcode font
Barcodes are fonts – a type of font that a scanner can "read" and understand as a letter, number or symbol.

The four fonts to the right represent the letter "A"- the first 3 are readable to the human, in different fonts, but all as the letter "A."
The bottom-right "A" is displayed in a font that is readable by a barcoding scanner.  The barcoding scanner understands that certain pattern of lines is the letter "A". When this pattern of vertical black lines is scanned, the barcode reader translates it as the letter "A".
The history of barcoding
You see them everywhere – barcodes. Barcodes on food, barcodes on medicine, barcodes on books. Have you ever wondered how barcodes came about and how they got to be on nearly every product found?
Believe it or not, barcodes have been around for nearly 70 years.
In the late 40's, Norman Woodland and Bernard Silver were affiliated with Drexel Institute of Technology. Silver, a graduate student at Drexel, and Woodland, a graduate student & teacher at Drexel, created a solution for grocery store owners who had asked Drexel to research a way to automatically read product information during a checkout.
The two developed a solution and filed their barcoding patent in 1949.  U.S. patent #2,612,994 was issued to Norman Woodland and Bernard Silver on Oct 7, 1952. In 1962, Philco purchased their patent, and then sold it to RCA the same year.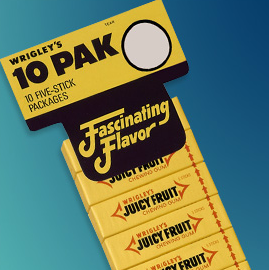 Throughout the 60's and 70's, numerous projects were undertaken to further develop, standardize and find commercial uses for the barcode.
On June 26, 1974, Clyde Dawson purchased a 10-pack of Wrigley's Juicy Fruit gum with a Universal Product Code (UPC) barcode, which was scanned by Sharon Buchanan at Marsh Supermarket in Troy, Ohio. This first step to the commercial use of the barcode & its effect on future business and commerce was significant and the packet of gum and the original bar code symbol resides in the Smithsonian.
What is a barcode? Today, a barcode can be the path to improved profits for businesses of all sizes
Since that scan in 1974, barcoding has advanced to a point where barcodes are a ubiquitous part of everyday life.
Barcoding standards have further developed and barcoding technology  – the barcoding software and barcoding hardware that makes barcoding work – is now affordable and easy to use.
Available to businesses of all size, barcoding solutions are affordable and deliver productivity & accuracy gains to businesses across all industries.  Barcoding streamlines operations, reduces errors, saves time, improves order accuracy, and increases real-time system visibility.
---
Get started today!
Learn more about Acctivate's flexible mobile barcoding capabilities and other powerful business tools. Try Acctivate for free or call us at 817-870-1311.