Small business inventory tracking software is more important than ever
With the development of the "Search items at this store" feature, inventory visibility and tracking is more important than ever for businesses that want to stay up-to-date with the changes in the digital world and consumer habits.
The ability to track inventory and know stock levels at all time has always been critical to successful business practices for many reasons including:
Being able to make better informed purchasing decisions
Immediate knowledge and insight for sales
Less money tied into inventory
For small businesses, inventory selection and availability are especially important: online shoppers are willing to overlook other factors such as higher costs, increased shipping times, etc. for the more exclusive product selection offered by small businesses. This — in conjunction with the recent changes to consumer habits and search engine results — means it's time for small businesses to have the right systems in place to ensure inventory visibility and accurate tracking.
Understanding the benefits of small business inventory tracking software
Software for inventory tracking allows small businesses to gain better visibility and insight into inventory on an overall level, as well as on the product level. Small business inventory tracking software achieves this through a variety of inventory-focused features, including dashboards and reports.
---
Overall inventory visibility
---
A helpful feature provided in inventory tracking software is an inventory dashboard. Inventory dashboards offer a graphical display of selected information.
The following dashboard is an example of the Inventory Value Summary Chart in Acctivate:
The dashboard presents the values of products divided into categories as a part of overall inventory.
Dashboards are helpful for small businesses because users, such as the business owner, can easily and quickly see and track important information, such as the overall product values of inventory.
Similar to dashboards, reports are a text-based display of inventory information.
Reports are able to display a variety of inventory information by pulling the data from the software's database.
Below is an example of a Monthly Inventory Analysis Report in Acctivate of multiple products in the category "Accessories".
This report shows a variety of information related to certain products, such as the products' on-hand values, monetary values, and more.
There are over 70 standard inventory-related reports included with Acctivate and you can learn more about the power of reporting here.
---
Inventory tracking on the product level
---
Continuing from the Monthly Inventory Analysis Report above, the data in the report can then be drilled down to the product level. The item TR10 from the compiled report (last product row; see above) can be viewed from the product level in its own report…
By looking at the product's individual report, more information is accessible such as total cost of goods sold (COGS), overall turnover rate, purchase orders, etc.
Additionally, Acctivate offers a deeper level of visibility into products through its Traceability feature.
The Traceability feature offers an additional layer of tracking by breaking up each product by its components, as well as connecting any lot or serial number data related to the specific product.
The following is an example of how a "trace" might look for a ground coffee product: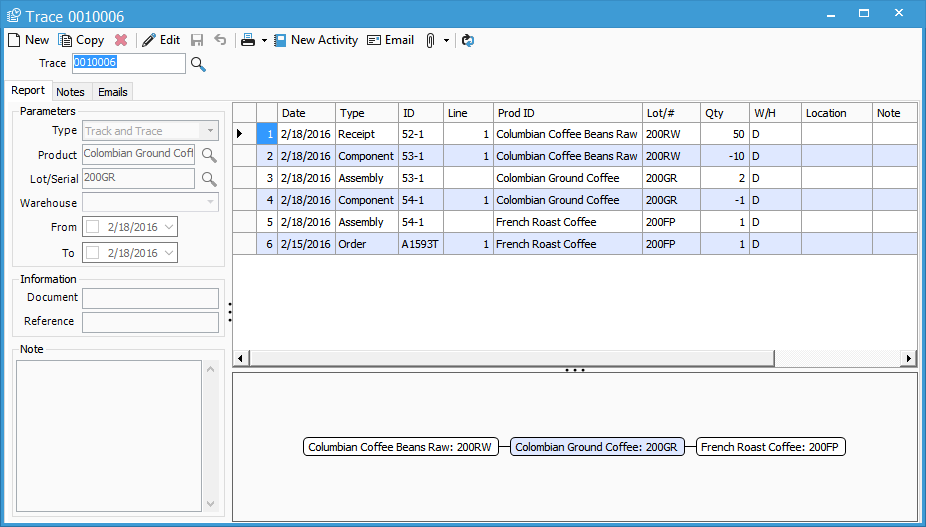 The feature not only provides a breakdown of each component utilized to create the product, but it also constructs the sequence of the components' and the final product's locations.
This provides transparency into
where the components came from (vendors)
where the components and products went (customers)
More on the Traceability Feature can be found here.
You've seen some examples of what small business inventory tracking software can do. Now it's time to see what Acctivate can do for your business.
Inventory tracking software for small business provides the critical data and insight necessary for polished operations through visibility into inventory on both an overall and the product level. Software allows your business to track critical inventory information and keeps all of this data easily accessible.
Acctivate is inventory tracking software that is powerful and easy to use, while also being affordable for small businesses. Acctivate is robust and offers a variety of features to help your small business handle inventory efficiently and successfully.
Find out more!
Learn more about Acctivate Inventory Management Software by giving us a call at 817-870-1311 to talk about your specific needs or by simply completing the form and a specialist will contact you to discuss solutions.
Discover Acctivate
Start a conversation with a specialist today to learn more.
Or call us at 817-870-1311