Wholesale distributor CRM strengthens B2B and B2C relationships with customer management tools and features that optimize all operational processes to satisfy customer-driven demand.
Without customers, businesses would be non-existent, so maintaining superior customer service is a must and to do this it is vital to truly know your customers by using a wholesale distributor CRM. It is not just knowing where they are and how to contact them. It goes beyond contact management and into knowing the details to provide the personalized care and attention customers want and expect.
According to a study by Marketing Metrics, the likelihood of selling to an existing customer is 60-70% versus 5-20% for a new customer. Therefore, it is essential to have the right resources in place to build a solid reputation as a business to gain and retain customers.
---
---
Acctivate Software delivers wholesale distributor CRM capabilities within a complete business management solution that works with QuickBooks. As wholesalers buy bulk finished products from manufacturers and sell to retailers, as well as branch out to market to end-consumers, Acctivate facilitates all supply chain activities from initial purchase to delivery. Real-time tracking of every interaction and transaction within a centralized, automated system keeps customers happy before, during and after all processes.
---
---
Wholesale distributor CRM builds solid relationships
Acctivate delivers a 360-degree view of all customers across every sales channel, i.e., ecommerce webstores, EDI, over the phone, etc. Customer-facing teams, as well as any other permitted users have instant access to customer information including:
Billing info
Multiple ship-to locations
Invoices, credits & payments
Marketing efforts & summarized sales data
Credit status, limits, payment info & account-related info
History of quotes, sales/service orders & credit memos
Multiple contacts
Customer specific & contract pricing
Product sales history
Customer specific product IDs
Related business activities, i.e., quality control issues, service requests, product returns, etc.
Email history & notes
The wholesale distributor CRM information and tools enable wholesale teams to collaborate with each other, as well as be proactive and responsive to customers to nurture new and existing relationships. Wholesalers can also access the customer data they want on-demand to strategize and ensure seamless customer experiences through ready-to-use & custom reports, visual dashboard widgets, and a convenient list window (shown below).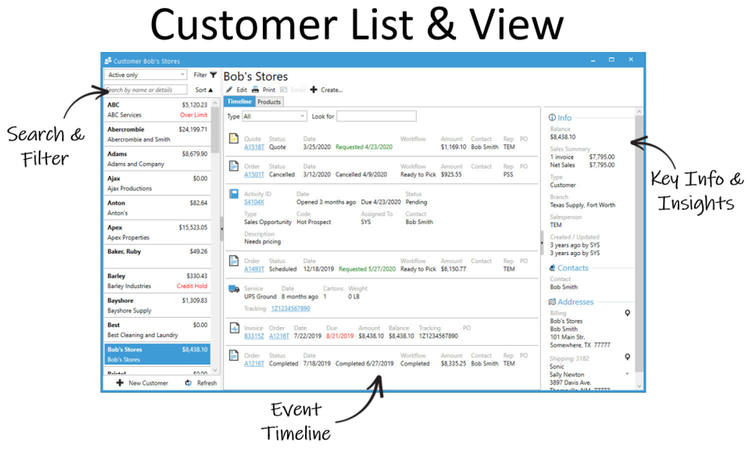 ---
Operational wholesale distributor CRM
With all operational data centralized and managed in Acctivate, wholesalers can cater to trends, demand, and seasonal fluctuations with forecasting and analysis tools.
In turn, wholesalers can manage customer relationships and remain profitable with tools to oversee credit and collections.
Acctivate is the total package as data is used and processes are automated to:
Purchase the right amount of inventory to eliminate under and over stocking
Track inventory across all warehouses and sales channels, including lot and serialized products
Manage imports and exports and utilize tools for landed cost and multi-currency
Sell products and manage the entire process from quote to delivery
Pick, pack and ship orders efficiently to fulfill customer demands on-time
Refine warehouse performance with mobile warehouse management apps for mobile barcoding devices
Acctivate delivers the functionality small to midsized wholesalers need to focus on the customer and accommodate their full journey with the utmost degree of service, making the experience seem effortless from the customer's perspective. With the right wholesale distributor CRM tools and complete business management system, businesses are guaranteed to retain and gain customers, reap the benefits of 5-star reviews and a high net promoter score, and grow their company.
---
Get started today!
Discover how Acctivate can transform your business across all operations and delight customers. 
Try Acctivate for free or give us a call at 817-870-1311.