Built For


The moment a business receives their first inventory shipment, they are in need of some sort of system to keep track of it.


While a pad of paper, a pencil and a spreadsheet may work that week, they soon discover that their inventory system needs are going to outgrow their simple tracking method.
And so, the search begins for a better way to track their inventory investment – probably the largest one they have made in their business.
Where to start? A good first step is gaining a better understanding of the types of inventory systems available and the advantages and disadvantages of each.
Discover inventory control
Inventory Systems Types
Where to start? A good first step is gaining a better understanding of the types of inventory systems available and the advantages and disadvantages of each.
Inventory management systems come in various types, catering to the diverse needs of businesses. Manual inventory systems involve physical tracking and counting of stock, which can be suitable for small-scale enterprises with limited inventory items. On the other hand, QuickBooks, a popular accounting software, offers inventory management features for businesses to monitor their stock levels, sales, and purchase orders in a more streamlined manner. However, as businesses grow, most find limitations in using QuickBooks for inventory management and seek solutions beyond Quickbooks. These specialized inventory systems are designed specifically for integration with QuickBooks and expand QuickBooks's capabilities, providing features like multi-location tracking, serial number tracking, and other advanced inventory management features.
Inventory System Type #1: Manual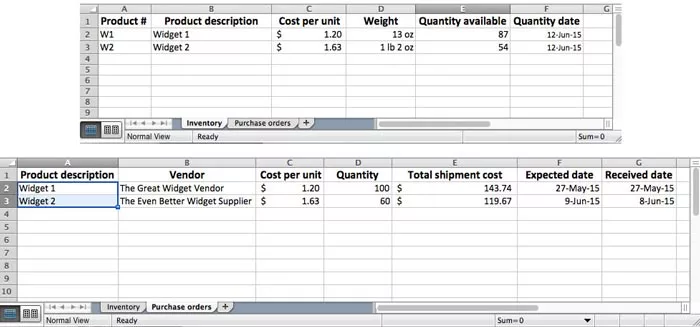 The moment the owner opened a spreadsheet and entered the products and quantities that have been delivered, they had a manual inventory system at its most fundamental level.
Most small businesses begin with a spreadsheet to track purchases and the available inventory quantities.
The process is simple at first and can be set up with little or no investment and training. After the orders are filled each day, relevant data is added to the spreadsheet, updating it with the new available quantities for each product.
Everything goes pretty well until the owner is running behind one day and takes off for the post office to get the shipments out without updating the spreadsheet. They figure it out a few months down the road when they discover they just took orders for a product they don't have.
Manual inventory system: Advantages
Low or no cost
Little or no training required
Manual inventory system: Disadvantages
Requires manual updating of records, an expensive and inefficient process
An error in a formula or forgetting to update the spreadsheet can cause inventory quantities to be incorrect
Not sustainable as a business grows with many products and suppliers
No tracking or control of inventory increases theft and loss risk
Inventory System Type #2: QuickBooks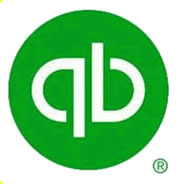 About the time an accountant receives financial and inventory records in a spreadsheet is about the same time they strongly recommend a business begins using QuickBooks.
With an estimated 80+% market share in the small business financial software market, QuickBooks is the de facto standard and the accounting software recommended by most accountants.
QuickBooks is great for managing payments, bills, and payroll functions, but can you manage inventory with it – in other words, is QuickBooks a type of inventory system?
QuickBooks Pro, Premier, Enterprise, and Online are a good alternative to the spreadsheet. But, does QuickBooks have many of the inventory capabilities growing businesses need? No.
QuickBooks Pro, Premier, Enterprise, and Online can handle simple inventory management and, if you are still using spreadsheets, it is a great next step.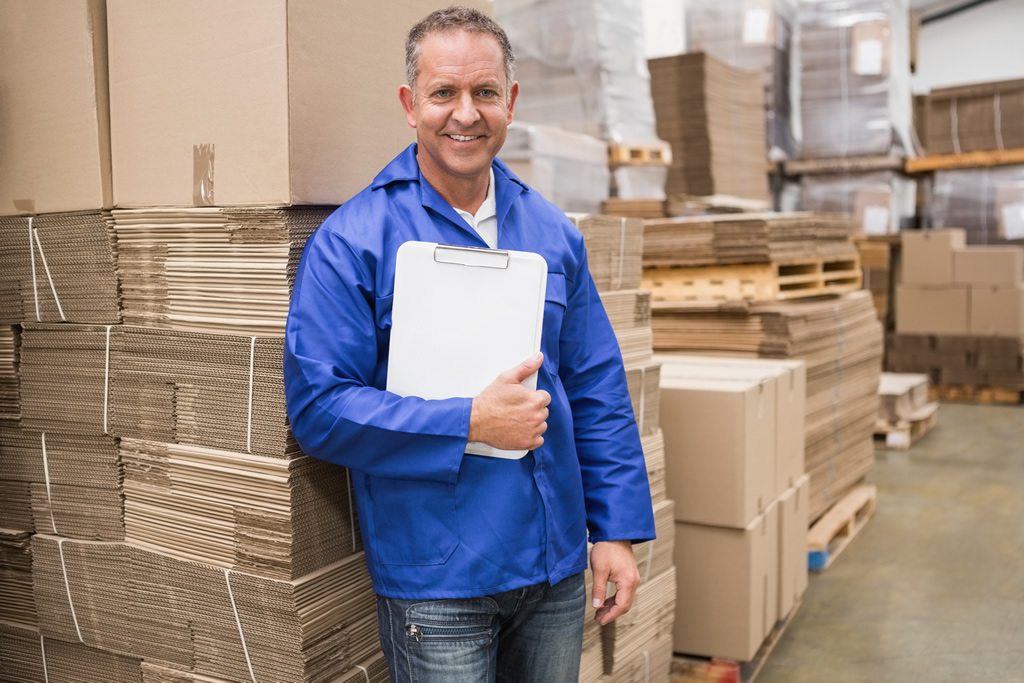 However, as your business grows and you need specific inventory management capabilities like lot and serial number tracking, landed cost, demand forecasting, or matrix inventory, you will need an inventory system to handle those (and many more) capabilities.
The good news – inventory systems that integrate with QuickBooks are available, so adding functionality to QuickBooks is an easy transition.
Using QuickBooks for inventory: Advantages
Better than using spreadsheets
Provides simple inventory functionality
Using QuickBooks for inventory: Disadvantages
QuickBooks cannot handle or has limited inventory functions such as:
Lot and serial number tracking
Advanced assemblies and kitting
Advanced bar coding
Multiple product IDs and alternative product descriptions
Matrix inventory
Demand forecasting
Landed cost
Multiple currency
Inventory System Type #3: Inventory systems for QuickBooks
It didn't take long after Intuit brought QuickBooks to market for QuickBooks "add-ons" to begin to be developed, filling the gaps that QuickBooks didn't address.

Acctivate for QuickBooks inventory software was one of the first QuickBooks Add-ons and, in 2006, Intuit named Alterity, the makers of Acctivate, a charter Gold developer – the highest level of achievement awarded to development partners.
Acctivate has since grown into an award-winning solution used by business across numerous industries to manage their inventory, sales and customer service and business.
---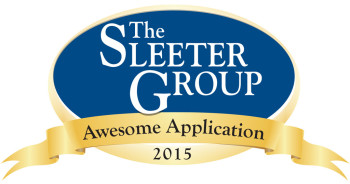 Acctivate is easy to use, feature-rich, affordable and has been awarded multiple times by The Sleeter Group, the recognized leader in the accounting industry for evaluating applications, with their Awesome Application award, including again for 2015.
---
How does this type of inventory system work?
Acctivate integrates with QuickBooks, sharing data so a business using QuickBooks continues to do so for financial transactions, while Acctivate provides the additional inventory and business management capabilities.
This is accomplished through bi-directional integration – the tightest integration possible – which allows information to pass in both directions between the systems. That means if you pay a bill in QuickBooks, it is automatically recorded in Acctivate and if you add a customer to Acctivate, the customer is automatically added in QuickBooks.
Learn more about QuickBooks bi-directional integration & why it matters »
What does adding Acctivate to QuickBooks enable a business to do that it couldn't before using this type of inventory system?
First, it accomplishes everything on that list above that QuickBooks couldn't do on its own like landed cost, advanced assemblies & kitting and demand forecasting.
In addition to inventory management, Acctivate helps businesses…
Maximize purchasing management: Acctivate has advanced purchasing management tools for vendor management, compliance enforcement, trend analysis, reorder alerts and handling purchase orders with ease.
Handle sales, order fulfillment & customer service: In the world of multiple channel sales that includes EDI, eCommerce and mobile sales, Acctivate is the solution for bringing orders together into one system for fulfillment and customer service, with real-time access by everyone in the company to all inventory and customer information.
Understand, manage & grow your business: To grow a business, you need to consistently understand your customers, your vendors and your overall business. Acctivate has over 100 reports and documents out of the box, the ability to create virtually any custom report, business activity management for company-wide sharing and collaboration, real-time dashboards customized at the user-level and cloud-based document sharing.
Barcode technology combined with an inventory system further increases efficiencies, accuracy and speed throughout the organization.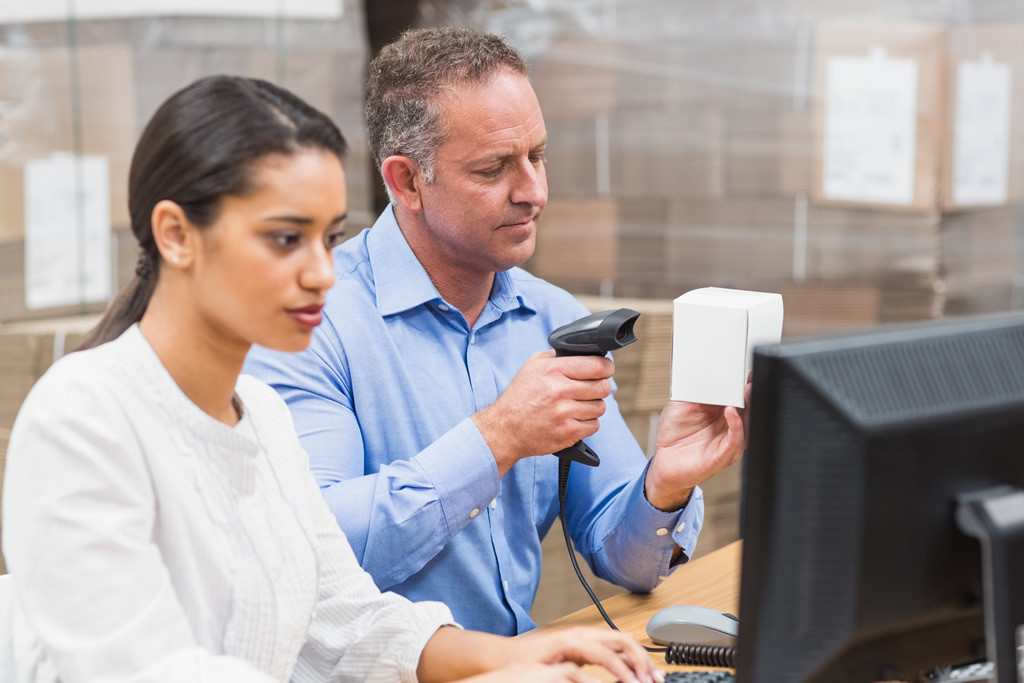 With Acctivate and barcode technology, a business can…
Accurately count thousands of inventory items using a digital count sheet on a mobile device
Process inventory assemblies, including custom and process assemblies from a mobile device
Pick the product from a mobile device with no printed paperwork required
Quickly scan the received product into inventory
Create sales orders from a customer location, trade show or from your showroom

Acctivate: The Inventory System for a growing business
No matter where your business is along the growth path, we invite you to explore more about Acctivate.
Find Out More!
Learn more about Acctivate Inventory Software by connecting with our product experts.
Call us at 817-870-1311