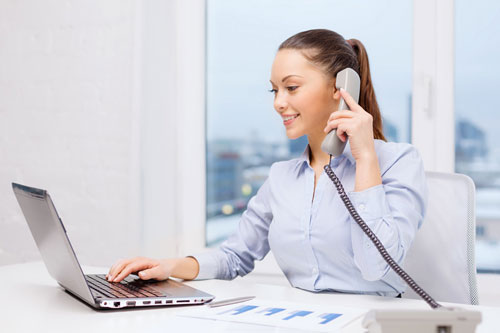 Customers expect more today and consistent, high-performing order management software can be the pivotal competitive differentiator.
Quote it: Quick Quote from one screen, convert to an order with 1 click
Sell it: Multi-channel sales order management ~ online, offline, mobile, fax, mail order, telephone order, catalog
Ship it: Flexible, integrated shipping with multiple carriers
Manage it: Track, research, resolve, analyze, report
Acctivate provides small & mid-sized businesses a software solution with fully-integrated sales order management that simplifies both pre-sale and post-sales activities and back office operations.
---
Acctivate inventory and order management software user, Heron Point Seafood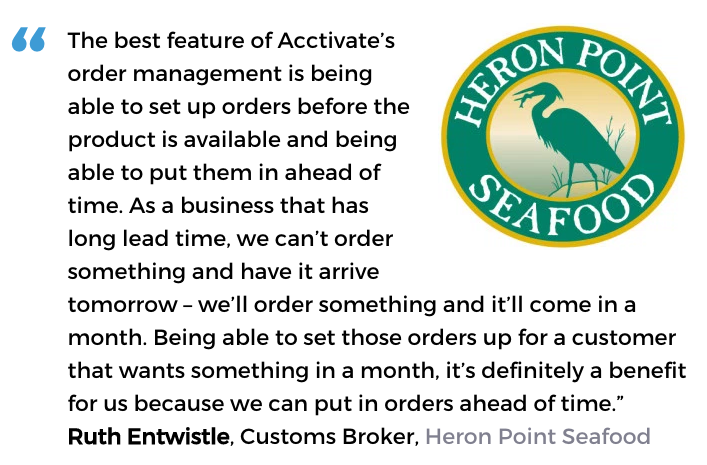 ---
Acctivate inventory and order management software user, Thievon Horticultural Products

---
Order management software for QuickBooks® to…
Quote it
Most companies handle quoting separately from ordering and don't have a clearly defined process for converting the sales quote to the sales order – a critical step in the process for ensuring customer satisfaction, a costly duplication of efforts with re-entry into a new system and a chance for errors to occur.
Acctivate automates the quote and sales order process with tools to handle both with a 1 click conversion process when the quote becomes an order – even for orders with complex components, parts or configurations.
Quick Quote enables a quick item look up to check inventory for availability and to determine customer pricing based on an entered quantity, % discount, the customer's contract pricing and other pricing variables.
---
Acctivate user, Jewish Educational Toys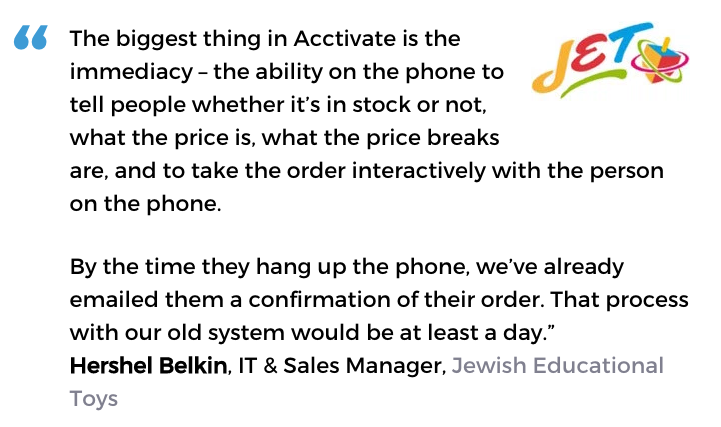 ---
Create formal Sales Quotes from one screen, with automatic credit check, then print and/or email the quote from Acctivate as a PDF file.
At anytime during the quote or sales order, if additional inventory, product, warehouse, credit, or customer service information is required, Acctivate's drill down and drill around capabilities allows the user to view the required information without leaving the system.
All information related to quotes and orders on one screen with drill down.
---
Acctivate inventory and order management software user, Murphy Industrial Products

---
Order management software for QuickBooks® to…
Sell it
---
Acctivate inventory and order management software user, Pigs Unlimited International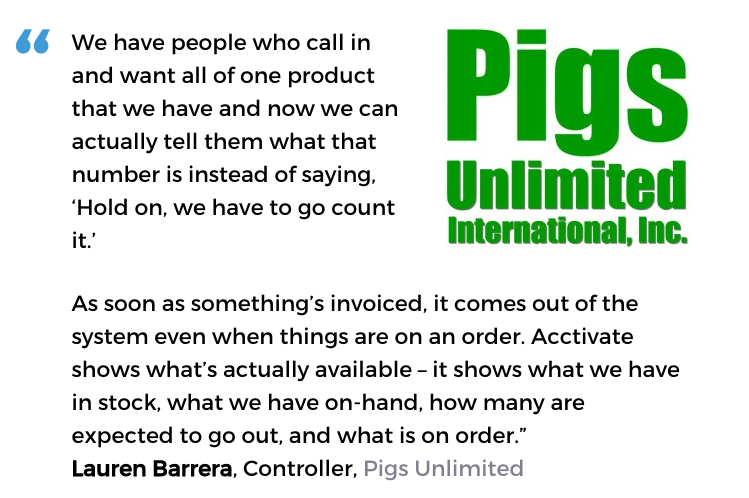 ---
Multi-channel order management
Handle online, offline, mobile, fax, mail order, telephone order, catalog
Orders can include products, service fees, shipping fees, handling charges or any other chargeable item or activity
Credit status displayed when order is entered with permission-based override capability
Multiple payment options including credit cards, checks, money orders, cash
Contract name and contact points can be selected or added at the time of sales order
Set requested ship date & a separate promise date
Don't ship before and don't ship after dates
Multiple-level special instructions on order for internal use or visible externally
Pre-defined comments may be selected for inclusion on any order
Book orders in advance of shipment without inventory commitment (seasonal)
Mobile sales orders can be created in real-time from a wireless device such as PDA while at a customer location, at a tradeshow or from your showroom
Customer may request specific text that prints on each order or invoice, i.e., compliance statement, internal routing, etc.
Standard shipping instructions, reference info, special handling or shipping instructions, customer job number and ship method may be recorded for each customer and automatically included on each sales order
Sales tax jurisdiction and rate information is recorded for each shipment to properly calculate, report and remit sales taxes for any number of states or other jurisdictions
Sales tax rates may be determined for overlaying jurisdictions
Customer specific product code, vendor specific product code, OEM product code or UPC code cross referenced to SKU with automatic translation during order entry
Online
Interface to most shopping carts with one-time configuration using easy-to-use mapping tool
Automated order synchronization between Acctivate and website
FedEx, UPS, USPS, ShipRush and DHL shipping integration with tracking information available to customers via email
All product attributes available online including images & descriptions
Real-time credit card payment processing
Vendor consigned inventory, Inventory consigned to vendor, or Vendor managed inventory (VMI) support
Drop Ship: Orders from any source can be drop shipped from vendor with the click of a button
Return Merchandise Authorization (RMA) process support
3PL support
Learn more about web store integration »
---
Acctivate inventory and order management software user, Texas Barcode Systems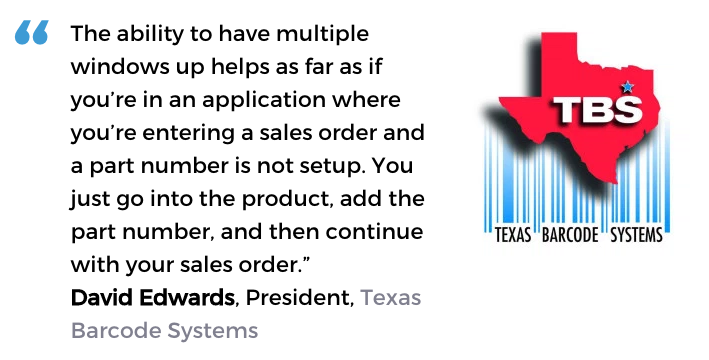 ---
Order management software for QuickBooks® to…
Ship it
Multiple pick route options
Wireless handheld and barcode picking
FedEx, UPS, USPS, ShipRush & DHL and Less than Truckload (LTL) shipping options
Any # of ship to locations per customer with contact information, dated notes, special instructions and delivery route information
Ability to set primary warehouse with override to alternate warehouses
Learn more about order fulfillment »
---
Acctivate user, Continental D.I.A. Diamond Products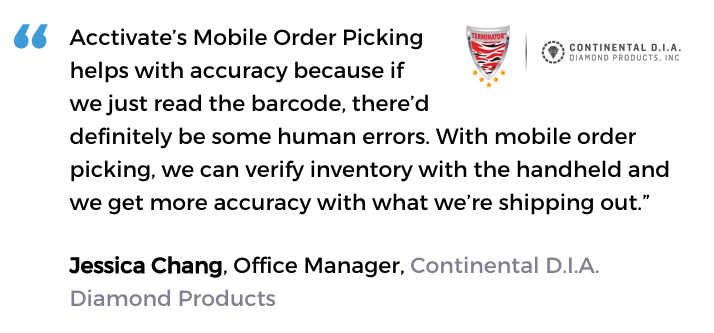 ---
Order management software for QuickBooks® to…
Manage it
Track order progress from quote through sales order, shipping, and, if applicable, rescheduling and backorders
Create, manage, control & monitor pricing decisions across the company
Fully-integrated customer management from lead to customer service
Complete historical record of contacts, emails, formal sales quotes, orders, invoices, products purchased and any other associated history related to the account is maintained in Acctivate
Business activity review provides a 1 click overview of all sales opportunities and may be further filtered by status, resolution, & priority date by 1 click of a drop down menu.
Create unlimited reports with Crystal Reports® for pipeline analysis, sales trends, gross margin analysis, win-loss analysis, and review or other sales opportunity information.
Gain control of cash flow & risk management with credit, receivables & collections tools
---
Acctivate user, Spazatainer

---