Acctivate webinars are live presentations hosted once a month for Acctivate customers. Webinars are typically hosted on the 3rd or 4th Wednesday of the month, from 1-2pm (Central).
Stay tuned for details about the next webinar.
---
Webinars On-Demand
Have you missed any webinars?
Sit back, relax and enjoy any previous webinars while maximizing your use of Acctivate.
Watch the most recent Acctivate webinar…
Increase your efficiency in Acctivate with Alembic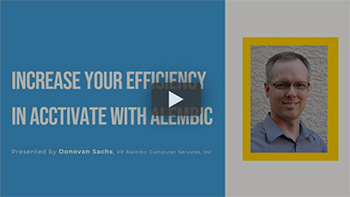 See the newest features of Acctivate in action…
Navigate the following webinar topics to watch a webinar on-demand…