Built For


Acctivate's payment management enables businesses to optimize cash flow with full control & visibility over payment processing.
Create a payment instantly with access from the main menu, Customer List window & Edit Customer window, especially helpful when serving customers in real-time.
Accept customer payments made with cash, check, credit card, and wire transfer without creating an invoice.
Save customer payments as credits that can be applied to future invoices and see that credit on sales orders as available to use.
Accommodate discounts when a payment is made, such as for early or cash payments.
credit card & echeck processing
Process credit card & eCheck payments with the recommended integrated payment processor for Acctivate, Intuit QuickBooks Payments*.
Get an on-demand glimpse of all payments in Acctivate's Customer List screen with filters for easily pinpointing needed info & drill-downs to sales orders and invoices.
Get a Live Demo
We will walk you through a demo of Acctivate Inventory Software. See Acctivate in action and how it can free your business of unnecessary obstacles and provide a clear view of growth and success.
Call us at 817-870-1311
enter & receive payments
Accept Payments at Anytime Without Creating an Invoice
In Acctivate, users with proper permissions can directly apply payments to customer accounts without having to initially create an invoice. Within the Enter Payment window, view all open invoices for each customer with options to add a discount, apply payments for specific invoices, auto apply the payment across multiple invoices, or enter as a pre-payment that adds a credit to the account for future invoices.
View exchange rate for customers who pay in multiple currencies with the ability to override it. Upon saving and/or processing payments, directly print or email payment receipts from the system.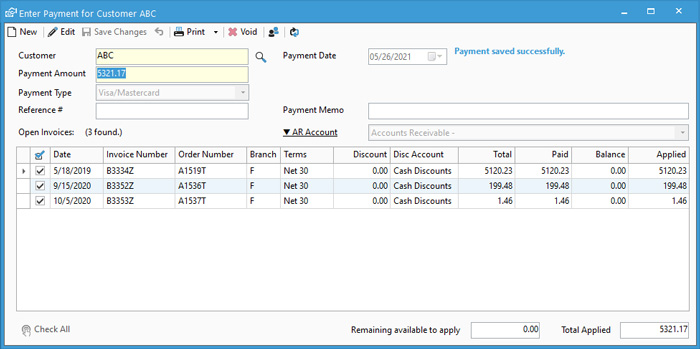 ---

view payments
On-Demand Visibility of All Customer Payments
View a history of payments for each customer at-a-glance with summarized data, such as the payment type, date & amount paid, reference number, account receivable branch and drill-down access for further details.
---
credit card processing
Seamless & Secure Credit Card + eCheck Processing that Works with Popular 3rd Party Service Providers
Maintain a connected experience when charging credit cards and processing eChecks with integration to QuickBooks Payments*. Instantly get confirmation of whether a transation is declined/not approved or successfully processed. Save payments on the customer's account if processed outside of Acctivate.
With QuickBooks Payments, payment transactions are automatically posted and reconciliation to QuickBooks, where receipts can be viewed and merchant service deposits downloaded.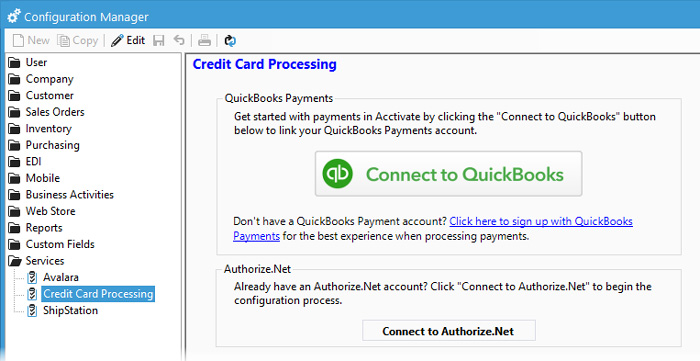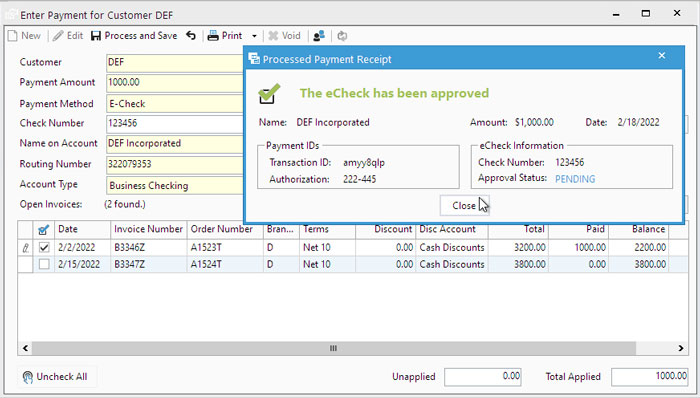 * QuickBooks Payments is the preferred payment processor for Acctivate, however Authorize.net is also supported for credit cards.
Explore more of Acctivate…
---
Optimize cash flow with full control & visibility over payment processing.
Take Advantage of Full Payment Management with Acctivate Today!​
Schedule a live product tour with an expert.
Call us at 817-870-1311